The Most Dramatic Season Yet of The Bachelor: Season 22 Episode 1 Recap
We are so here for season 22 of The Bachelor. In fact, we are so here for it that we will have a weekly recap and analysis of every minute of every episode of this season. Every Monday before the next episode airs, our weekly blog will go live for you to catch up and read what drama unfolded last week just in time for the newest episode of the most dramatic season yet of The Bachelor featuring Arie Luyendyk Jr. and Chris Harrison. 
___
I call this episode: Meet Your 30 Girlfriends While They All Meet Each Other
On JanuARIE 1, 2018, we kicked off the new year in style watching Arie Luyendyk Jr. begin his search for love on ABC's 22nd season of The Bachelor. All of us in Bachelor Nation were thoroughly shook when Arie was announced as the new bachelor, weeks after Rachel made the biggest mistake of her life and said yes to Bryan's proposal and left perfect Peter in Wisconsin alone. We were all wishing Peter would return to Bachelor Nation as the new bachelor, but, apparently, we don't always get what we want. We could've had Dean, we could've had Nick again, or even Luke from JoJo's season or literally anybody from JoJo's season or idk PETER KRAUS. 
Instead we get some rando (stalk him here, here and here) from Emily Maynard's season who came in second place who literally nobody knew. 
When you order something online vs. when it arrives in the mail #TheBachelor pic.twitter.com/z2wKZvDu2v

— Dana Weiss (@Possessionista) September 7, 2017
Good luck tonight Arie! I wrote you a poem to break the seal: Roses are red, your eyes are like SO blue, people wanted it to be Peter, but I believe in you. #TheBachelor pic.twitter.com/JkyiVxieos

— Nick Viall (@viallnicholas28) January 1, 2018
Anddddddddd ABC with the 40th round draft pic........ https://t.co/d1ztJMVoXT

— Vinny Ventiera (@VINNYVINSANE) September 7, 2017
Ok ok, we will give him a break and let this season speak for him. But really, we were not prepared for this change of plans. 
In the first episode of season 22, we kicked off with us watching Arie getting dumped by Emily in painful detail. Then, he drove some hot cars and Sean and Catherine Lowe showed up with their son, because apparently Sean and Arie are friends? This sounds like every other intro to The Bachelor: "I'm ready to find love, one of these women will be my wife." 
Night one kicked off in usual style. No, seriously. Did they just take every other season and photoshop Arie in saying Nick's words? Probably, because this is lacking any originality. 
Here is all the recap you need: 
Only 9 girls in and Arie says he's already overwhelmed. Yikes.
Meet single mom Chelsea with this infamous line: "The hair is down the boobs are out."
Meet Baby Bekah. Seriously, she looks like Peter Pan like did she even go through puberty yet?
Single mom Chelsea is the first to start smack talking the other women with less than 5 other women who've entered. 
An unnamed girl says, "It's going to be tricky we are all competing for the same guy," and I wonder if this girl read the contract she signed or even knows what show she's on. 
He forgot Lauren's name. Well, we all did. Wait, what Lauren is it? Who knows. We are up to 4 Lauren's and 2 Becca/Bekah's. 
Why is Chelsea still talking smack about the other women? 
First steal of the season as Single Mom Chelsea steals Arie from the room first and, 30 seconds later, Lonely Photographer Maquel steals Arie. 
"This is such an adventure" has been repeated in like 10 different ways. 
Brittany T. gets the first kiss in a very unpassionate moment. Literally, I forgot it happened as it was happening. 
Enter Crazy Jenna. Arie says, "Jenna is a little wild." I'd say she's on drugs. However, he's intrigued and wants to keep her around? Ok producers, cut this off, this is Corinne all over again. 
Single mom Chelsea goes for round two and makes out with him— tongue and all. She is reassured he is just as charming as he was an hour ago.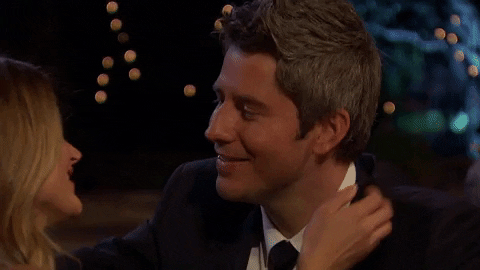 Baby Bekah starts talking smack. I'm going to call it now, Baby Bekah and Single mom Chelsea are going to cat fight by the end of this. After 21 seasons you would think these men would learn from those who went before them and not allow all their girlfriends and side chicks to meet. Affairs are secret for a reason. Oh well, the cat fights are 99.999% of the reason we watch this sh*tshow religiously.
*Everyone feels a connection with Arie*
Single Mom Chelsea gets the first impression rose. He still does not know she has kids. 
Every woman says she would be so devastated to be sent home by a strange man. 
After being sent home on the first night Spray Tan Amber is crying about her disappointed family. Newsflash: Your family isn't disappointed because you were sent home on night one, they are disappointed because you sell yourself as a spray tan shop owner. 
Here are the most important facts and highlights from tonight's episode:
First Kiss: Brittany T.
First French Kiss: Chelsea
First Steal: Makel from Chelsea
Bitchiest: Chelsea
First Impression Rose: Chelsea 
Surprisingly Eliminated: TV Jessica, Spray Tan Amber
Front runners: Single Mom Chelsea, Becca K, Marik, Kendall, Krystal, Baby Bekah M, Bibiana, Annalise, Crazy Jenna, Raven's Tia, Lonely Photographer Maquel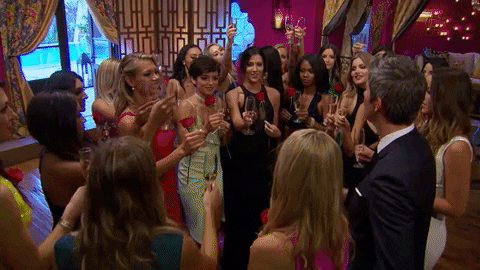 This season looks to be like every other season full of cat fights, tears and lots of tongue. 
Season 22 Episode 3 airs January 8 at 8pm ET/7pm CT on ABC. 
Gifs courtesy of Giphy.com