If one shoe were to be chosen for the number one spot in any Gen Z-ers' closet pedestal, it would have to be the Doc Marten boots. Whether you bought the (almost) 2-inch black platforms, the chunky Chelsea's or the new platform gladiators, you can style these shoes with almost any outfit. We are here to help you style your new and old Doc Martens to match any occasion! 
Big black platforms took over our Instagram and TikTok feeds over the past 6 months, so we decided to put these boots into a few different styles. The first one includes the big Jaden Doc Martens, paired with khaki Dickies, a matching tan silk halter, a white tie-up cardigan and a silver layered chain necklace. This is a good outfit for fall or spring and is right on brand with the neutral browns and tans that are trending everywhere right now.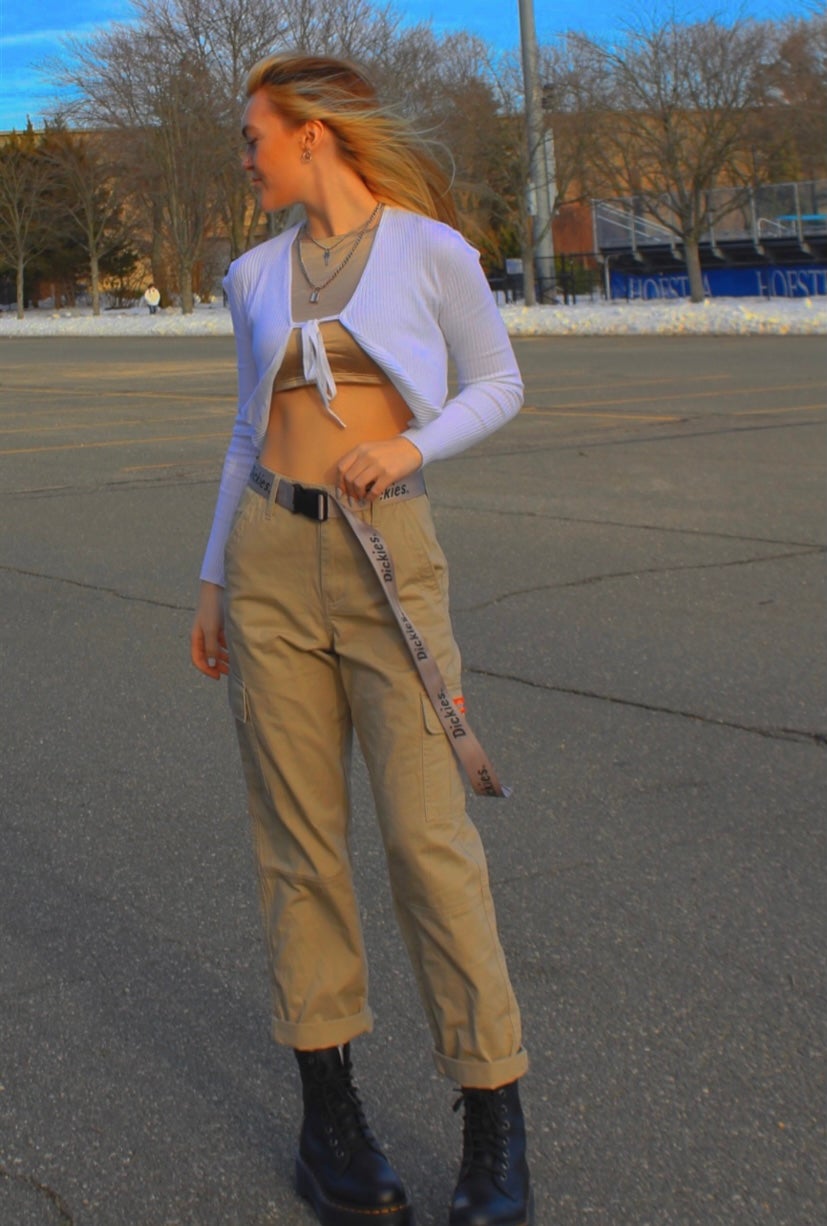 The Chelsea boot is perfect for going into the city with friends, heading to the mall or anywhere you'll be walking more than you wish. They're perfectly chunky, platform or not, and give off a similar aesthetic to the classic platform boots, but are much more comfortable to walk in. We think the Chelsea boots look stunning matched with a fitted dress (we love plaid right now), black sheer tights, and an oversized leather blazer. 
If your Jaden boots are a little bit more broken in, try styling them for work, an internship or even a job interview. Despite the boots often being paired as an edgy and excitable look, you can quickly turn them into a professional but fashionable addition to your outfit. We matched the Jaden boots for a job interview with black and white plaid pleated pants, a black turtleneck, a wide white belt and the same silver chain layered necklace.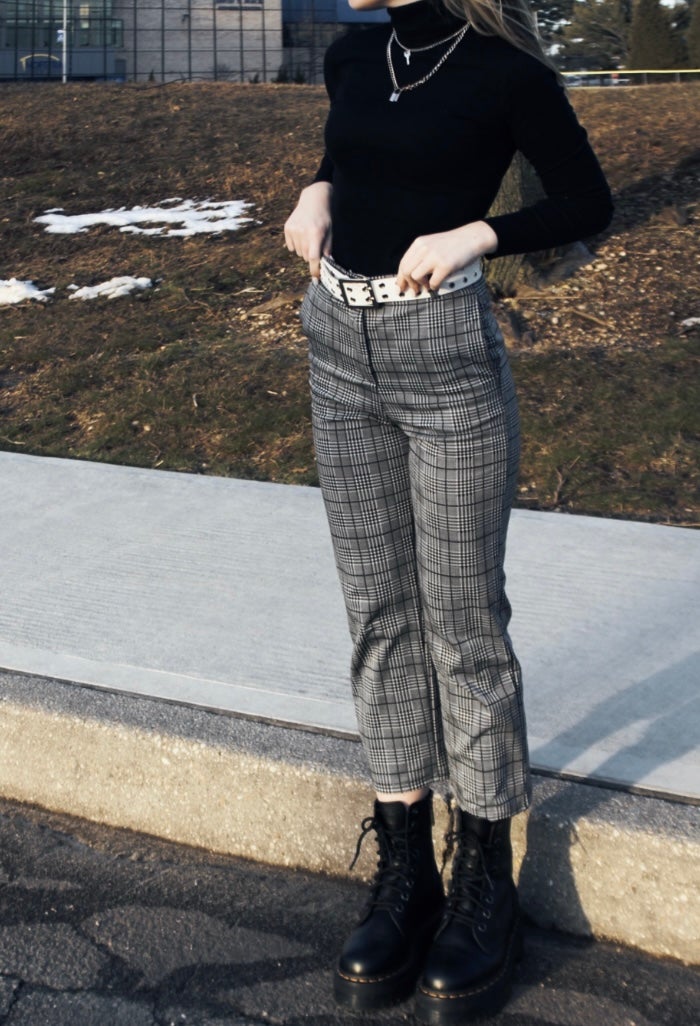 For a more casual, walk-around-campus feel, you can wear the new platform gladiator Doc Marten sandals with socks! Yes- I said with socks. It's a bit too cold for sandals without socks right now, and wearing black quarter length socks with the black gladiators give a chunky boot type effect while making a statement at the same time. If you're still having trouble getting the confidence to walk outside with socks and sandals on… (I know I do sometimes) just do a quick search on pinterest and you'll find some other great ideas to make it work on you!
Okay, for the last fit we have an edgy satin dress matched with a white mock neck underneath, the same silver chain layered necklace and the Jaden platform boots once again. Depending on the weather, you could leave the mock neck out and switch the satin dress for a short Brandy sundress, while still holding on to the chunky and unique look on the bottom half.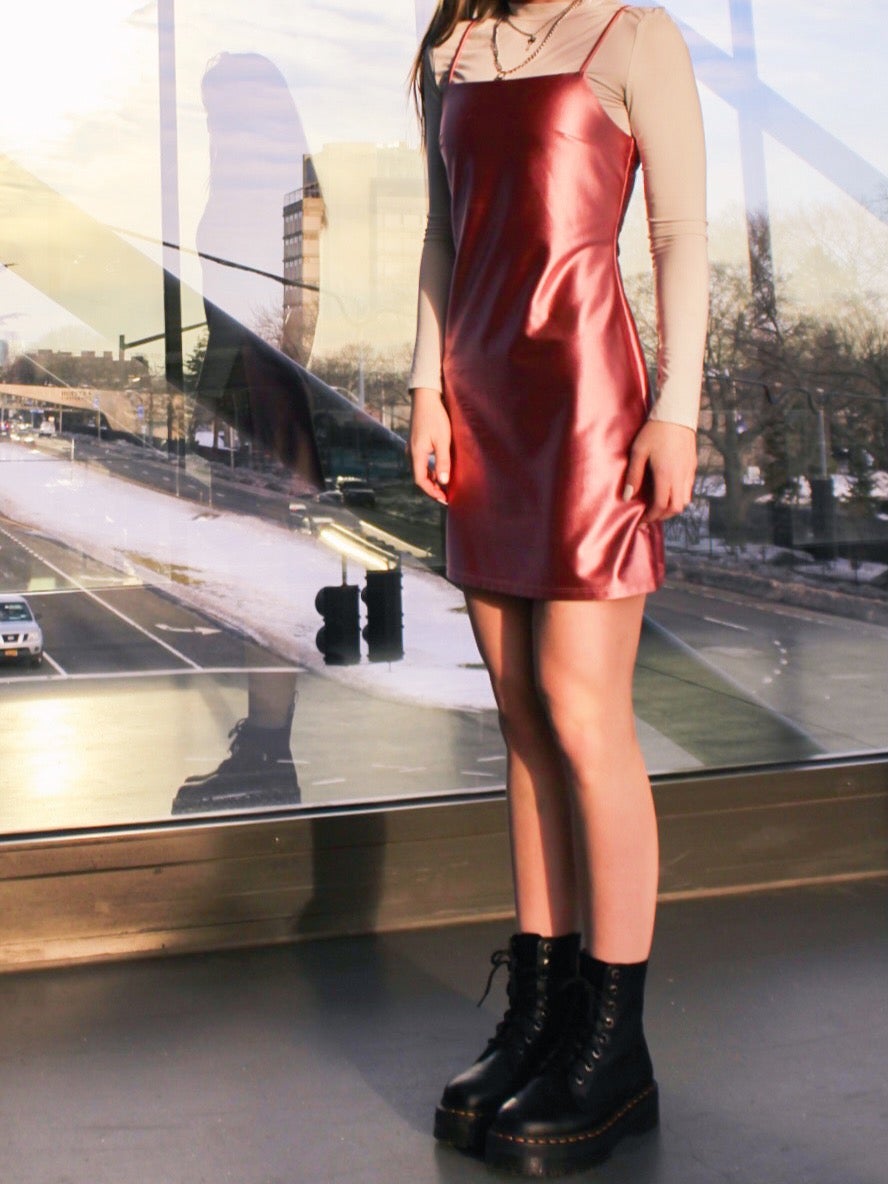 Doc Martens are probably the most versatile shoe on the market right now. Although you might feel everyone has Docs, there truly are so many ways to make your outfits specialized to you and your fashion sense. Hopefully we helped inspire you to open your mind when styling your favorite pair of Docs out and about. Never forget that how YOU feel in your fit is the most important thing walking out the door.