How To Host a Safe and Socially Distant Friendsgiving
The holiday season is finally among us! There are many traditions that we look forward to during this time, but it is important to adhere to social distancing and safety guidelines. A fun and festive holiday season is still possible, and this article will show you how.
Friendsgiving is a tradition that many engage in. As the temperature drops, questions have been raised about hosting holiday parties. Luckily, there are plenty of ways to ensure a safe and socially distanced Friendsgiving! 
First, Friendsgiving is all about spending time with the people you are most thankful for. Chances are, you have already been seeing these friends. However, if you have not been around each other, a good safety measure is to require testing before attending. It is better to be safe than sorry in this situation, and testing can lead to peace of mind and allow for more fun. 
Depending on where you live, you may not be able to host Friendsgiving inside. If you are hosting inside, a seating arrangement could be beneficial. This will ensure that everyone is six feet apart while eating, and you are always returning back to the same seat. 
For instances where you cannot be socially distanced- wear a mask! There are plenty of fall-themed masks to choose from. Make masks fun!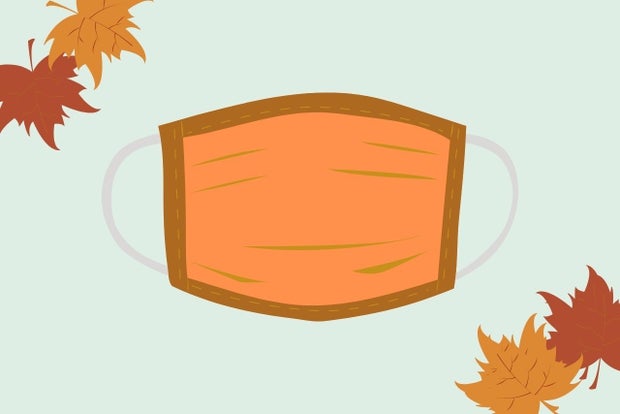 Illustration by Canva
While bringing different dishes is an exciting part of the holidays, skipping out on this for the holiday season would be an added safety measure. Choosing one person to cook will allow for as little cross-contamination as possible. You can even all chip in and have someone cater instead!
Serving style is also something to examine. While disposable utensils and plates are always an option- consider asking guests to bring their own settings. During the buffet-style serving that normally occurs, make sure everyone is wearing a mask!
Photo by Craig Adderley from Pexels
Taking extra steps to clean before, after and during dinner is important. Before hosting, make sure to clean all surfaces. During dinner, make sure everyone is washing their hands before and after eating. After everyone leaves, wipe down the chairs, tables and counters; and deep clean the dishes.
If all of this seems like too much, consider going virtual. Get together with all of your closest friends on Zoom. You will not have to worry about masks, testing or social distancing. This is always an option if you are worried about adhering to guidelines and being safe. 
Although the holiday season may look different this year, it can still be fun! Taking these extra measures will ensure the safety of all, while still having a great time.