How To Have The Best Single-AF Valentine's Day Ever
I'm just going to say it— I don't care about Valentine's Day. I don't. I never have, and I never will. It's a holiday created by companies to get you to spend money on gifts and dinner for your significant other. If you're single, you're forced to look at all of the Instagram posts and stories of everyone having fun.
But, that doesn't mean you can't have a ton of fun if you're single! There are so many ways you can make this v-day the best ever, even if you're single!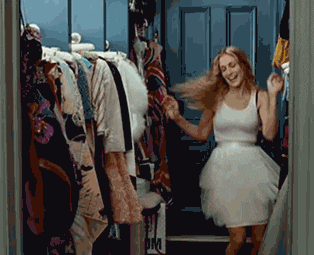 Gif courtesy of Giphy
Spend time with your friends
My friends and I are going out and splurging on each other for Valentine's Day. We're all single, so it gives us the perfect opportunity to make sure we all feel loved.
Pizza or sushi is always a winner, or you can have a night in and get Chinese or Thai food. Since Valentine's Day is on a Thursday this year, waiting until Friday night and going into the city to a nice restaurant isn't completely out of the equation.
Everyone loves spending time with their friends, and if Sex and the City has taught us anything, it's that friends are our soulmates and S.O.s are just people to have fun with. Spend time with your soulmates this Valentine's Day, be nice to yourself.
Photo courtesy of Simon Maage
Spend time with yourself
Focusing on yourself is never a bad thing. Being alone is never a bad thing. There is no shame in spending Valentine's Day by yourself and doing a face mask in bed with a movie. Plus, Chinese food for one is so much cheaper than buying for an entire group.
Treat yourself! Buy yourself those shoes you've been looking at! Go to Lush and splurge on a bath bomb or face mask! You deserve it, queen.
You should always be your first priority. If all the relationship posts are making you sad, it's okay to put your phone down and make sure your mental health is in check. Self-love is the best kind of love. The true spirit of Valentine's Day is to be thankful for all the love we feel in our lives.
There's so much to love about life, and we shouldn't spend time focusing on the things that make us sad.
Other tips
Don't forget about all the sales on chocolate on February 15. They're important, and I know any chance to get peanut butter cups at a discount is a chance I'm going to take.
However you feel about Valentine's Day, there's probably a million other people who feel the same way. If you ever want to vent about how much you dislike (or like) Valentine's Day, phone a friend!
No matter how you spend Valentine's Day, you deserve all the happiness! There's so much love in the world, and you deserve to enjoy every ounce of it however you choose.
Photo courtesy of Kelly Sikkema