How To Concert Like A Pro
If you couldn't tell by the massive amount of new music releases, concert season is rapidly approaching!  Tour releases from Billie Eilish, Rex Orange County, to the infamous Green Day/Fall Out Boy/ Weezer 'Hella Mega' announcement, I give you the most important article on how to best prepare for a concert.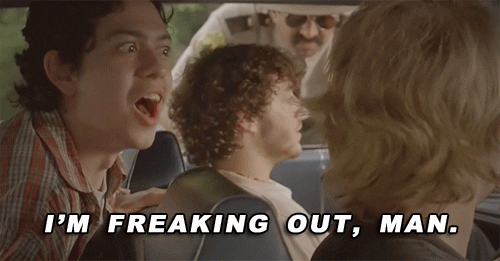 Gif courtesy of giphy.com
Venue:
Do your research on a venue!!! I cannot tell you how many times I have gotten the times wrong for when doors open or when certain acts come on. Make sure to check if your ticket has to be printed or if it is digital access only. I suggest getting to the venue an hour before doors open so you can find it, take some cute photos along the way (after the concert you are going to be a sweaty mess and will regret not taking photos before), and relax in line before the chaos begins.
What To Bring: 
Nothing! No, but seriously, bring as little as possible. It's not fun having to carry a purse or bag (especially for general admission concerts) and the bag check lines will make or break your barricade spot.  If you're going to bring a small bag, make sure it's clear so it's easy to look through and remember to bring a portable charger for when your phone inevitably dies.
The "Experience":
Don't be afraid to attend a concert by yourself! A lot of bands I like my friends have never even heard of, which led me to not go to their concerts because I was nervous to go by myself. In reality, once the show starts you don't even have a chance to chat with your friends because you're too busy obsessing over seeing your favorite artist on stage.  Be friendly and you will end up talking to a bunch of other fangirls waiting next to you (and you might make new friends out of the experience)!
Try to get there in time for the opening acts.  I have found so many new bands from going to concerts and listening to their openers, and you might discover your new favorite artist that way!
Express yourself in ways you might not be able to during the day.  Concerts are a perfect way to try out new trendy styles.  Put that glitter in your hair andwear those new boots you just bought because the whole room is full of people in the same situation and ready to compliment and chat with you!
Lastly, don't stay on your phone the whole time. I know you need to capture that good Instagram photo or Snapchat video, but realistically you won't ever watch them. I have so many videos from past concerts that I've never even watched (mostly because it will give me PCD [post concert depression, it's real]) and now I have no storage on my phone because I'm too attached to get rid of them! Make sure you get the full experience of what you paid for, you won't regret it!
The most important thing is to have fun!  Concerts are one of the greatest things in the world.  Connecting with your favorite artist for a few hours is a euphoric experience, and makes for great stories to tell afterward!