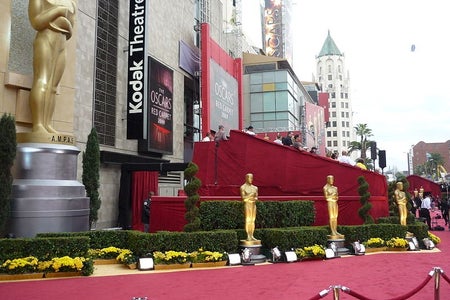 The Best Looks from the 2020 Oscars
The Oscars are known for being one of the most glamorous nights for the entertainment industry. In addition to the awards ceremony, viewers always anticipate watching the red carpet event beforehand at which celebrities show off their designer ensembles. Here are eight of the best looks from the 2020 Oscars. 
Florence Pugh wore an eye-catching Louis Vuitton tiered dress. The teal dress featured a chic belt and was paired with matching strappy heels. Florence's modern knot was a highlight of the look, as was the stunning Imperial Topaz on her necklace.

Sandra Oh's Elie Saab gown was one of the most attention grabbing looks of the night. The champagne colored dress featured a plunging neckline, open back and oversized bow around the waist. The shimmering sheer fabric and the tulle ruffles on the sleeves and train enhanced the drama of the look. 

Brie Larson looked brilliant in her champagne colored Celine sequin cape dress. Composed of Swarowski crystals, glass beads, jewels and sequins, the dress was gleaming during her walk on the red carpet as well as her time on stage. The look was finished with strappy Champagne heels and Bulgari jewelry. 

One of the most dramatic looks on the red carpet was Janelle Monáe's Ralph Lauren dress, which featured a draped hood, open back and long sleeves. Over 168,000 Swarovski crystals were hand embroidered onto the gown, and it took over 600 hours to make. A diamond choker and glitter eyeliner completed the breathtaking ensemble. 

Salma Hayek's gorgeous white gown was the epitome of elegance. The asymmetrical dress featured a single billowing cape sleeve on one arm and a jeweled thin strap on the other. The look was finished with Gucci high heel sandals, Boucheron jewelry and a Greek goddess inspired hairpiece.

Natalie Portman's Dior gown was as elegant as it was powerful. The black dress and embroidered sheer overlay was paired with a floor-length black cape that featured the names of female directors who weren't nominated for Best Director. The feminist statement made her look truly inspiring. 

Saoirse Ronan walked the red carpet wearing a custom Gucci dress. The elegance of the deep black V-neck and ivory waist ruffles paired with the vibrance of the lavender skirt was an unlikely but stunning combination. The look was finished with chandelier earrings and a jewel bee hair-clip.

America Ferrera looked like a goddess in a custom Alberta Ferretti gown. The red chiffon dress with a full skirt and structured sleeves paired beautifully with the golden halo by Jennifer Behr. The best part of America's look is that it was inspired by her Honduran roots. 
Vibrant colors and shimmering Swarovski crystals seemed to be the featured finishes of the looks on the 2020 Oscars red carpet.