It's always the right time to try new things! Recently, Her Campus Hofstra experienced shopping at an Indian grocery store for the first time. Shopping in a new place, with many items you may not know, is slightly intimidating. So, we thought it would be helpful to have a map to guide you on what to try. With a nationality-based grocery store, they are good for foods specific to that region and have good prices to match. They do have many staples like rice, condiments, basic veggies and fruits along with many foods you may not have heard of. Let's delve into what to try!
Snacks & sweets
Everyone loves snacks. Especially if you are a college student, so let's start off with the best and longest category. Many Indian snacks are full of the many flavors and spices of India. You'll have plenty to choose from when shopping around and finding what you like.
Masala Twisteez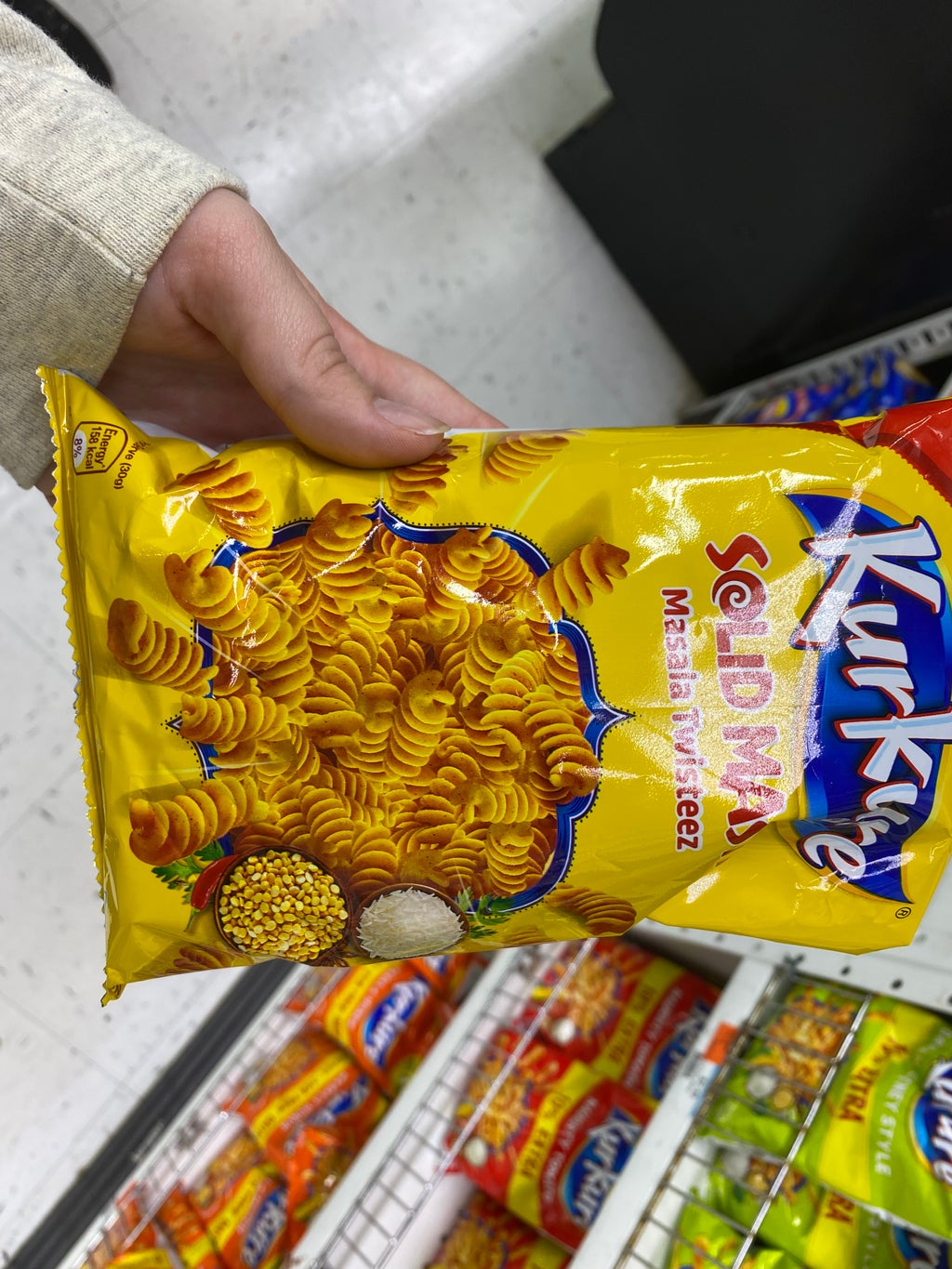 These twisty snacks are crunchy, swirly and a bit of a spice kick to your tongue. They are really good for a handful-at-a-time snack and will disappear in seconds. Imagine eating Frito's Flavored Twists but with a bit more turmeric involved. We highly recommend giving these a taste.
Kreams gold: orange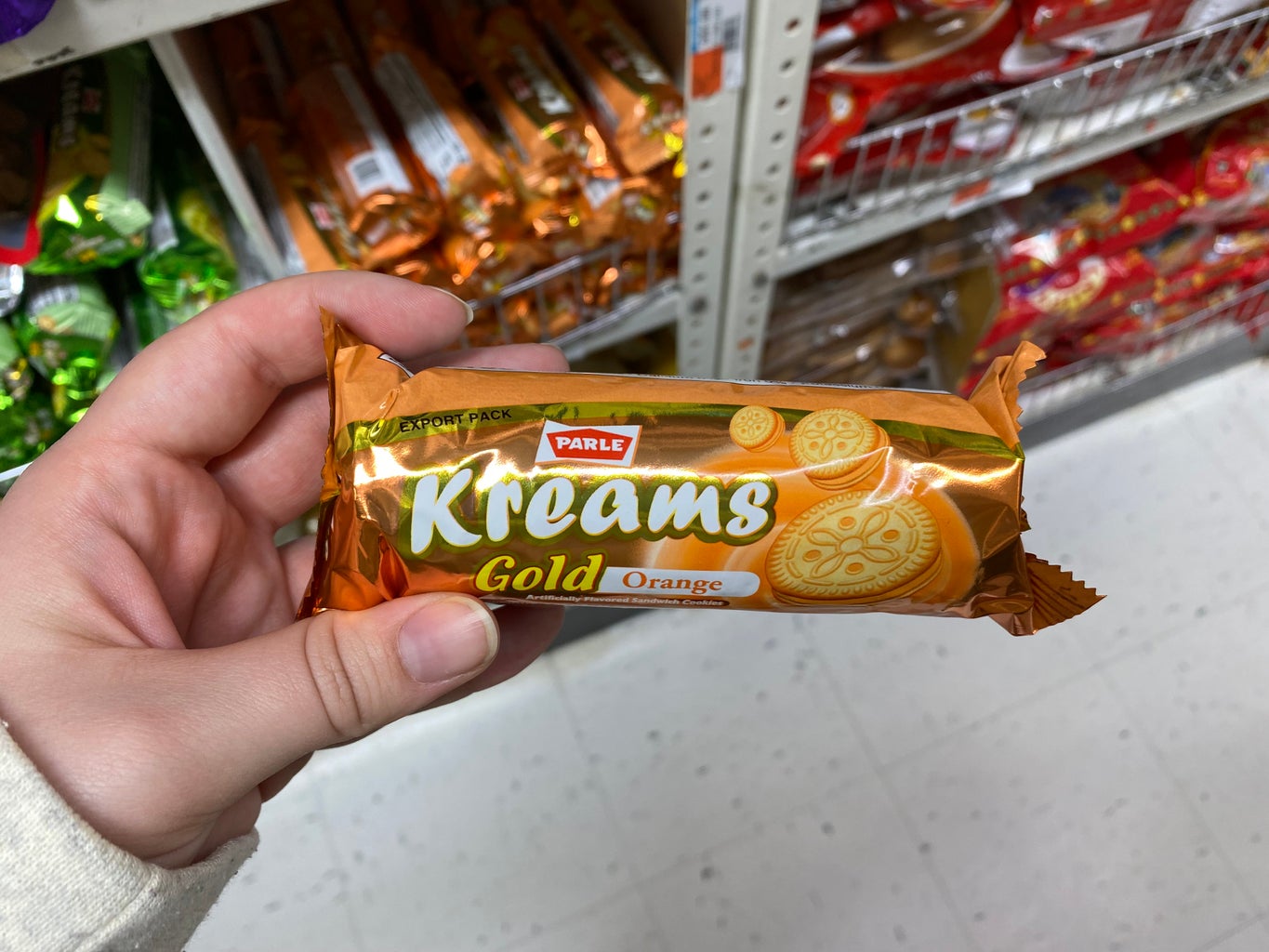 Is Orange creamsicle a favorite flavor of yours? Well, imagine it as a cookie and this is what you get. It is a bit on the sweeter side of the aisle so the small portion of it is convenient. Patel Brothers have a large selection of flavors to pick from, so if orange isn't your thing give another flavor a try.
Bhel Mix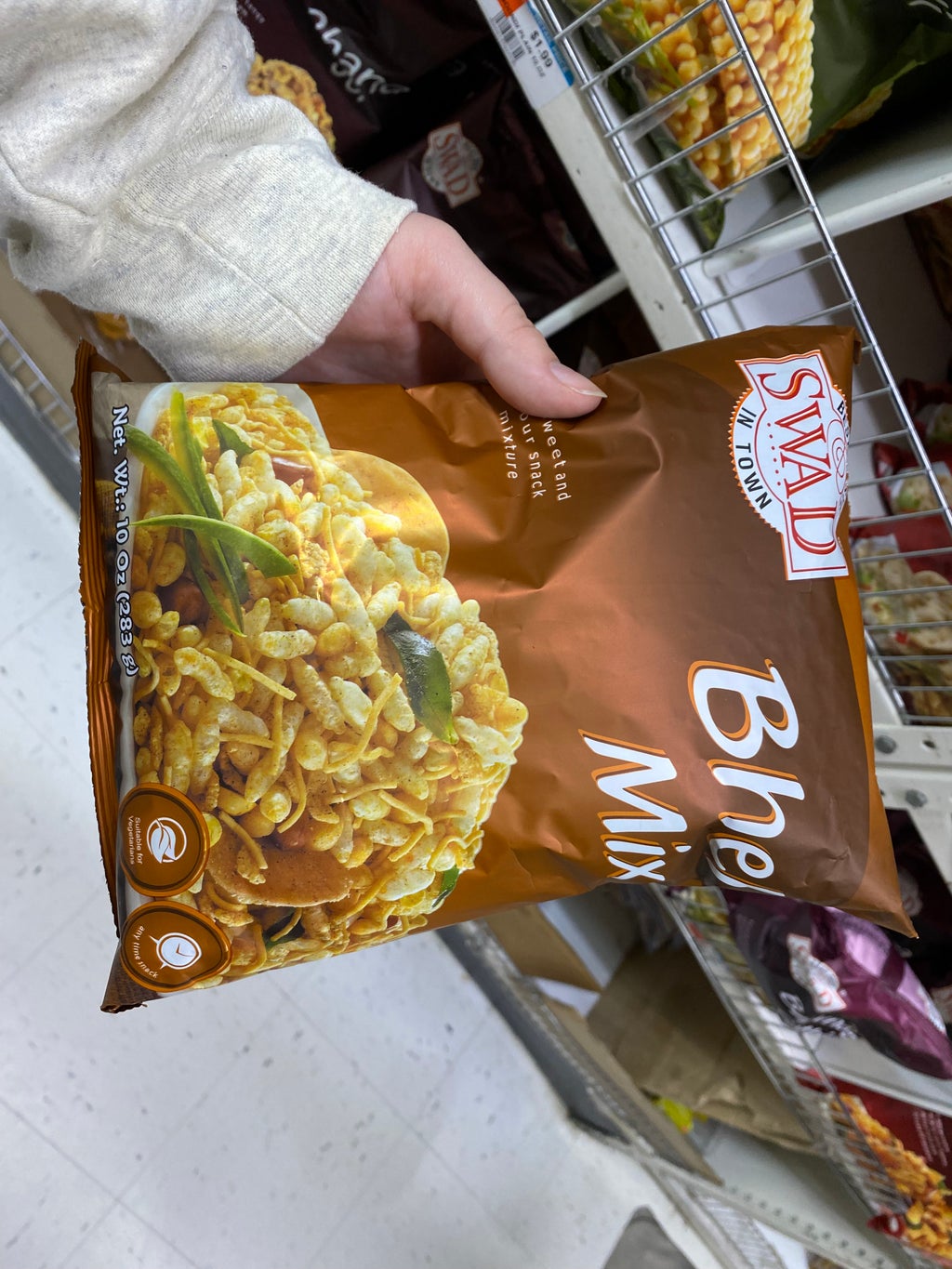 This snack is a bit on the odd side. For starters, it probably should be eaten with a spoon for practicality. Other than the concept of eating the snack, it is on the subtle side of the sour taste of spices with a sweet after-taste. If you want a docile flavoring of Indian spices, these mixes are the best place to start. They are almost like Chex mix, in a way, but are on the lighter end of snacking. Also, it is suitable for vegetarians but be wary if you have a peanut and tree nut allergy.
Spicy Muruku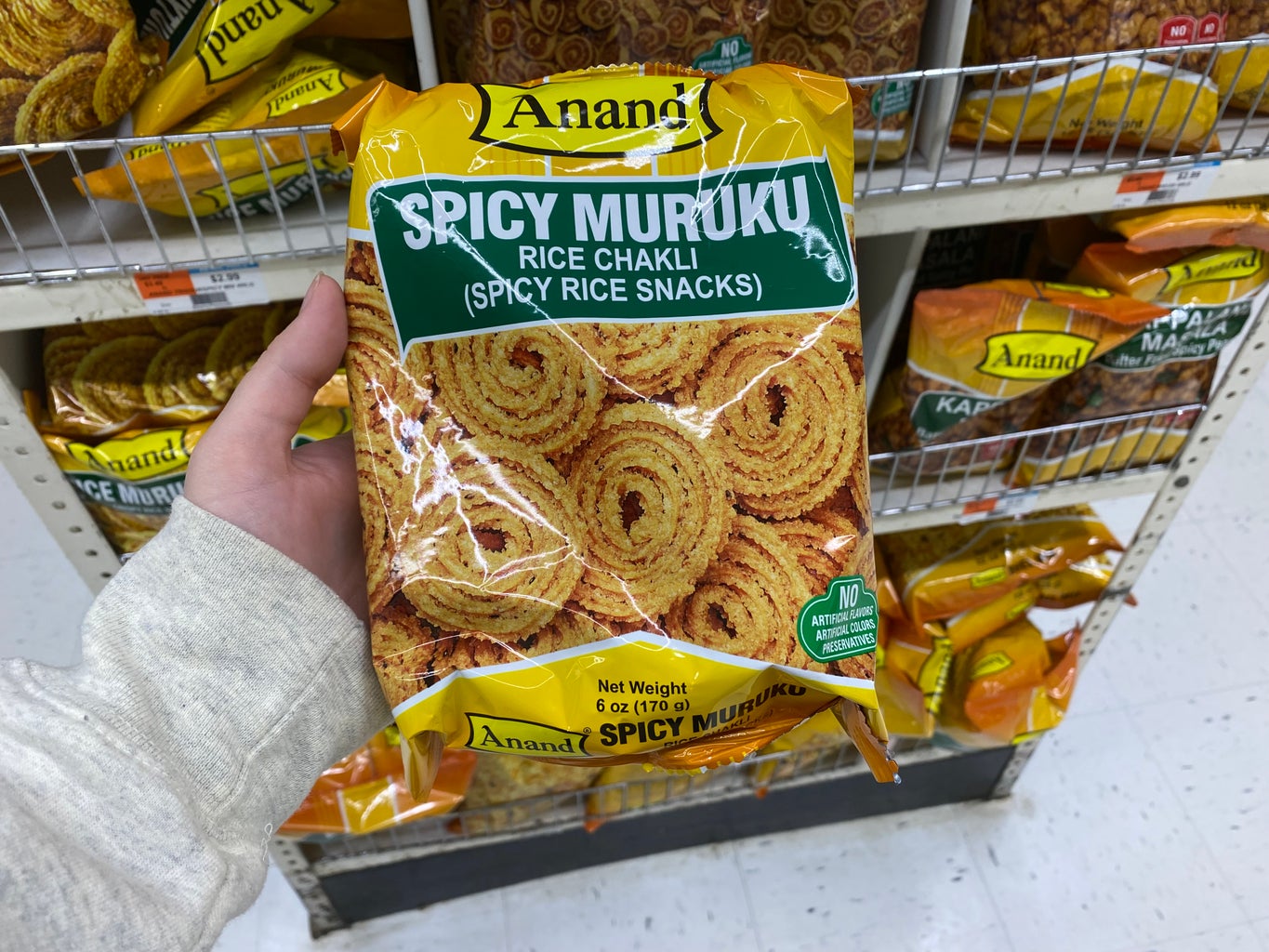 Crunchy is an understatement when it comes to this marvel. These are spicy rice cake snacks. As it says on the label. They are like dried funnel cakes with a heavy taste of sesame seed oil and cumin. Good flavors but will probably take out a tooth with it's crunch. If you don't like spicy, though, it does come in a "Sweet" flavor and "plain" flavor to compare.
Hide & Seek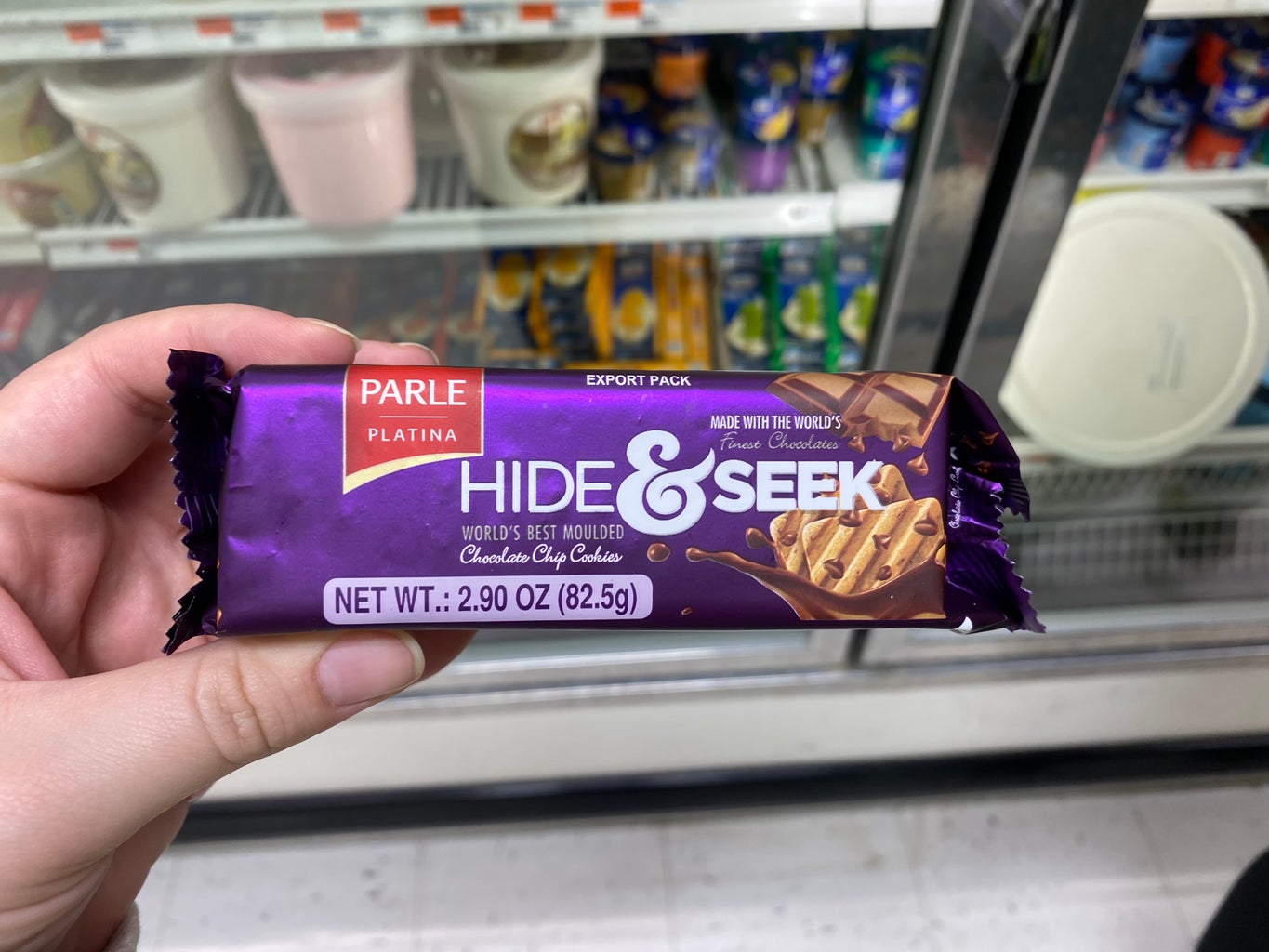 These are amazing cookies. They are basically chocolate chip cookies shaped like squares. If you have a sweet tooth and are craving a rich, chocolatey experience, this is the cookie for you. Honestly, these cookies could compete with Oreos. That's how good they are.
Pakola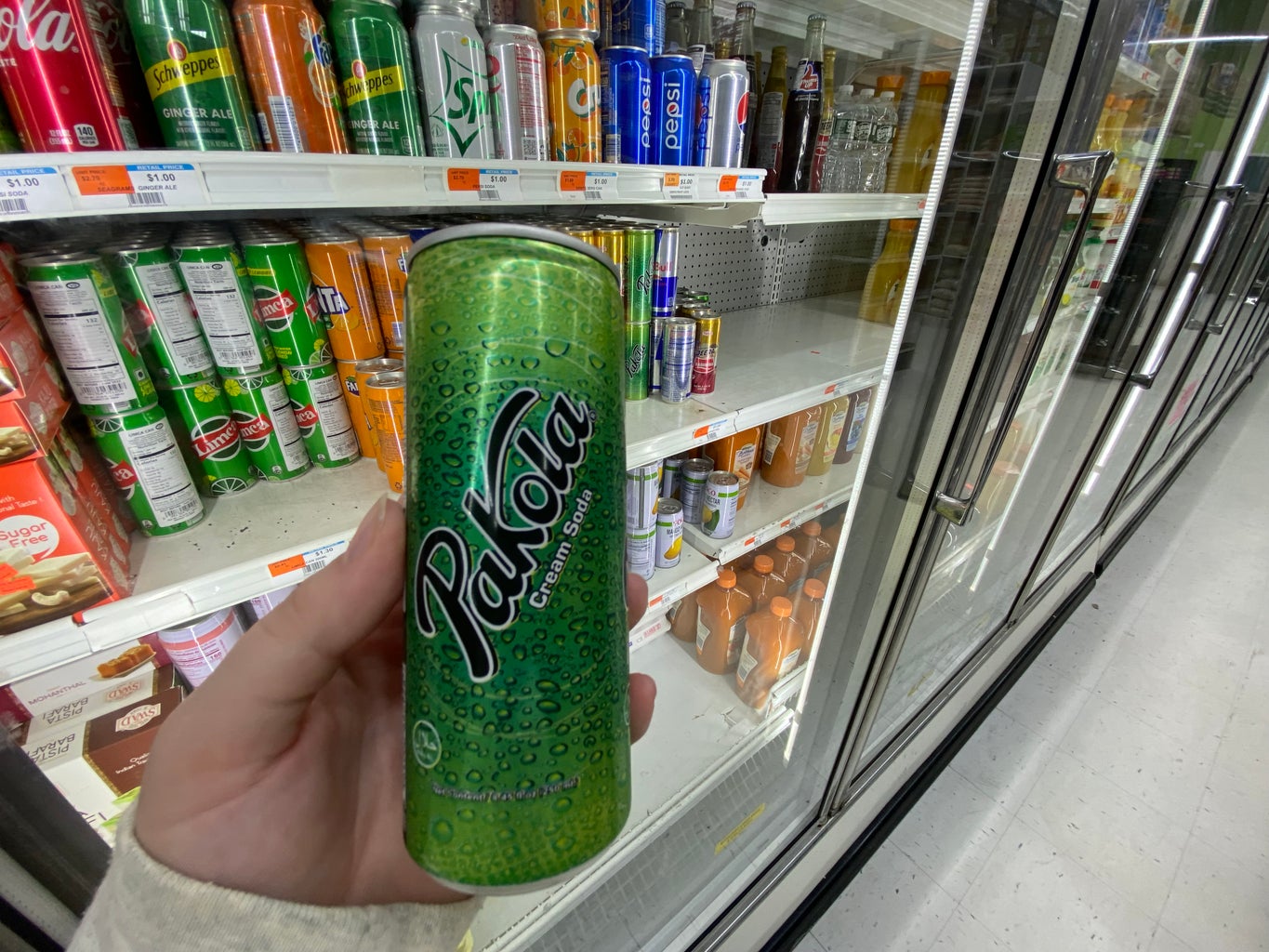 Pakola is a lemon-lime cream soda. It isn't what it looks like from the packaging, but the soda is pretty close to shoving ice cream into a can and carbonating it. This drink isn't fit for all taste buds although you never know if you don't try, right?
thumbs up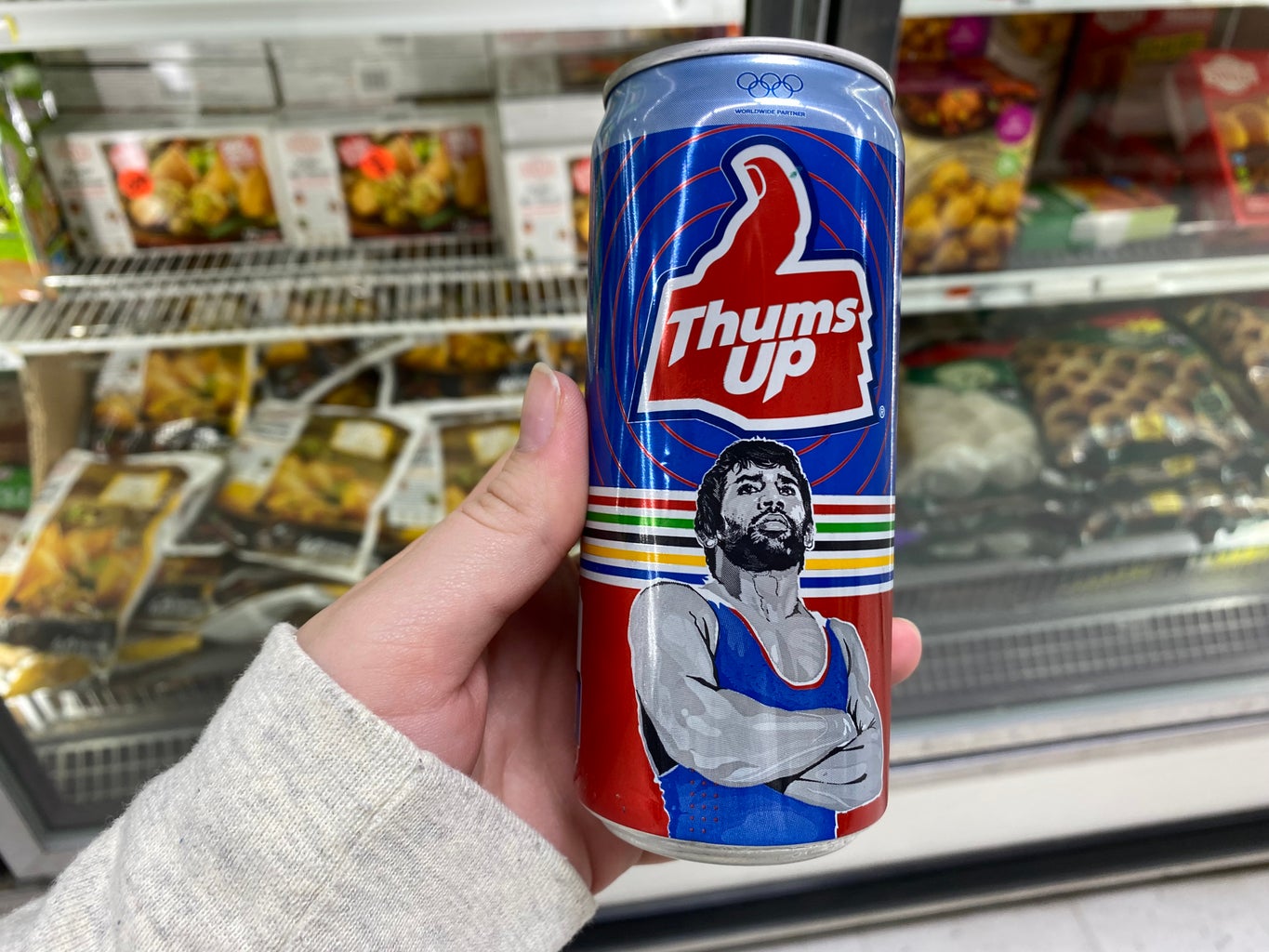 This is a popular drink or soda. It is the Indian equivalent of Coca-Cola. The taste is close to mixing Coke and Pepsi together. For a soda, it is also not that carbonated when you drink it, so if you expect a fizz know it doesn't come even after cracking the can open. That being said, it is less in sugar making it a better option compared to the typical Coke or Pepsi. This would be a good starter for anyone wondering what to buy first out of the list.
Pickles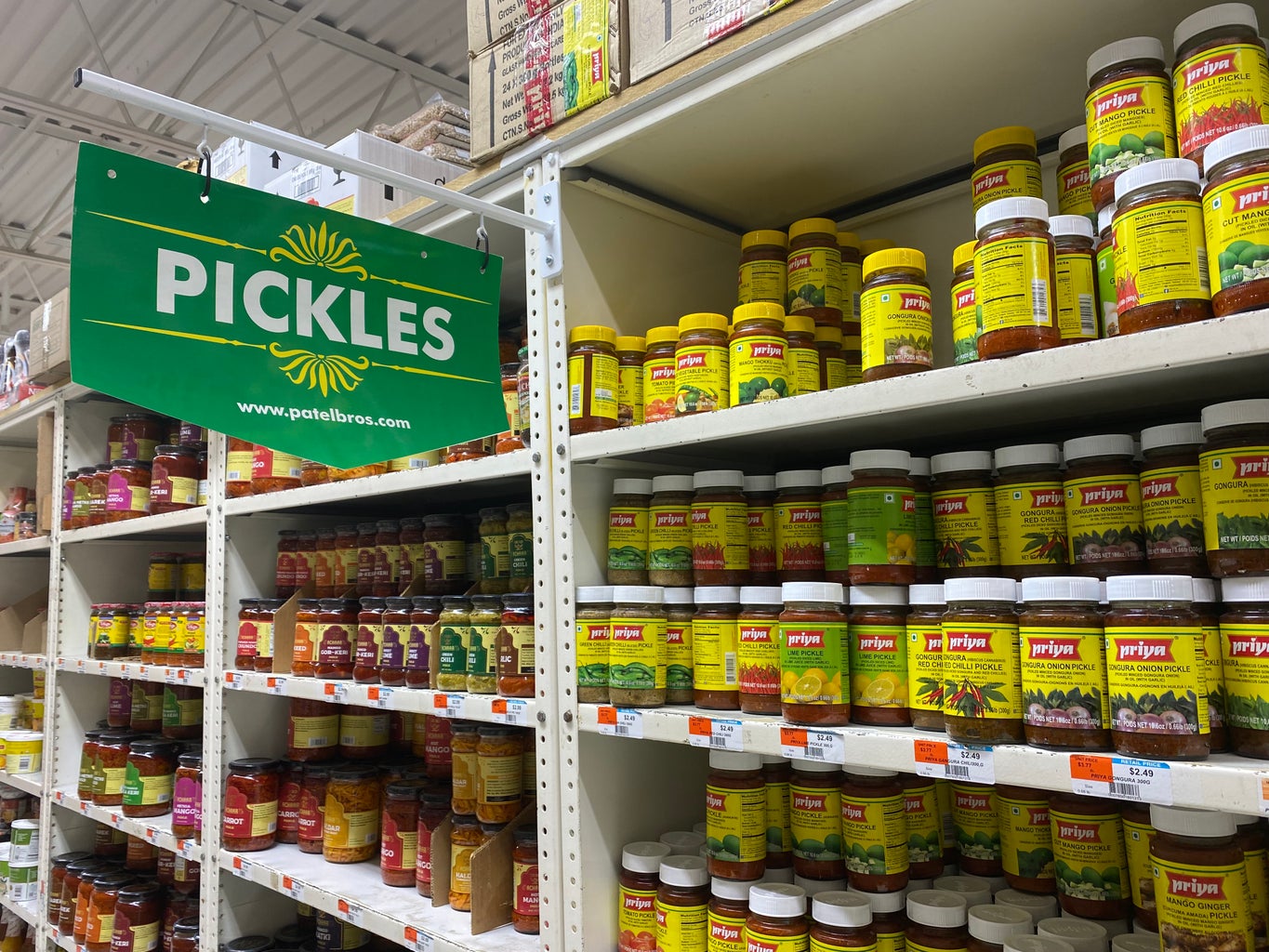 If you love pickles, then this is the section for you! At Patel Brother's they have any and everything pickles. A fair warning, a lot of the pickled foods are a bit spicy depending on what you get.
If you are a garlic fan, pickled garlic is the perfect choice for you. It is a bit sweet with the best garlic taste around. The pickled garlic is mixed in with a blend of different Indian spices, but it isn't spicy just flavorful.
The next pickled item we tried was a "Mixed Vegetable" variety with carrot, bitter melon and ginger mixed in with a spicy blend of Indian spices and ingredients. It was really spicy, so we recommend using it as a side dish with something else and serve in a small portion. If you can't handle spice or don't like it, this isn't the pickled vegetable for you.
ethnic foods: Bakery and Desserts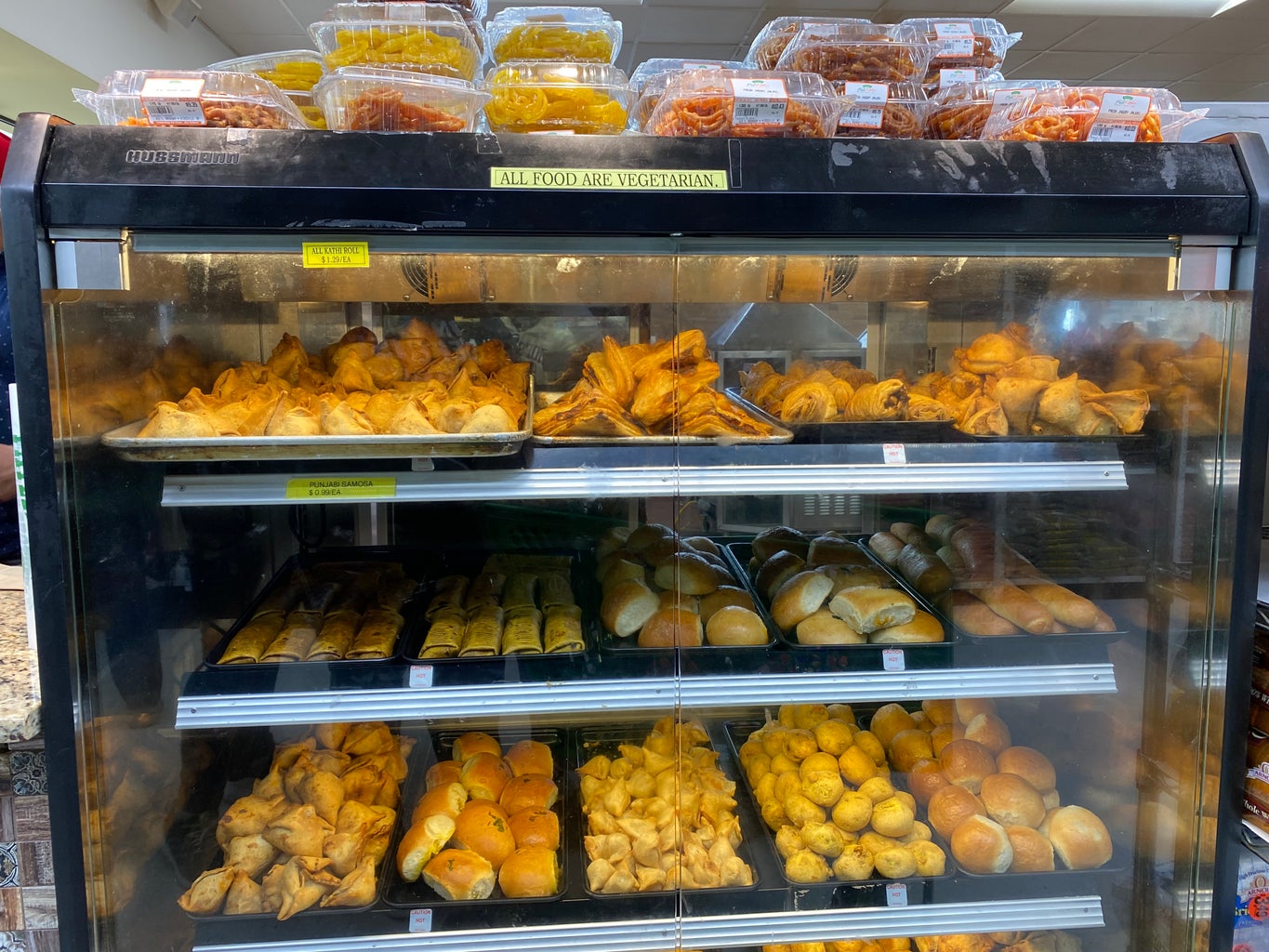 This Patel Brothers does have a small bakery where they sell bread, naans, samosas, Kathi rolls and more. The veggie samosa is packed with potato, peas and spices and is worth every cent. All the fried food you want to try is at the Indian bakery. Kathi rolls are roasted kebabs wrapped in paratha bread which is similar to a tortilla yet thicker. Naans are like parathas but they are baked in a different way.
Jalebi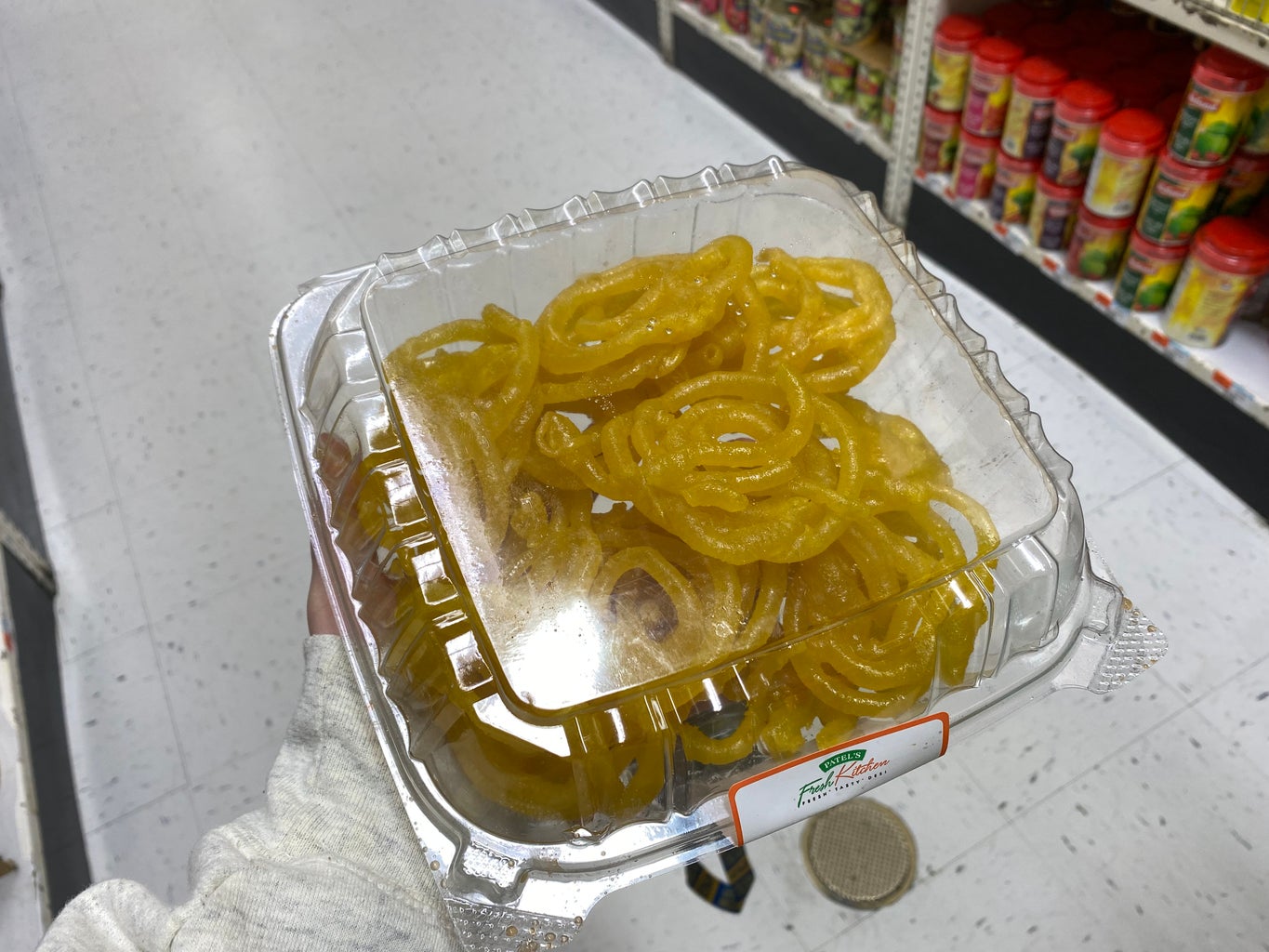 As you can see these desserts look like funnel cakes. They are pretty similar to them, but they aren't as fatty. Jalebis tend to be light and sticky with syrup. They are soaked in the syrup after they are fried. These jalebis have a slight citrus taste to them with an abundant amount of cane sugar to combat the acidic citrus. Overall, this is a nice dessert to have if it is a summery day and you are craving a light, sweet, honey-like dessert.
Gulab jamun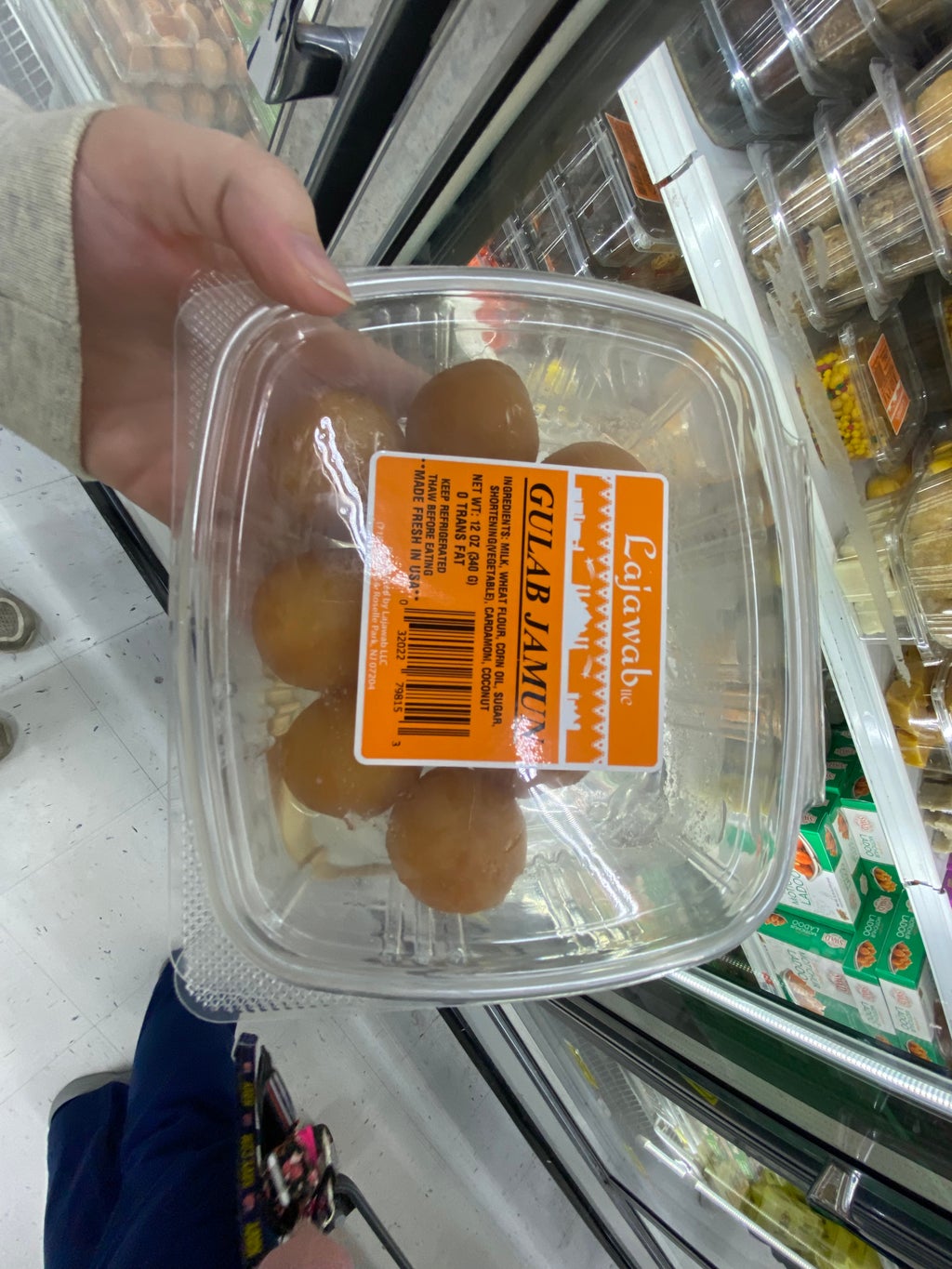 These mini balls of cake are the best things to have found in the Indian Grocer. Similar to jalebis, gulab jamuns are cake balls that are soaked in a rose water flavored syrup. They are really sweet after soaking up all the syrup and can be sugar-coma-inducing. If you do try them, only eat about two per sitting, however, because they are high in sugars and calories. Highly recommend it to those who like a more simple or plain dessert or sweet, though.
Onion Paratha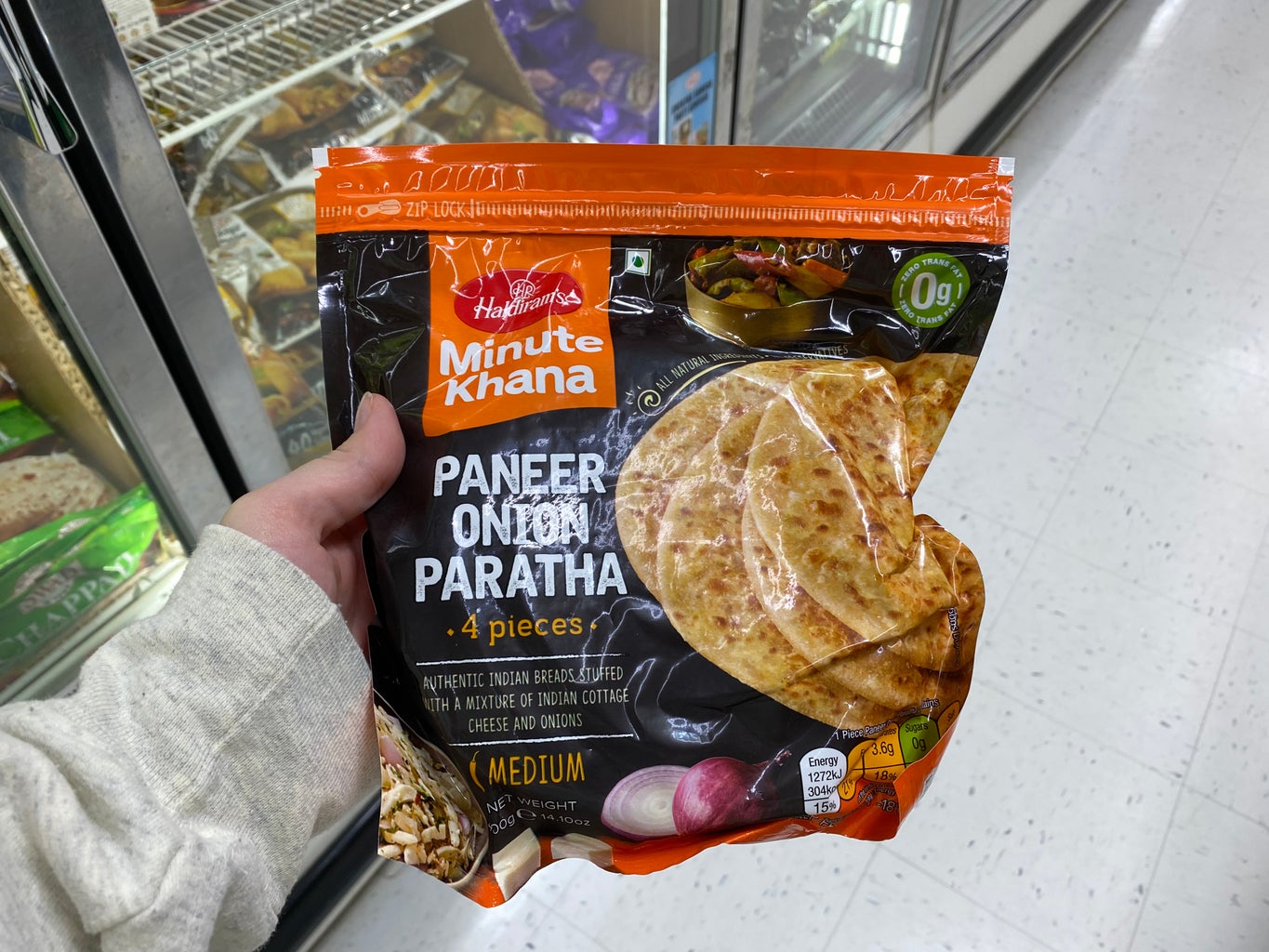 Parathas are like tortillas except they are thicker and also from opposite ends of the world origin-wise. Parathas are typically eaten with Indian breakfasts. You tend to eat them with eggs, omelets or with plain butter spread on top. They also come in different flavors too but stick to the plain parathas if you've never had them before.
MTR's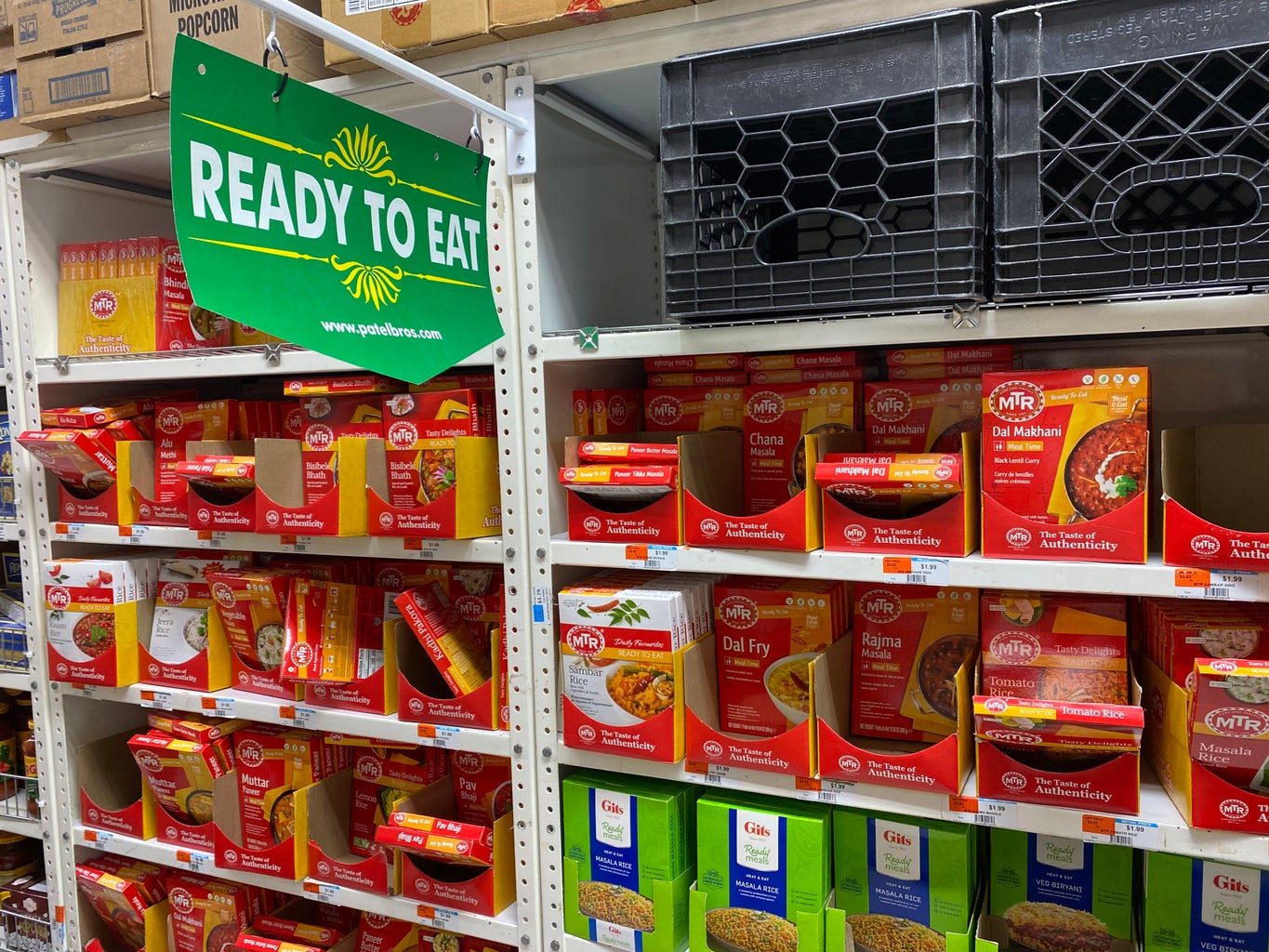 MTRs are Indian heatable meals. Basically, like microwave meals but Indian style. They have a lot of different types of masalas, dals and paneers. Now if you don't know what any of that is, we can help! Masala refers to a mixture of spices, so when you get any type of masala it means the dish will most likely be flavorful or rich. The variety of the MTRs allows you to pick what spice level you want, so don't worry too much about it being spicier. Dals are lentil-based meals, so the dish would have lentils in an Indian sauce or curry-like medium. These meals tend to be a bit more on the soupy side. Paneers are one of the popular dishes or MTRs to pick from. Paneer is Indian cottage cheese, so if you are looking for a vegetarian option this is the way to go. MTRs don't contain any meat at all and are vegan and vegetarian friendly, but it depends on the brand of MTRs you buy. Look out for dietary info on the packaging. The MTRs only cost about $1.99 each, so they are on the cheaper end. MTRs are the best way to try a lot of different Indian dishes and see what you like without breaking the bank.
So, there you have it! Next time you go to check out your local Indian grocery store, be sure to give these foods a try!