5 Reasons You Need To Binge Watch 'Good Trouble'
A spin-off from the popular Freeform show The Fosters, Good Trouble follows Callie and Mariana Foster as they navigate life right after college. They move away from home to Los Angeles, California, where they have to adjust to life as adults. Themes such as finding your place in the world, race and sexuality are taken on in this new show. Unlike most post-college series though, this show takes place immediately after college. Still unsure on whether or not this show is for you? Here are five reasons why you need to start bingeing it immediately.
It shows life after college.
As a college student, there are not many shows that follow the plotline of life immediately after college. Sure, there are shows like Girls or Friends, but those focus on life in your mid-to-late twenties where the characters have acquired a steady job and have been completely independent for a few years. Good Trouble instead focuses on the struggles that Callie and Mariana go through after college graduation, as they adjust to life completely independent from their moms. They live in a rundown, communal apartment where the only thing private is their bedroom – everything else is shared with many neighbors. In reality, most college students cannot afford to live on their own after college, in fact, it is not uncommon for them to have a roommate or two. They get what money can afford and, at that point in our lives, money is tight.

Gif courtesy of Giphy
First jobs.
It is exciting thinking about the day when we are finally in the working world doing something we are truly passionate about. Good Trouble shows the realities of what a first-job could look like. Mariana works at a startup tech company that is male-dominated. Not only is she one of the only women who work there, but she is also a part of a small pool of minorities as well.

Gif courtesy of Giphy
The gray areas of dating.
Today, dating is less of two people meet and they go out and end up dating a few days later, and more two people start talking or maybe they just hookup, then after a while, maybe they start dating. In the show, it tackles the different forms of relationships. Callie is hooking up with a guy who is seeing two people – including her – at one time. Her relationship focuses on hookup culture and what happens when you start developing feelings for your "friends with benefits." One of their neighbors, Davia, is hooking up with a married man, while another neighbor hooks up with random women to forget about his past. All of these focus on a different situation within this new dating culture.

Gif courtesy of Giphy
Growing up.
One of the main themes of the show is growing up. The sisters have moved out of their parents' house and are on their own in the world. They are forced to realize that they are no longer children who can rely on their parents to help them out but are adults who must face their problems and the consequences that may come with them.

Gif courtesy of Giphy
The importance of family.
Staying with the original theme of The Fosters, family, especially sisterhood, remains strong right from the beginning. Though Callie and Mariana prefer their newfound independence, that does not mean that they still do not need their family's support and guidance. Family members from the original series do make guest appearances on the show as they help set each sister on the right path.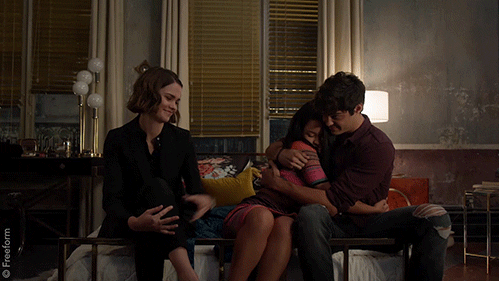 Gif courtesy of Giphy
These are only just a few examples of why you should start tuning into Good Trouble immediately. Overall, the show takes on real problems that we as a society are facing today, as well as the struggles that young adults face after graduating from college. If you haven't tuned in yet, get on Hulu and begin bingeing now!