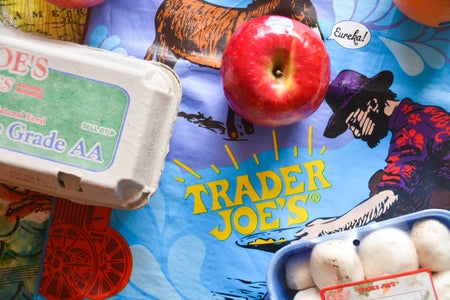 10 Fall Foods from Trader Joe's For You To Fall in Love With
Nothing says fall like warm, comfort foods. This season, Trader Joe's has tons of yummy fall favorites. Whether it's breakfast, dinner or dessert, Trader Joe's has delicious treats for you to fall in love with.
1.

Trader Joe's Pumpkin Pancake and Waffle Mix

This mix lends itself to the perfect fall breakfast. It is made with real pumpkin, cinnamon, nutmeg and tons of other fall spices. To make delicious waffles or pancakes, all you need is butter, milk and an egg. A gluten-free option is also available at Trader Joe's!

2.

Trader Joe's Pumpkin Butter

Trader Joes' Pumpkin Butter is a fan favorite that is back for the season. This versatile spread can be enjoyed for any meal. For a flavorful breakfast, add it to French toast or oatmeal. Bagels, biscuits and banana bread will also be delicious with this butter. You can even have it as a snack with apple slices.

3.

Trader Joe's Spiced Cider

Fall beverages are essential for the season. This cider is made with apple juice, nutmeg, cinnamon, cloves and more. A secret ingredient gives it a tangy kick. This can be served cold from the fridge or warmed up.

4.

Trader Joe's Maple Sea Salt Kettle Corn

Cozying up with your favorite snack has fall written all over it. This kettle corn is crunchy and sweet. The light caramel sugar and maple glaze make it the perfect fall snack.

5.

Trader Joe's Butternut Squash Mac and Cheese

Squash is a versatile fall vegetable. It is combined perfectly with a comfort food at Trader Joes. These short, thick noodles are smothered in cheese. The addition of fall spices gives it just the right amount of fall flavor.

 

6.

Trader Joe's Honey Roasted Pumpkin Ravioli

This delicious meal is super easy to make. After you boil your water, pop these in for two minutes and they are ready to eat! Stuffed with ricotta and pumpkin, this is perfect for a busy fall day.

7.

Trader Joe's Riced Cauliflower and Butternut Squash Risotto

In less than 10 minutes, you can cook up a cheesy, comforting meal. This is a healthier option at only 70 calories per serving! However, not to worry, it is still delicious and bursting with flavor!

8.

Trader Joe's Pumpkin Biscotti

These treats are paired perfectly with a cup of coffee. A slight pumpkin flavor is just enough for this dessert. Enjoy it after dinner with a pumpkin spice coffee!

9.

Trader Joe's Pumpkin Bread and Muffin Mix

This mix is incredibly versatile. You can make treats that can be enjoyed throughout the day or after dinner. Water, oil and eggs are all you need to make a super easy fall delicacy.

 

10.

Pilgrim Joe's Pumpkin Ice Cream

Pumpkin flavor and traditional spices combine to make a cold, creamy dessert. Throw it on top of some pie or apple crisp for an all-around fall experience.

 

 
As you can see, there are plenty of fall foods and flavors to choose from. Head to your local Trader Joe's and check them out!