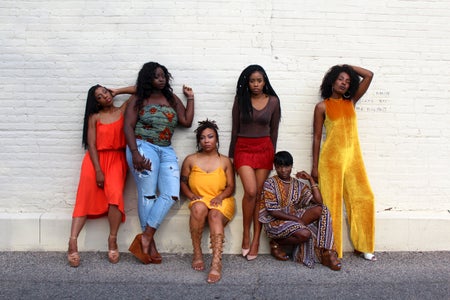 10 Colors to Incorporate in your Style this Spring
Although Spring doesn't officially start until March 19th, warmer weather is approaching and we can't be more excited about it. According to the Pantone Color Institute, you can expect to see these 10 colors everywhere in the world of fashion. We're here to give you ideas on how to wear them so you can keep up with the Spring 2020 trends. 
Hannah Bettis / Her Campus

Definitely the boldest of the colors, this bright red is guaranteed to have you feeling confident and determined. Show up to your internships in this color with a good-fitting blazer or make your neutral looks pop with fiery earrings and flats.

This goldish yellow is not new but is ready to make a fierce comeback. Find a pair of saffron pants and you're set for all of Spring. This is also a great color for accessories when you need to spice up your bland outfits for those professional settings.

Your trusty classic blue jeans are ready to come out and play. Spring 2020 is going for that sense of familiarity, especially with this color. Blue jean skirts and shorts will be your best friends.

Anna Schultz / Her Campus

Another popular denim color is the faded look. Faded denim jean jackets are perfect for those late nights out with friends. Get one oversized for a cozy, yet edgy vibe.

Coral Pink is perfect for that odd transition between Spring and Summer. This bright color will make any outfit pop and have you feeling ready for brighter days. Three words- Coral Pink accessories!

Another SUPER bold color trending is this dark purple moment. If you're not interested in standing out too much from the crowd, definitely use this color for accessorizing. A great option would be choosing this color at your next manicure. 

Maria Scheller / Her Campus

This earthy color is perfect for outside activities. This color paired with corduroy makes super cute jackets and dresses, two trends in one!

Sunlight is a very soft yellow. Intended to invite happiness and cheer, this color will brighten your presence and make you stand out from all the bland without being too loud.

This light turquoise-green is another color great for those late spring/early summer days. Again, this color is bold but not too bold and would be perfect in those bigger clothing pieces such as pants or tops.

Anna Schultz / Her Campus

You can never go wrong when wearing white. White T-shirt, pants, booties and belts this color is the easiest to style with. Suggesting simplicity and modernity this color works in any setting.
Incorporating these colors in your spring fits will have you looking fresh and up to date with all the trends. Thanks, Pantone!