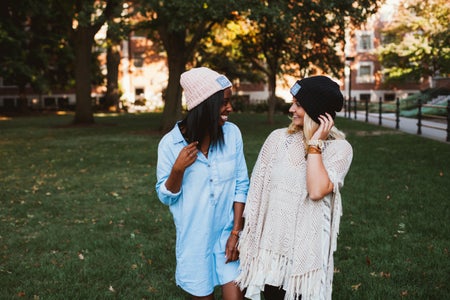 Period Products Made Just. for You
This is a sponsored feature. All opinions are 100% our own.
Ladies, we've all been there before. Aunt Flo has suddenly arrived on your doorstep and you realize that you forgot to replace the empty box of tampons from last month. You run to your nearest Walmart searching for something that'll get the job done for the next week or so. As if on cue, those cramps are starting to kick in and so does the drama. Next time, instead of having a complete meltdown in the middle of a Walmart shopping aisle, grab a box of Just. tampons and a carton of ice cream on your way to check out. It's just that simple. 
Our chapter had the pleasure of receiving Just. tampons to review and share with our campus in hopes of letting other women know how bloody simple period shopping can be. The Just. tampons weren't like any other products that we had received before. The 100% cotton core tampons were provided to us in cute reusable custom pouches that kept our products discreet while allowing us to feel confident. 
Lucky me, shortly after our chapter received the Just. tampons, the stress of finals week began, and well, so did my period. I was excited to give the tampons a try considering they are made with no dyes, fragrances, or chlorine bleaching, instead just 3 simple ingredients. I am more of a tampon kind of girl anyway, so I was excited to give the product a try and test how much protection it would give me during my busy week. 
The first thing I noticed about the tampons was that it provided a new level of comfort that I hadn't experienced in a long time. The tampon itself felt comfortable and seemed that it was working with my body instead of against it. The cotton core remained absorbent throughout my period and I experienced no leakage thanks to the braided string. Although I didn't experience any less cramping than I usually do, I felt assured that I could focus on the stress of studying for finals with no extra period drama. 
Well, ladies, if you're looking for period products that are just right for you, look no further! Just. products are only sold at Walmart, so head to your local Walmart to get your monthly supply. Remember, it's just a period and it should be bloody simple!