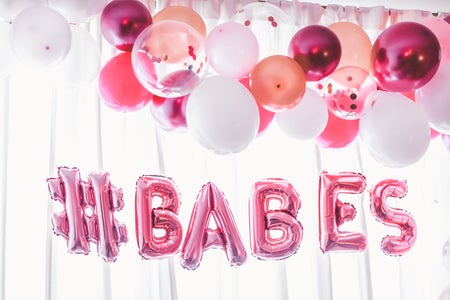 The most important part of a young woman's life has finally arrived. The part that we dream about as children. We make lists of all the things we could possibly want for it and count down the days until it's finally here. 
The part where we can pretty much party anywhere that we want.  The part where we are finally looked at as full-fledged adults. 
You already know what I'm talking about, it's time to celebrate your 21st birthday.
Giphy
I, for one, am so excited. I will be celebrating my lovely 21st birthday this year on March 4. As excited as I am, I found myself stuck with finding ideas on what to do for this beautiful occasion. Here I am in Atlanta, with no plans. That's a big no-no.
After months of suggestions and research, I've compiled a list of events and activities that will help me and any other woman celebrating this exciting birthday in the city of Atlanta. 
Sip and Paint
Sip and Paints are very common in Atlanta. These events allow you to get a little tipsy, while making some beautiful art. This could be a great event with friends, celebrating with good vibes and fun. Painting with a Twist is a great place to check out. It has some decent prices with great drinks. 
All Fun and Games
If you like sporty-like events, Topgolf or The Painted Pin would be great for you. Topgolf is a golf course that allows you to hit microchipped golf balls at a large target on the field. It's a pretty cool experience, especially if you're on a higher floor level. They also have great promotions, such as $15 Unlimited Play weekday mornings. 
The Painted Pin is an upscale beer and bowling arena. They have a variety of games, such as Skee-Ball and ping-pong. 
Party, Party, Party
If you're like me, I am ready to hit the 21+ clubs!  The Suite Food Lounge, which is right across the street from the Georgia Aquarium, is the place to be at on the weekends.  Business casual is their dress code, so dressing up is a must. They have delicious food for a decent price, too.
The Basement is an awesome club that holds era-themed parties.  They have a calendar full of different events and specific parties. Definitely check it out here, 
Giphy
Take a Trip
Instead of staying in Atlanta, take a trip out of here! You could  go to neighboring states, like Florida or Tennessee. Tennessee has some amazing cabins with beautiful scenery, and Florida's beaches are so beautiful. Not to mention, if you want to splurge, you can visit Disney World or Universal Studios. 
Whatever you choose, enjoy it! This day comes once in a lifetime. Turn up! Turn up! Turn up! 
Giphy