5 Safety Tips to Follow During Spring Break
It's the moment we've all been waiting for...SPRING BREAK. Congrats to everyone who made it this far through the blood, sweat, and literal tears that come along with the first half of spring semester. 
Before you take your well-deserved break, it's time to brush up on some safety tips to keep your break as fun as possible.
1.  The Buddy System
If you go anywhere, make sure you go with a friend. That way, if you both disappear for longer than expected, it'll be easier to find both of you.
This technique has been used since elementary school for a reason. Even if you find an attractive person at the party, don't go home with them. You don't know what their intentions are going to be, so the safest thing to do is get their number and see where it goes from there.
2.

Use Protection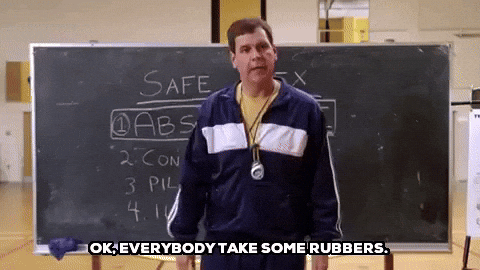 Photo provided by giphy.com 
No one goes on spring break trying to get an STI or a pregnancy scare, so do yourself a favor and wrap it up.
It doesn't matter what your sexual intentions are, you need protection because you never know what the person you're about to hook up with has. 
Most STIs don't have side effects, so you won't know that you have something until you take a STI screening test. Don't take anyone's word that they're clean, either. You should not believe them until there is proof.
If you can't talk to their doctor or see their test results, then you should not engage in sexual activity with them. Remember folks, the only crabs you want to encounter are on the beach.
3. Drink Responsibly
                                                    Photo by Maurício Mascaro from Pexels 
Even though you're trying to have an unforgettable time during spring break, you should not imitate the song "Shots" by LMFAO. 
No matter how good all those drinks look, you need to pace yourself. That means, for every shot or alcoholic beverage you intake you need to drink a cup of water. 
This will help keep you hydrated so you won't spend the rest of the night puking in the toilet or worse, hung over the next day.  
4. Don't Leave Your Drinks Unattended
                                                          Photo by Oleg Magni from Pexels 
The second your drink is out of your sight, it's time to get another one. It doesn't matter if it was free, or if it cost you an arm and a leg. No unattended drink is worth the risk of getting roofied or worse. If you see someone's drink getting spiked, let them know. Just make sure you're smart about when and how you tell them.
5.  Be Aware of Your Surroundings 
                                                       Photo by Daniel Robert on Unsplash
If something doesn't seem right, it probably isn't.  Make sure that you are on the lookout for anything that seems suspicious in your surroundings. If it doesn't feel safe, it's time to go. 
Don't worry about what people will think when you leave a party early. You should be thinking about how this could potentially save you and your friends from an unexpected scenario.
And of course, the last rule you should know is to have fun! Spring break is supposed to be a week of relaxation and adventure with your friends, so get out there and have a blast!