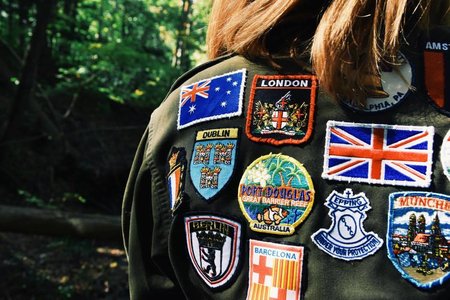 Anna Thetard / Her Campus
Australian vs. U.S. Clothing Brands
While our loyalty lies in our tried and true American brands, our friends from the land down under know their deals. Compared to American brands, similar Aussie brands are of better quality, cheaper cost, and can be found in the U.S. Below I have compared three types of retail between the U.S. and Australia: casual everyday brands, formal brands, and accessories/sunglasses brands.
Forever 21 vs. Cotton On Australia
While Forever 21 is our go-to for crazy sunglasses, $5 earrings, and frat party costumes, their everyday clothes are of poor quality compared to Cotton On Australia. Cotton On consistently has promotions and deals aimed at making the lives around them better. In the few months I spent in the Land Down Under I ended up donating four times to one of their many charities by purchasing a $2 tote bag that I use for groceries every day. Along with their charity work, their clothes are the real deal. $15 skirts and $20 jean jackets are definitely a risk, but so far neither my jacker nor my skirt have shrunk in the wash, stretched out over the day, or ripped/torn in any way. Their fashionable statement pieces or causal everyday must haves are of good value, amazing price, and will stick with you for longer than any Forever 21 piece.  
(Photo Courtesy of Cotton On Australia)
(Photo Courtesy of Cotton On Australia)
Lulus vs. Hello Molly
I'm not going to lie, Lulu online has been my favorite website for nice, durable, affordable dresses, but just recently I was introduced to a similar website, Hello Molly. Hello Molly is an Australian based website that promotes up-to-date fashionable clothes. They have 100 new arrivals every week, so their page is constantly filled with new items. The best part is, their clothes are reasonably priced for formal wear. Definitely my new favorite website for any formal occasion!
(Photo Courtesy of Hello Molly)
(Photo Courtesy of Hello Molly)
Ray Bans vs. Quay Sunglasses
With their slogan being "Notoriously Cool Sunnies", Quay Australia has taken the lead for best sunglasses in Oz. Ray Bans have definitely taken this title in the U.S. but paying hundreds of dollars for one pair of sunglasses can be hard for a broke college student to stomach. Quay sunnies are affordable and fashionable. From basic frames to bold and boujee, Quay has it all. With a purchase of 75 dollars or more they even offer free shipping to the US.
(Photo Courtesy of Quay Australia)
(Photo Courtesy of Quay Australia)
Don't get me wrong, we are lucky to have such amazing American brands like the ones mentioned above, but as a broke college student, finding the best deals for the same quality is always a win. Next time you find yourself in need of statement sunnies or cheap everyday clothes, try these affordable and reliable Aussie brands!