The sun beams through your room, causing you to shift and move the bed head out of your face. You yank off the covers and mentally prepare your outfit for the day, something to catch the attention of your cute lab partner. And that's when it hits you: that weird nightmare involving some sort of beer wasn't a dream at all. Instead of silently cursing and falling back into bed, motivate yourself to get up and stick to your routine. You might be thinking that I'm suggesting something along the lines of cruel and unusual punishment, but here are some tips to make your morning routine one worth getting up for!
Sleep In
Sleep in, but you just said to get up? While staying in the same sweatpants for three days and only slightly moving to click yes when Netflix asks if you're still watching may not be the best self-care routine, it's okay to sleep in. If you know me, you might know that I'm up by 8:30 a.m. every day- including the weekends. Whether it's thanks to my over-productive self or the fact that I have the bedtime of your 95-year-old bingo loving grandma, I'll leave that up to you. However, recently I've been sleeping in. Most morning routines will preach about the importance of getting up early, and while it's great during everyday life, now's the perfect time to treat yourself to a little bit of extra sleep. So, if my alarm goes off and I'm still tired, I don't feel guilty about hitting snooze or just turning it off altogether. Of course, there are some days when a zoom meeting ensures that I'm up early, but if you turn the camera off and mute yourself, they won't even hear your snores. Just kidding, please don't do that- or hey, maybe do.  
Clear Space
By now, if you've read/watched any sort of morning routine, you're probably aware of all the benefits of making your bed. Now more than ever, it's essential to make sure your space is clear and refreshing. After all, you're going to be spending a lot more time in it. I like to spend the first 10 minutes I wake up straightening up my room. If it's helpful, you can set a ten-minute timer to motivate you. It makes you feel like you're on a 90s game show, racing against the buzzer to win that prize money- or in our case a hefty dollop of hand sanitizer.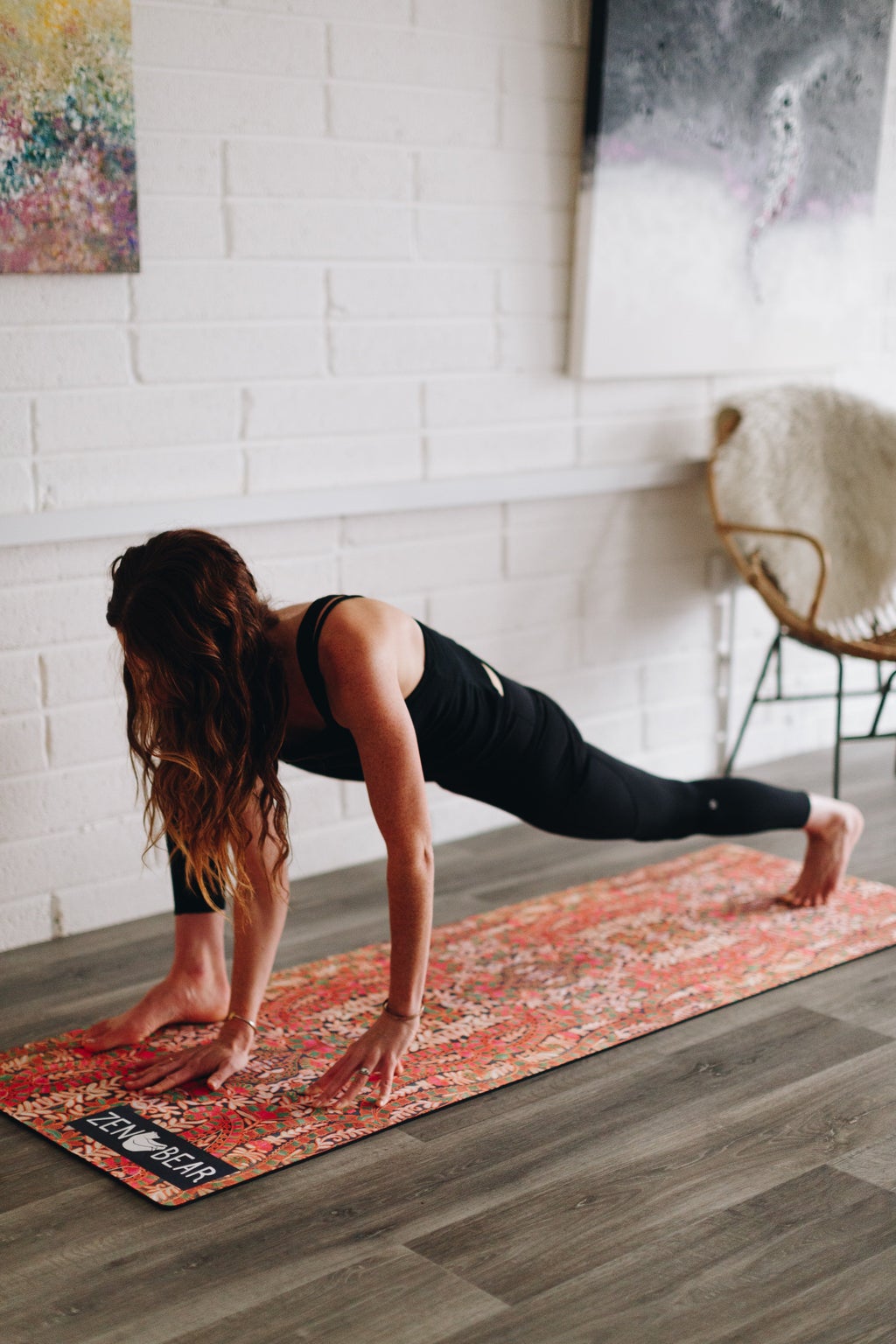 Get Active
Before the pandemic, I was on campus every day by 9 am, making my morning yoga rushed or, most-days, non-existent. I decided to take full advantage of our time at home and do a morning yoga flow every day.  For the month of April, I'm participating in yoga with Kassandra's 30-day challenge. It's simple and perfect for all levels, but if you're more of a once a week kind of gal, Yoga with Adrienne or Cat Meffan have amazing flows you can follow along with. If you're not looking to find your "inner zen" or somehow manage to be clumsier than me, you can find a workout that makes you feel best. You can go for a run, participate in a workout live-stream or try out an app. Just make sure to move your body. Being stuck at home dramatically limits the amount of walking you'd typically get walking to class, work, etc. Shamed confession: during the beginning of quarantine, my step count dropped from upwards of 10,000 to an average of 3,500 a day. *hides face*
Intermittent Fasting
Intermittent Fasting was something I wanted to try for a while but found difficult because of my schedule. It can be hard to plan out all the meals you spend most of your day on campus or at work. I'm not super strict and don't count the exact hours I fast and instead just go with an estimated time. Normally, around 11 am. I'll make myself an iced matcha. Then in about another hour, I'll make myself some breakfast; my smoothie bowl addiction has skyrocketed.
Set the Mood
Matcha in hand, it's time to face the world, well just walk the couple steps to my desk. To get my mind in the working headspace, I change from sweats into an outfit. As much as I'd love to pretend I'm sporting Instagram-worthy work-from-home outfits, it's usually an athleisure vibe. Not the chic kind either; you know those three-year-old leggings and a thrifted tank top. This makes me feel comfy and productive, but also ensures that I won't back out of my evening run.  Next, I turn on my essential oil diffuser, I've been loving the Ocean Breeze scent, and get down to business!
While my morning routine helps me feel productive and keeps me from falling corona lumber, it's important to take it easy on yourself. It's okay if one day you're not feeling it and you'd rather read on your patio. Or if that hoodie from high school has become your outfit staple. Whatever it is, the most important thing is that you're practicing safety and self-care during these chaotic times.
Want to see more HCFSU? Be sure to like us on Facebook and follow us on Instagram, Twitter and Pinterest!