For this interview, I decided to talk to someone who is not only close to my heart but would definitely relate to the life of a "struggling artist." However, his first art exhibit on Jan. 25 was a success. Over a hundred people witnessed his debut at Mickey Demos Boxing Club in Miami, FL. He managed to rearrange a boxing studio into an art exhibit… I would say that is pretty impressive! Meet my dad and self-taught artist: Esteban de la Ossa (@esteban_art).
Her Campus (HC): When did you first start making art? Was there a specific moment that you realized that art was a passion of yours?
Esteban de la Ossa (ED): I always felt that I could do art. Intrinsically I've known that I have a very creative mind. But it wasn't until the passing of my father in 2014 that I started painting in earnest. The passion that I feel for painting has come as a result of practice and time. It grows on you.
HC: What is your most important artist tool? Is there something you can't live without in your studio?
ED: For me, of course, are the brushes. A good brush makes a big difference. I imagine many painters would say something similar; brushes, paints, material, etc. Tools take time to master. In the process, you uncover and find things about the interaction between a person and the tool. I've ruined many brushes! I have found unique ways of using brushes. I've mixed paints, introduced textures, used chemicals, etc. The mind is the real tool of an artist. It is a unique tool and a specific signature – a vision of the world. That's the tool an artist needs to remain sharp.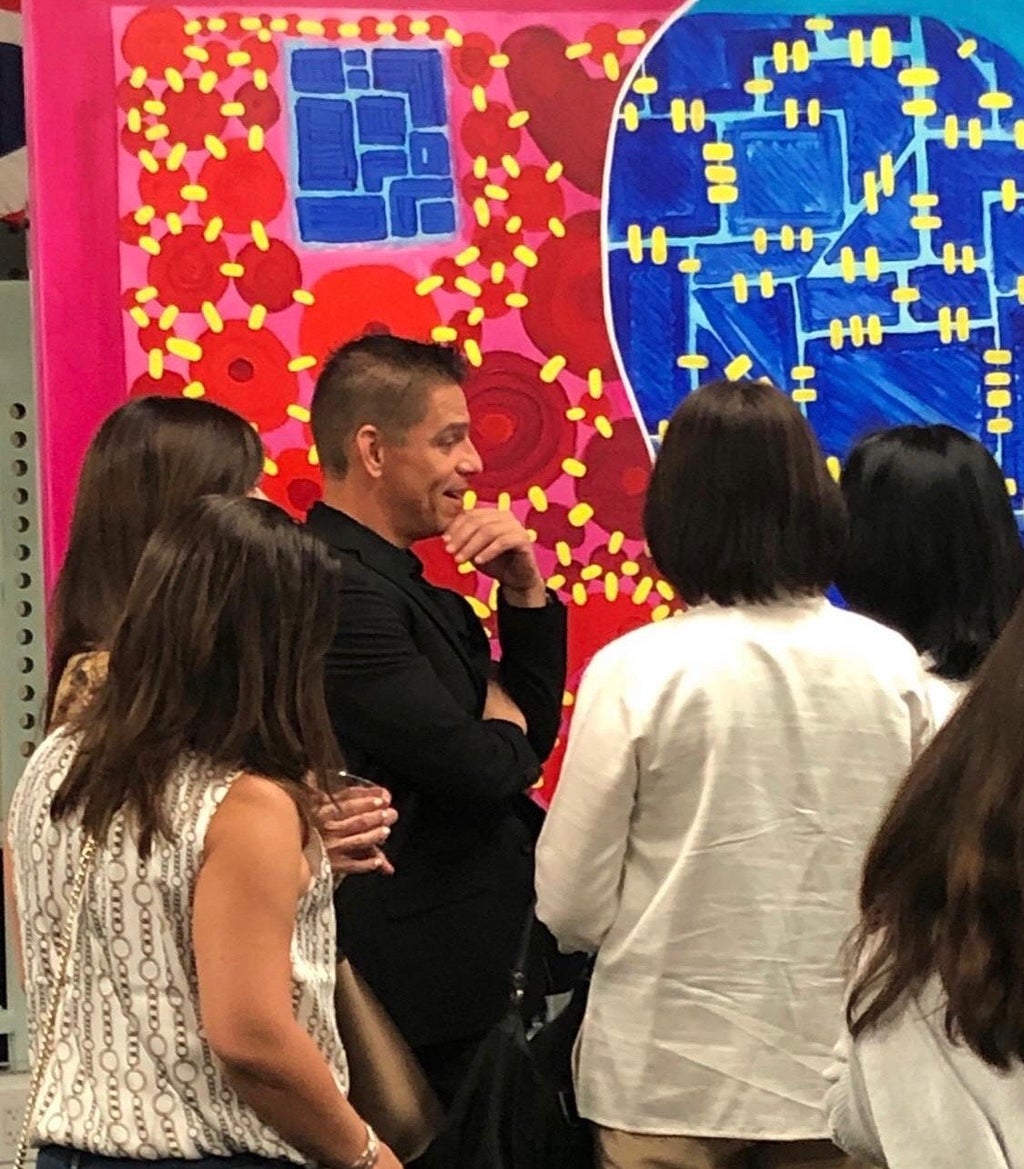 HC: What was it like transforming a boxing studio into an art exhibit? How did you come up with the idea?
ED: Transforming the boxing studio was something that came to me as a result of helping my friend, the owner of the gym, promote his business. It was a good fit for both of us. He gave me full discretion to transform the gym as I chose. I used my hands and creativity to build the sets from basic materials, such as wood, screws and hooks for hanging walls that would ultimately hang boxing bags. I used the space to my advantage.
HC: Is there an artwork that you displayed at your first art gallery that you are most proud of?
ED: Honestly there wasn't any one piece. Having all of my work in full display for the first time in front of over 100 people (we counted 120) was exhilarating. I felt proud of all my work.
HC: I've noticed and you have told me before that most of your pieces have a signature galaxy/outer space look to them. What inspires you to make these pieces?
ED: I like painting the sky in all of its forms. Beyond our sky lies endless oceans of mysteries about the universe which humanity is slowly unlocking. I like to learn about the birth of the universe and that can only be seen in the sky.
HC: How do you manage your time with your job and the demands of painting several pieces all at once?
ED: Normally I don't need to produce many paintings at a fast pace, but leading up to my first exhibit my work-life balance was practically nonexistent. A fulltime job and 4 to 5 hours of sleep for 2 months was standard. Surprisingly, I was spurred by the prospect of the upcoming event and the adrenaline kept me functioning at a very high level.
HC: So, seeing that your exhibit was an amazing debut, what would you say is your next plan for the artist world?
ED: Successful digital commercialization of my art. Prints, merch, collaborations and a lot of marketing. And most importantly, allowing my artistic instincts a louder voice in my life and all my endeavors. To see more of my dad's work and progress as an artist, check out his Instagram, @esteban_art!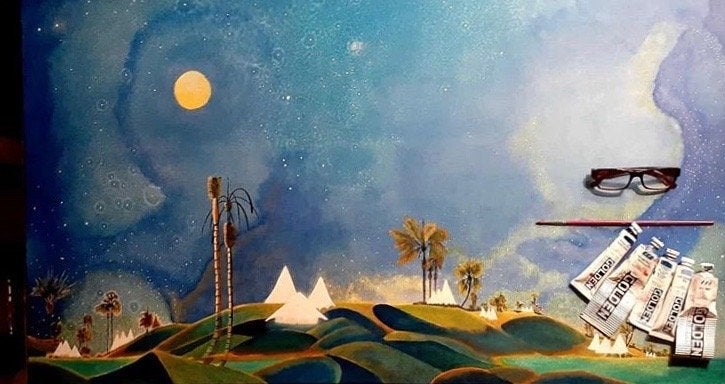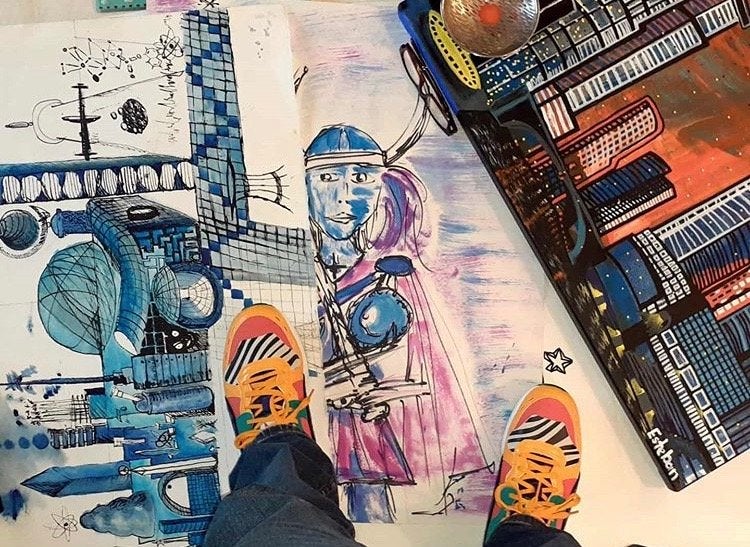 All photos courtesy of an FSU Contributor.
Want to see more HCFSU? Be sure to like us on Facebook and follow us on Instagram, Twitter and Pinterest!