I recently had to give a special occasion speech in my public speaking class, and since the topic of my previously mentioned speech was somewhat related to my time with Her Campus, I've decided to turn my speech into an article.
For those of you who don't follow Her Campus FSU on Instagram, each week the writer of the article with the most views from the previous week is named "Boss Babe of the Week". Each Boss Babe is asked their hometown, their favorite TV show, their girl boss inspiration and their favorite food.
Back in October, my profile of Mark Zeigler was most viewed the week it was published, so I was posted on the story the next week, where I listed my favorite food as "toast with butter."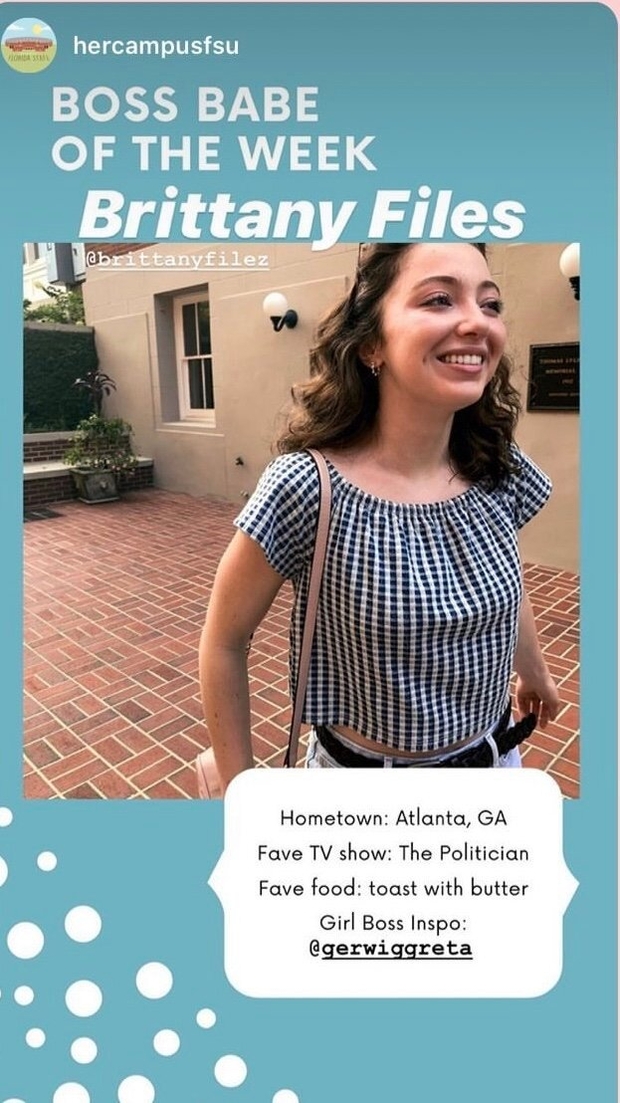 Courtesy: Her Campus FSU Instagram
After I shared the post on my own account, I received multiple DMs from friends mocking my choice.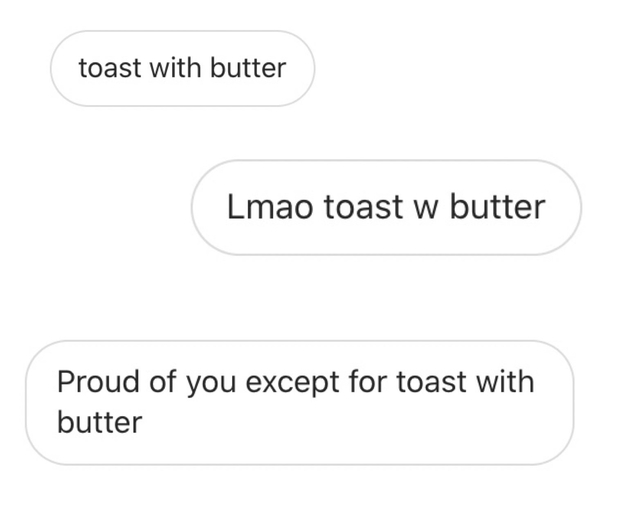 Courtesy: Brittany Files
In the following week, I was also sent the same exact tweet about toast (by an account that's now suspended for copying tweets, this tweet included) five times by five different people.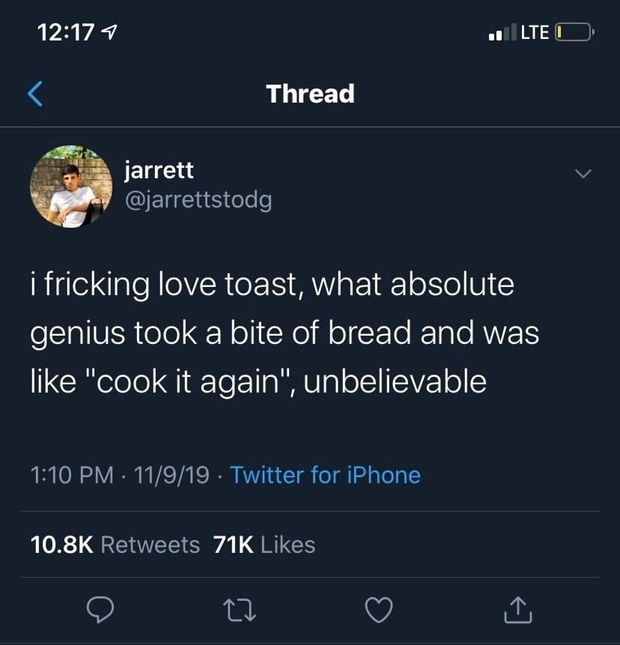 Courtesy: Brittany Files
And a month later, I was sent a different one, which I'm pretty sure was also copied from someone else (clout chasers smh) since clearly, people were still not over my declaration of love for toast.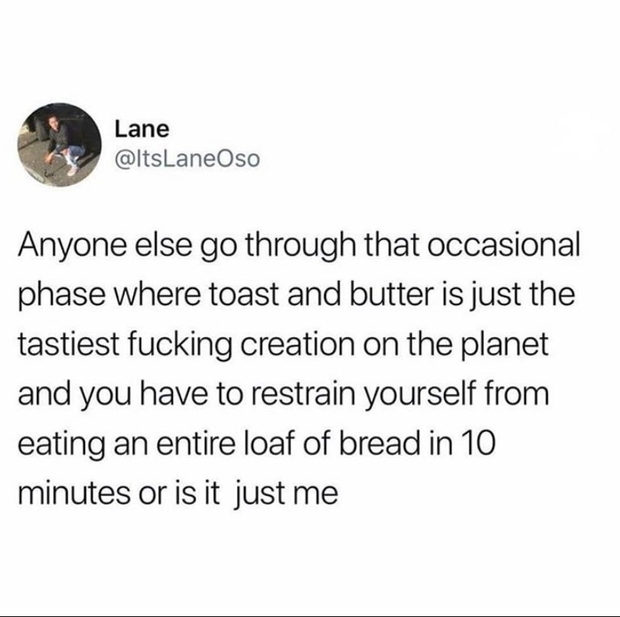 Courtesy: Brittany Files
When I sent the social media director my responses, I never imagined my choice of favorite food would be so controversial. Since the posting of that story, I've been in many heated discussions about the importance of toast. If there's one thing I've learned from this experience, it's that the marriage of the two classic American staples, bread and butter, has gone, until this moment, underappreciated. I am here today, not to persuade you to choose toast as your favorite food next time one of your articles is read over 400 times in less than a week, but to celebrate the versatility of this beloved staple food.
As college students, carbohydrates probably make up the majority of most of our diets, and what better way to carbo-load than by eating bread? There are so many different types of bread out there. You have sourdough and brioche and whole wheat, rye, pumpernickel, ciabatta. Each with their own special taste and each easily toasted in under five minutes. 
I've always advocated that the bread makes the sandwich. No matter how sh*tty the lunch meat, vegetables or condiments are, a sandwich on good bread will still be decent, however, the reverse is just not true. You can have the most high-quality ingredients in the world, but if you put them on a piece of Wonderbread the sandwich will be mediocre at best. This is a take I am willing to fight to the death over. Toast is essentially a sandwich on one piece of bread, so with a quality loaf of bread, you can never go wrong.
There are also many choices in regards to the type of butter you use, whether you're a real butter person or you prefer margarine. Even if you're vegan, there are dairy-free butter options.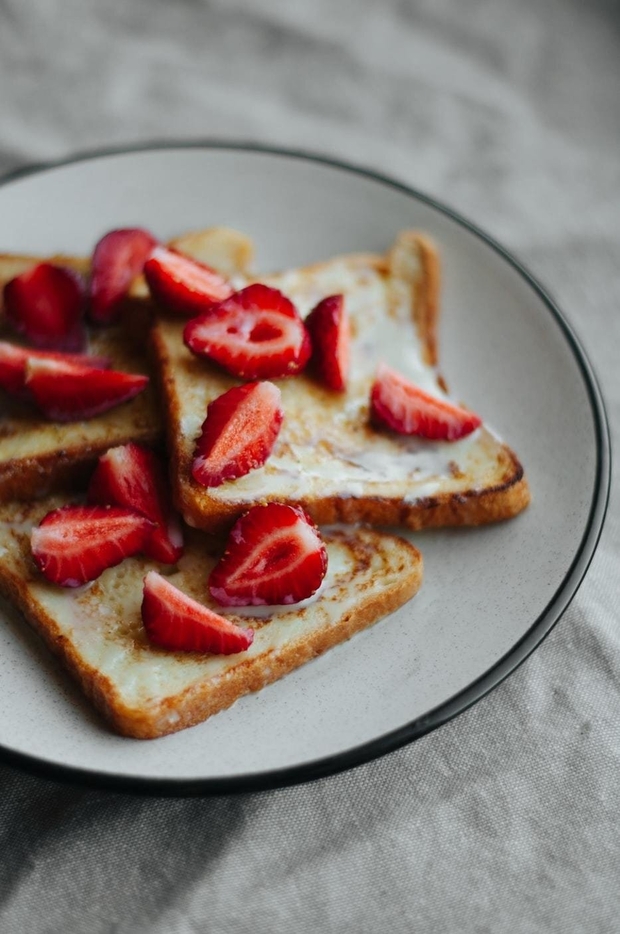 Courtesy: Alina Karpenko
Beyond all the different ways you can butter toast, toast can also be topped with many other foods: like avocados, cheese, peanut butter, different fruits (like bananas), Nutella or cinnamon sugar and honey. You also have French toast, a great breakfast option that can be enjoyed any time of the day, as well as garlic bread, which goes great with a bowl of spaghetti. It can be added as a side or enjoyed as the entrée itself, and can be eaten on any occasion, big or small. Having a tailgate? Make some toast while you're waiting for your burgers to fry. Running late and need a quick breakfast? Throw your favorite bread in the toaster and you're on your way. Toast is timeless. Classic. It will never go out of style. So, join me in a toast: to toast.
Want to see more HCFSU? Be sure to like us on Facebook and follow us on Instagram, Twitter and Pinterest!