A Search for the Best Rooms in Tally: Vanessa & Mackenzie
This week when searching for the best rooms, I didn't look very far. I decided to feature my roommate and I's spaces to demonstrate how similar rooms can be decorated entirely different from another. My roommate and I have completely different styles in terms of décor, as they both reflect our personalities. One thing we did have in common was our budget.
Apartment: Vanessa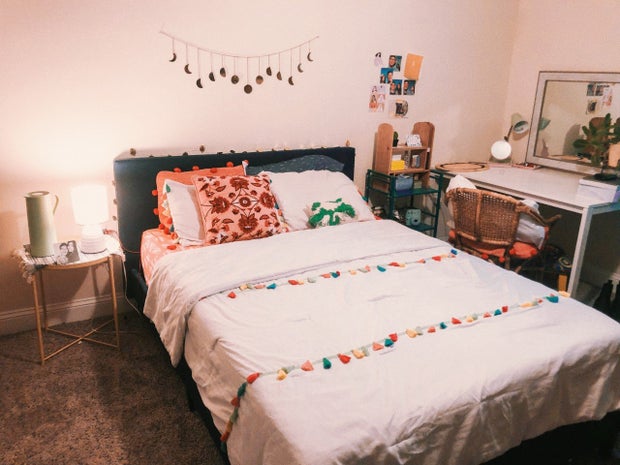 When I first knew I was moving into an apartment at the end of my freshman year, I immediately was running ideas through my head. I made it my mission to find the perfect pieces for my room in the summer of 2018. I was excited to finally have my own space to let my creativity fly. I did run into one problem, however, many of the types of pieces I wanted were either expensive brand new items or pricey antiques. Many of the pieces I wanted for my room were 70s boho-type pieces and were made mostly out of rattan or wicker. I took inspiration from this popular brand called The Jungalow. So, I spent the entire summer working five/six days a week and thrifting before/after work or on my off days. I went down the thrifting route because I knew that the only way I could have the pieces I so desperately wanted, was to find them secondhand. Although the search would sometimes be frustrating, it was also super fun! I was at Goodwill or the flea market constantly, and I was surprised at what I was able to find! Many of my baskets and all my plant stands are secondhand, as well as the beautiful rattan screen behind my TV stand.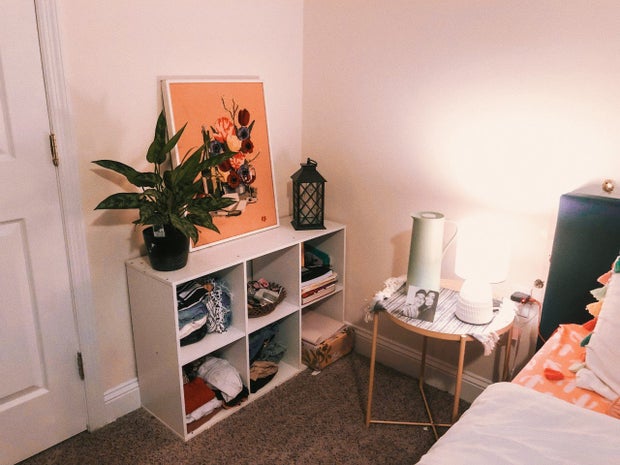 Speaking of my credenza, I happened to see my neighbors throwing it out one afternoon, and I immediately ran over and carried it home. My search wasn't complete by the time I went back to Tallahassee, so I continued my search until about September. There were only two pieces I so desperately wanted at this point: a peacock chair and a wicker hutch. I never thought I would find any of these pieces in Tallahassee, so I didn't get my hopes up and began only looking for small décor pieces. Then at one of my go-to thrift shops, I saw it, sitting in the back of a warehouse, A HUTCH. I was looking for any hutch at this point, even the very simple ones, but this one was everything I could've asked for! I love all the details and it is now my favorite piece in my room. Part of the reason it's my favorite piece is because it was a long, hard search that it paid off. I am shocked I could find a piece that typically sells for $200 and I found one for $48. Next, I made sure to add plenty of plants to bring life into my room as well as many personal touches such as photos. I am super proud of how my room came out, but I am still on the hunt for the rare peacock chair!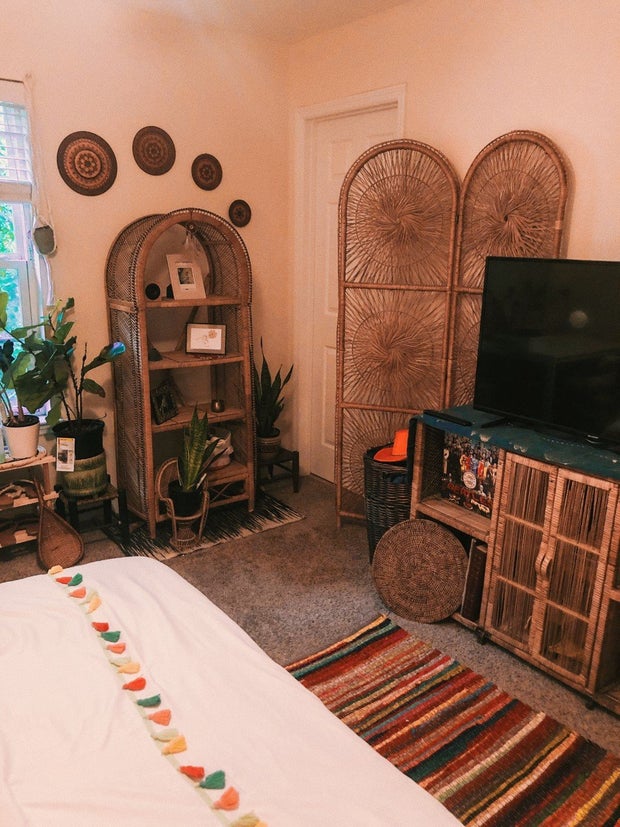 Apartment: Mackenzie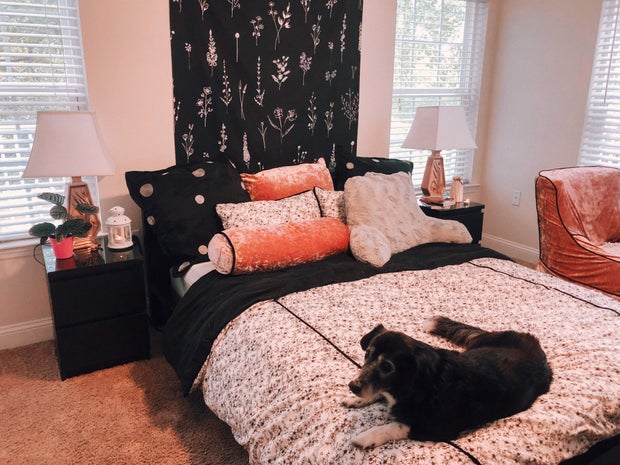 When it came to décor inspiration, Mackenzie took a different route than me. When asked what her inspiration was, she mentioned that she wanted to keep her room simple and feminine, while also having dashes of art incorporated. Mackenzie also ran into a similar problem as me, she was on a budget. Taking her budget into consideration, she went and picked out fabric with her mother and her grandmother offered to sew everything. Her "Feffie" sewed her whole bed set by hand and with a sewing machine, she sewed all the blankets and pillows.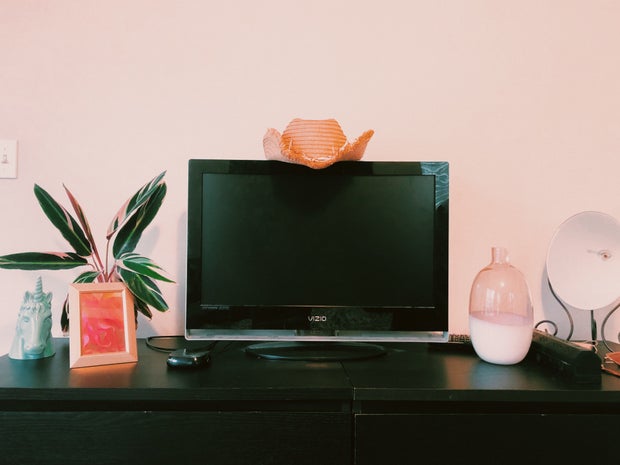 The bed set is Mackenzie's favorite piece in her room because it is all homemade. It also serves as a reminder of the two most important women in her life, who she sees a few times a year due to them living in different states. While visiting her mother in Kansas, Mackenzie was able to thrift her desk chair and her two lamps, both adding the perfect amount of pink to her room. She kept the simplicity by choosing the larger pieces in her room to be black, all being from IKEA. When asked why she wanted her room to be simpler, she replied that keeping things minimal helps her to focus better on her schoolwork and to keep an overall clear mind. When things are kept simple, it's easier to clean up. She quickly mentioned her room wasn't complete yet, as she wishes to add more art prints at some point.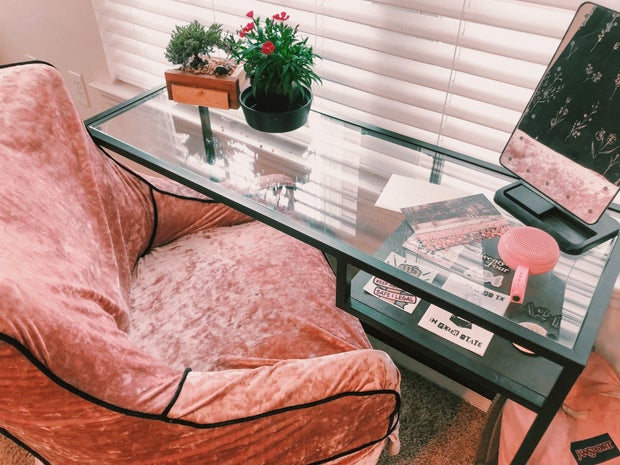 I decided to write about my roommate and I's rooms because it's interesting to see how two people decorate similar spaces. Looking at both, the contrast between the two is very clear, but the similarity lies in the personal touches. From a relative sewing a whole bed set to spending an entire summer looking for that vintage piece, both made the best out of our lack of funds. I think this is very important to adding character and truly making a room you.
All images courtesy of Vanessa Valles.
Want to see more HCFSU? Be sure to like us on Facebook and follow us on Instagram, Twitter and Pinterest!