A Search for the Best Rooms in Tally: Gabi and Sophia
This week I'm continuing on my search for the cutest rooms in Tally! Last time I was able to profile Anneliese and Amanda's rooms which blew my mind! You can find the article here in case you missed out. This time around I was able to meet up with Gabi & Sophia and, to no surprise, their rooms were adorable! From an eclectic theme apartment to a warm-colored bohemian dorm I saw it all this week!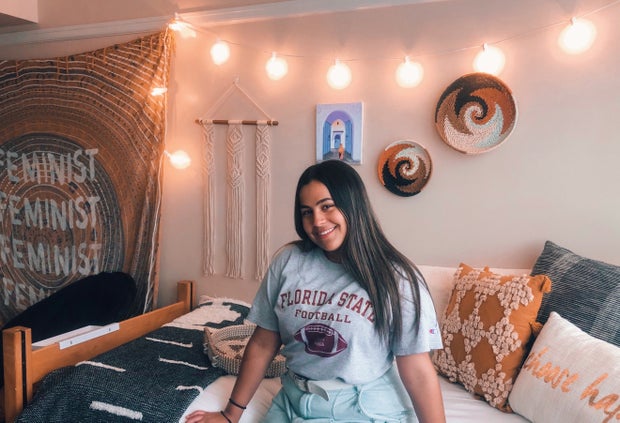 Dorm: Gabi
Gabi is a senior majoring in editing, writing and media and double minoring in general business and communications. Gabi currently resides in Landis Hall which, if you didn't already know, is exclusively for honor students. Not only that but she lives in a single-style dorm that has a direct view of Landis Green, can you say ~jealous~? When I walked into Gabi's dorm, it was like walking right into my freshman dream-dorm Pinterest board! This was pretty coincidental because she credits Pinterest for helping her plan and finding the inspiration that made her dream dorm a reality. I asked what style she was going for and she said that she wanted to stick to warm and neutral tones, as well as finding inspiration from her traveling. Gabi explained that she discovered her love for traveling after studying abroad in Valencia, Spain in the spring of 2018. It was in this semester that she found the piece she would build her future dorm around. While visiting Morocco, Gabi bought a small painting from a young boy who hand-painted the piece himself. She credits this piece to being her favorite décor item in her room as it is displayed right over her bed for all to see. Also while visiting Morocco, Gabi noticed all the intricate pieces and the way the culture plays with textures. These elements can be seen throughout her dorm whether it's the blankets, rugs or the pillows. She also mentioned when she was on the hunt at Target, TJ Maxx, or HomeGoods, her goal was to find pieces that look super authentic and potentially handmade from the culture it was inspired from. I then moved on to ask her how it was working with a smaller space. Gabi answered that she wanted to divide the room into sections to make it feel more like home. When you first walk in you can see how she decorated the space to look like a little living room. Her feminist tapestry is above this carpeted area with an adorable chair to serve as the "couch". It was amazing to see how one can transform a dorm in such a way. Gabi truly made her dorm Pinterest board. Come to life!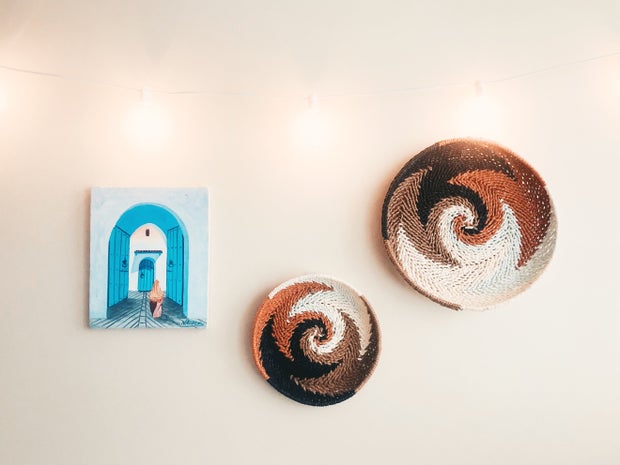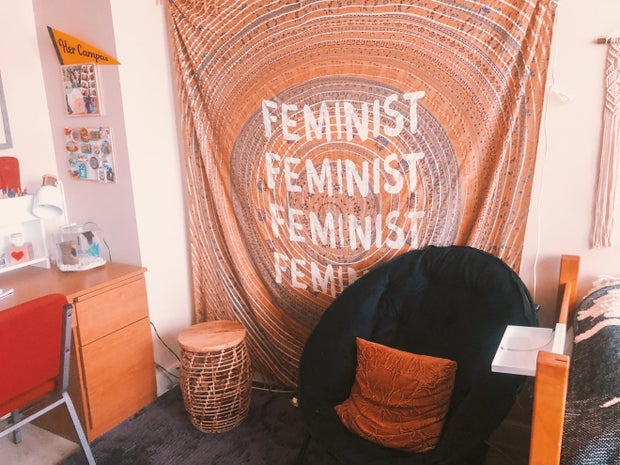 Apartment: Sophia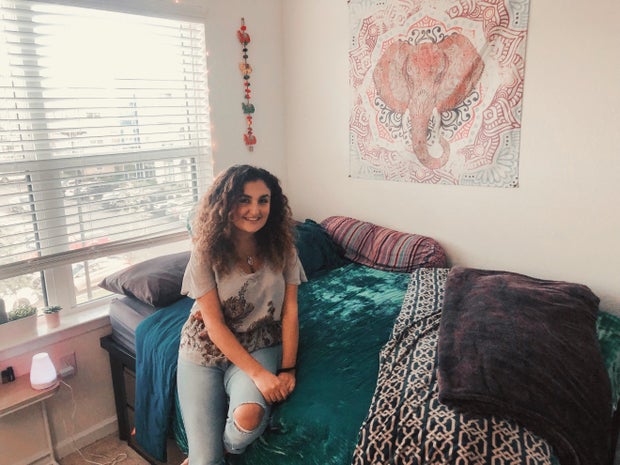 Sophia is a sophomore double majoring in philosophy and economics. When walking into her room, I really loved how she was unafraid of using color and such a variety of them, especially when it came to her bed. I asked what her inspiration was and she quickly answered that there wasn't a theme and that she really just buys pieces she enjoys and merges them together into her room. Pulling off an eclectic room can be difficult, but Sophia has mastered it. Her décor items were either found at Target or were plucked from FSU's Market Wednesday. Sophia also credited a few pieces to thrifting, including a beautiful, vintage picture frame that she has filled with pictures from her best memories. Sophia also noted that she wanted to include elements of home into her room. She incorporated home by bringing back succulents she got from there and starting a mini succulent garden on her window sill in her room. Sophia also has portraits of dogs and when asked about them, she said they reminded her of her dog back home and it was her way of bringing her to Tallahassee even though she couldn't due to her dog's older age. I then asked what her favorite piece was and Sophia said that a poster she bought at Market Wednesday was by far her favorite. The poster has the famous painting "The Kiss" by Gustav Klimt on it and added beautiful colors into her room. When asked why she loved this piece the most, Sophia said she admired the abstract quality of it and that she didn't really understand it at first but has grown to love the creativity of it. I loved Sophia's take on the eclectic lifestyle and found it quite inspiring!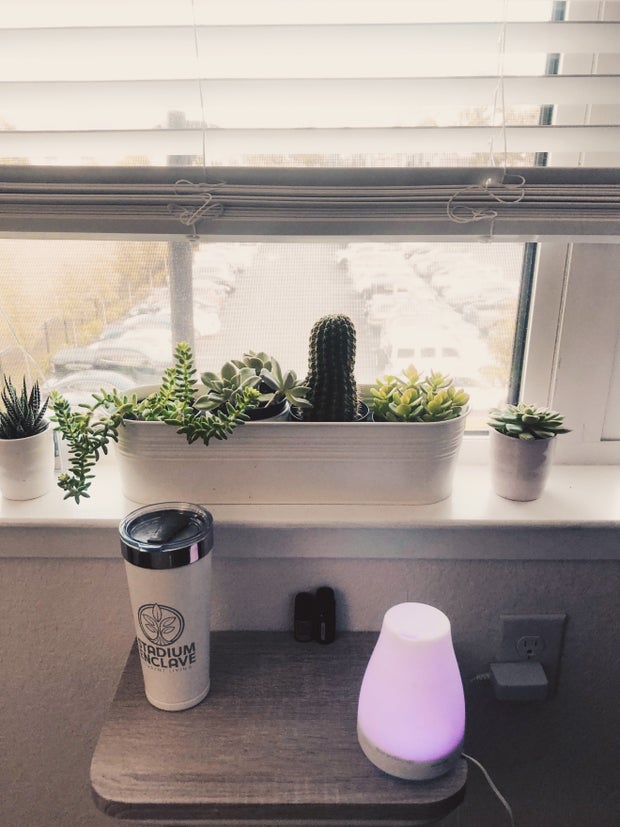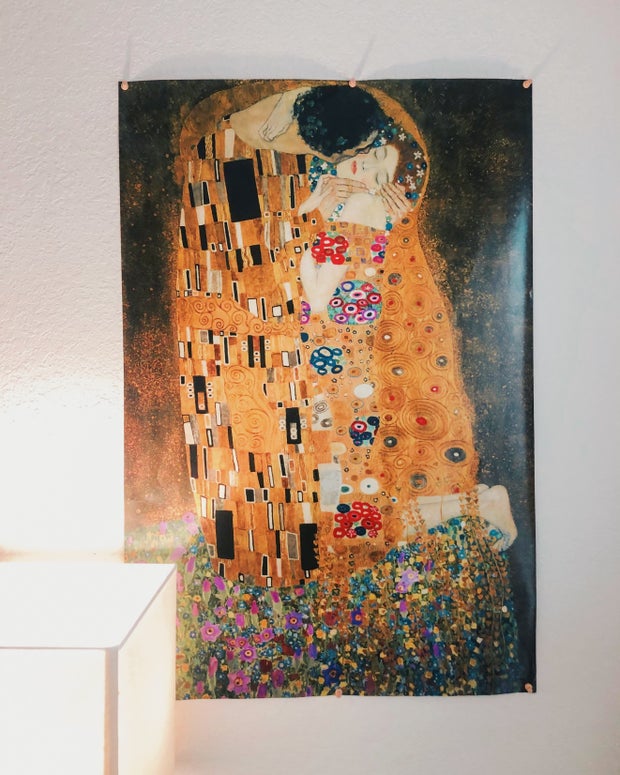 All Images Courtesy of Vanessa Valles.
Want to see more HCFSU? Be sure to like us on Facebook and follow us on Instagram, Twitter and Pinterest!