A Pescatarian-Friendly Thanksgiving 
Thanksgiving is one of my favorite holidays. I don't know if it's because I get to spend quality time with friends and family, the food, or because my birthday always falls within a day or two before or after the holiday. But honestly, I love being able to sit down once a year and share what we are most thankful for. While all that is nice, we all know the real star is the food. When you think of Thanksgiving dinner, you think of one thing: turkey. It's ironic that I love Thanksgiving but turkey is not something my family includes on the dinner menu for the night. My dad, sister and I are all pescatarian (sorry mom), so here are 5 delicious pescatarian friendly recipes that are perfect for Thanksgiving dinner! I have made all these dishes before for various dinners and they are all super easy and obviously very tasty! 
First we'll start with some side dishes:  
 
Ingredients: 
•1 lb. yellow/ Yukon Gold potatoes 
•1-2 tablespoons avocado oil 
•1/2 teaspoon sea salt 
•1/4 teaspoon black pepper 
•1 tablespoon freshly chopped rosemary 
Directions: 
Preheat oven to 425 degrees F and line 1 large baking sheet with parchment paper. 
Add potatoes to the baking sheet and drizzle with avocado oil. The potatoes should be coated but not soaking in oil. Then add salt, pepper and rosemary and toss well to combine. 
Roast until golden brown and crispy, or about 20-25 minutes. They are down when golden brown on the bottom and edges and tender in the center. 
Enjoy immediately with sauces of choice. Garlic aioli or ketchup are my favorite sauces to pair it with! 
Store cooled leftovers in the refrigerator up to 3-4 days (not freezer friendly). Reheat in the microwave or on a skillet over medium heat. 
Ingredients: 
•1/3 cup extra-virgin olive oil 
•1 lb. green beans, trimmed, patted dry of any surface moisture or condensation 
•Kosher salt 
•6 garlic cloves, sliced 
•1 tablespoon capers, drained, chopped 
•1 teaspoon crushed red pepper flakes 
Directions: 
Heat oil in a large skillet over high until shimmering. Add green beans (the dryer they are, the less they will spatter when they hit the oil). 
Cook covering skillet as needed, until browned underneath, about 3 minutes. Turn beans with tongs and redistribute so they brown evenly. Continue to cook, turning occasionally, about 5 minutes longer. 
Season with salt. Add garlic, capers and red pepper flakes. Cook, tossing occasionally, just until garlic turns golden, about 1 minute. 
Transfer beans to a platter. Spoon caper-garlic mixture over and pour some oil over too; season with salt. 
Roasted Veggie Medley 
Ingredients: 
•2 tablespoons olive oil 
•Kosher salt and black pepper for seasoning 
•2 heads of broccoli 
•2 heads of cauliflower 
•2 bags of brussel sprouts  
Directions: 
Preheat oven to 400 degrees F. 
Wash and cut the stems off the heads of broccoli and cauliflower into little pieces. Cut stems off of brussel sprouts and slice them in halves. Dry veggies. 
Place all the veggies onto a large sheet pan. Cover with olive oil, salt and pepper. 
Place pan into oven for 20 minutes. Check on veggies and redistribute them on the pan using tongs. Let cook for another 15/25 minutes until perfectly roasted. 
Serve immediately while hot!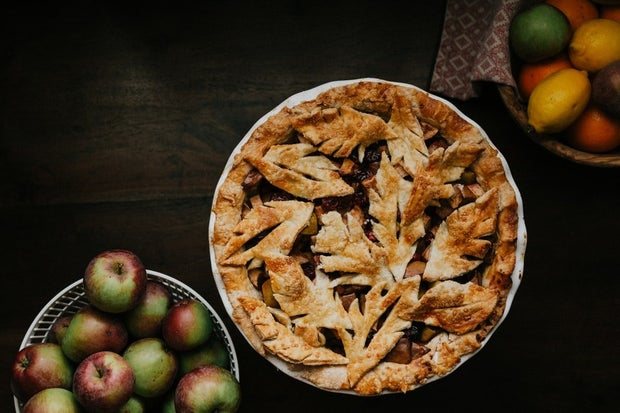 Photo by Priscilla Du Preez from Unsplash
Now for the star of this pescatarian Thanksgiving, my favorite tilapia dish ever:   
Ingredients: 
•1/4 cup unsalted butter, melted 
•3 cloves garlic, minced 
•2 tablespoons freshly squeezed lemon juice, or more, to taste 
•Zest of 1 lemon 
•4 (6-ounce) tilapia fillets 
•Kosher salt and freshly ground black pepper, to taste 
•2 tablespoons chopped fresh parsley leaves 
Directions: 
Preheat oven to 425 degrees F. Lightly oil a 9x13 baking dish or coat with nonstick spray. 
In a small bowl, whisk together butter, garlic, lemon juice and lemon zest; set aside. 
Season tilapia with salt and pepper, to taste and place onto the prepared baking dish. Drizzle with butter mixture. 
Place into oven and bake until fish flakes easily with a fork, about 10-12 minutes. 
Serve immediately, garnished with parsley, if desired.  
 
And we could never forget about a sweet side dish or a perfect dessert! 
Ingredients: 
•3 medium sweet potatoes, peeled (about 1 3/4 pounds) 
•5 tablespoons butter, at room temperature 
•3/4 cup sugar 
•1 1/4 teaspoons freshly ground nutmeg 
•1 large egg 
•2 1/4 teaspoons baking powder 
•3 tablespoons evaporated milk 
•Unbaked pie shell, 9 inches 
Directions: 
Place sweet potatoes in a large saucepan, and add water to cover. Bring to a boil, reduce heat to low and summer until very tender, about 45 minutes. Drain well. 
Mash the potatoes in a bowl. The potatoes should yield about 2 3/4 cups mashed potatoes. 
Preheat oven to 350 degrees F. Add butter to hot potatoes, and mash until smooth. Add sugar, nutmeg, egg and vanilla, mixing well. Combine baking powder with evaporated milk, and stir to blend. Add to mashed potatoes. Whisk mixture until velvety. Mound into pie shell, then spread evenly to edges. 
Bake until pie has set and is lightly browned on top, about 55 minutes. Cool to room temperature before serving. 
I hope you and your family decide to incorporate some of these dishes into your Thanksgiving dinner this year! Stay safe this holiday season! 
Want to see more HCFSU? Be sure to like us on Facebook and follow us on Instagram, Twitter, TikTok, Youtube and Pinterest!