I'm back again with another episode of "characters from my favorite shows as Taylor Swift songs." This seems to be quite a niche subject, but I received great feedback from the Teen Wolf article and thought I should continue with my second favorite show: New Girl.
Jessica Day: "Me!" & "Stay Stay Stay"
Jessica Day starts off her story in New Girl by breaking up with her long-term boyfriend and moving into an apartment with three men, all on a whim. She's constantly making impulsive decisions and living her life on the edge… if by "on the edge" we're talking about singing with Prince at a party. Therefore, I assign her "Me!" simply because she gives off the quirky, feminist vibes that the song and music video give off. "Stay Stay Stay" is one of my favorite Taylor Swift songs and Jess just happens to be one of my favorite fictional characters ever. She gives off the most fun-loving vibes—she is an elementary school teacher after all—and is absolutely a hopeless romantic who gets attached to every man she dates, so this song just felt necessary.
Nick Miller: "Shake it Off"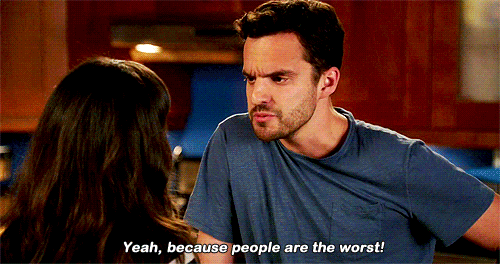 Not only does Nick Miller act as the hype-man of the friend group, but he also thinks very highly of himself, though it might not always be true. One of the greatest scenes of New Girl comes when Jess is crying on the couch listening to "22" and Nick comes over to cheer her up with a dorky dance. All he does to calm tense or sad situations is shake it off or awkwardly moonwalk dance out of the room. Much like Jess, I would argue that he gives off "always wanting to party and have fun" vibes, thus a song about taking all criticism and pushing it aside to have a good time fits him.
Bonus: This might be a bit controversial, but I think that Jess and Nick's love story embodies 1989 perfectly. With an album full of absolute bops and songs about how beautiful love is, I feel that if there was an episode full of their memories with one another it would only feature songs from this album.
Schmidt: "The Last Great American Dynasty" & "False God"
Something that we see immediately with Schmidt is that he loves money and he loves being hot. When he was younger, he was overweight and was made fun of a lot. People in college would force him to eat Tootsie Rolls and sing "we built this Schmidty on Tootsie Rolls" to the tune of the song by Starship. Once he got in shape and got a great job, his life did a 180 and he became a womanizer that always wants to be on top. The altar is absolutely in his hips, that's all I have to say.
Cece Parikh: Reputation; "The Man"
As undeniably the hottest person in the show, there's no arguing that Cece would embody the sexiest and most bad b*tch Taylor Swift album. With songs like "Look What You Made Me Do" and "New Year's Day" which give off boss lady and "I'm a great friend" vibes respectively, I think that Reputation does the best job of describing Cece's personality. By the end of the show, we find Cece owning a modeling agency and being the sole breadwinner for the family she made with Schmidt, thus earning her the song of "The Man." No one else in the show represents what it's like to be a woman in society earning her place in the world.
Winston bishop: "Gorgeous"
The moment I thought of Winston, I thought of how much he loves his cat and how he is such a great guy that I would actually trust leaving my drink with. Winston is not only handsome but also insanely nice and the one who I think ends up in the most stable relationship. "Gorgeous" has always felt like a very lovey song to me, kind of expressing how in love someone is with their significant other. It should also be mentioned that he is obsessed with his cat Ferguson and the lyric "guess I'll just stumble on home to my cats" is something he would absolutely say.
I have to admit that this was quite a difficult task for me and I had to get lots of suggestions from my roommates. There needed to be some sort of distribution of songs and albums to make this more enjoyable but if I'm being honest, I feel like these characters all embody 1989 and Lover. This show rarely has any devastating plotlines; I mean, it is one of the best sitcoms ever, so that makes sense. Since I've made this part of my job as a writer, I think I have the final say but I'd love to hear any other thoughts.
Want to see more HCFSU? Be sure to like us on Facebook and follow us on Instagram, Twitter, TikTok, YouTube and Pinterest!