Miranda Vila: Cooking From the Heart
Cooking. If you're like me, it's a struggle. That's one of the reasons why I am so blessed to have an incredible cook as my roommate and friend. Miranda Vila, Miami-native and all-around queen uses our tiny college apartment kitchen to create amazing dishes. From empanadas to beautiful cakes, she does it all. She's even kind enough to share her creations with me, and I couldn't be more grateful. I sat down to talk with Miranda about what inspires her to cook, what cooking means to her and also gain some delicious recipes in the process. 
Her Campus (HC): When did you first start cooking? 
Miranda Vila (MV): I started cooking on my own last year when I came to FSU. I've been cooking with my mom since I was around 15 and have always enjoyed cooking.  
HC: Is cooking something you associate with your family or would you say it's more of a personal hobby?  
MV: I definitely associate cooking with my family because I learned how to cook with my mom and grandmother. Whenever I cook in college, I feel like it's a connection to my home and my family.  
HC: What inspires you to cook? 
MV: Hunger. Just kidding. I feel like food brings people together. When I cook, I'm usually not just cooking for myself because I find it more rewarding to share with other people.  
HC: What are some of your favorite things to cook?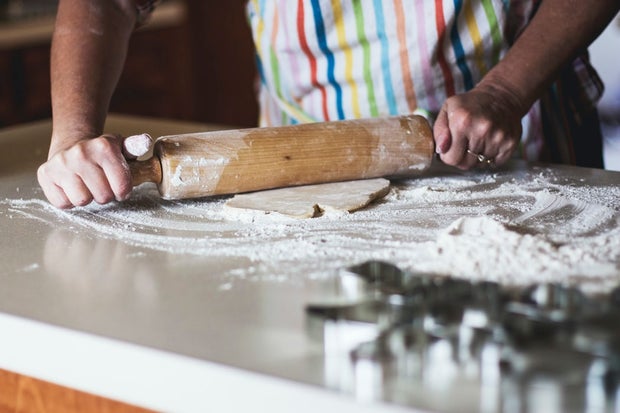 Photo by Kari Shea from Unsplash
MV: Empanadas are really fun for me to make. They're so versatile and everyone loves them. One time I made homemade pasta and that came out well. I also love to make recreations of restaurant foods—broccoli cheddar soup from Panera Bread, red-velvet cheesecake from The Cheesecake Factory and more. It's super satisfying when you find a good copycat recipe. 
HC: Do you have any tips for people just starting out with cooking? 
MV: Trust the process. Don't get discouraged if you mess up along the way. Learning to cook takes time. 
If you're interested in becoming a great cook like Miranda, check out a couple of her recipes below!
Picadillo (Empanadas de Carne)  
Ingredients:  
Two tablespoons vegetable oil   

One medium onion, diced  

One large green bell pepper, cored and chopped  

Three garlic cloves, peeled and minced  

One lb ground beef  

One six-ounce can of tomato paste (use about a quarter of the can or use more if preferred)  

About six green stuffed olives  

Two tablespoons white vinegar (apple cider vinegar works too)  

One-half teaspoon of sugar, salt, pepper, garlic powder, onion powder, complete seasoning and cumin to taste  

Water (if the dough gets too dry) 

Empanada dough 
Steps:  
In a large skillet over medium heat, pour in the oil and saute the onion and green pepper until onion is translucent. Add the garlic and continue for three minutes. 

Add the beef and break it up so there are no lumps. Then stir in tomato paste olives, sugar and spices. (You can remove the olives later if you'd like). 

Reduce heat to low and cover. Let it simmer for 20 minutes. 

To make empanadas, place about one and a half tablespoons of meat into the center of the empanada dough round. Fold the dough over in half and either press the rim with a fork to seal or crimp them. (If the dough is too dry and won't seal properly, wet the rim of the dough with water and then fold.) 

Fry empanadas in oil until golden brown or for a healthier option you can air-fry your empanadas. 
Garlic Cilantro Lime Sauce 
Ingredients:  
Three ounces of mayo  

Four ounces of sour cream  

The juice of one lime  

Three whole garlic cloves, peeled 

One and a half tablespoons of extra virgin olive oil  

One-fourth cup of cilantro  

Salt to taste 
Steps: 
Gather ingredients and place them in either a food processor or blender. Pulse until smooth. Use sauce to top tacos, salads, or anything you like! 
Want to see more HCFSU? Be sure to like us on Facebook and follow us on Instagram, Twitter, TikTok, Youtube and Pinterest!