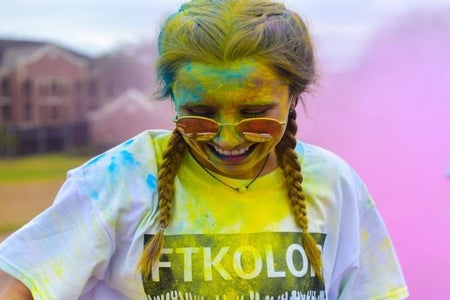 Meet Taylor Williams: Dance Marathon Executive Director & Panhellenic Superstar
As a freshman on FSU's campus, finding your voice and your place can be overwhelming and intimidating. For Taylor Williams, this was all too true, until she found Panhellenic and Dance Marathon (DM) at FSU.
After joining the FSU chapter of Kappa Kappa Gamma her freshman year, Taylor met her roommates, Claire Johnson and Niki Little, who encouraged her to get involved with Dance Marathon. In the past three years alone, Taylor has served as a recruitment counselor for Panhellenic, a Fundraising Coordinator for DM in 2018, a Membership Coordinator for in 2019, Director of Recruitment Counselors in 2019 and she is currently serving as Executive Director of DM.
Being a female leader at the forefront of the two largest organizations on campus has been no simple task.
"As a female leader, you have your struggles. It's my goal to just not be scared to do everything I want to do because I am a female. I can say that it's because of Panhellenic and Florida State that I have the confidence to do these things as a female leader at only 21 years old," Taylor said.
Looking adversity in the face and choosing to not let it overcome her is how Taylor became a rising star on FSU's campus.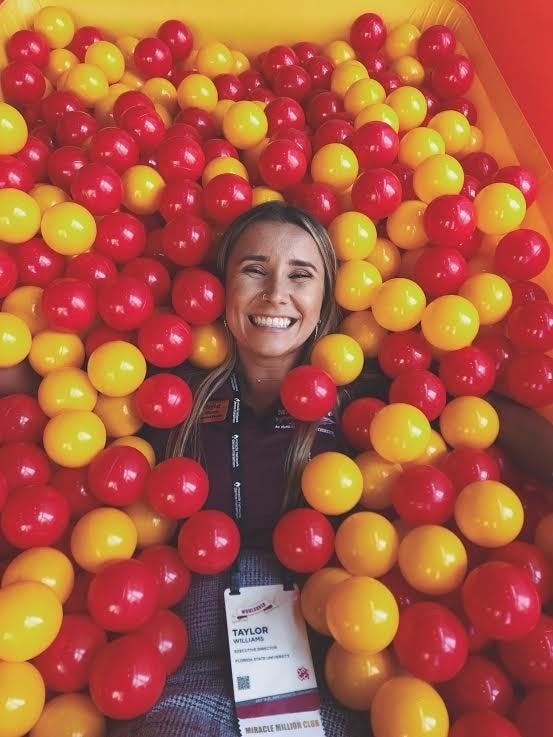 Courtesy: Taylor Williams
When you speak to Taylor about Dance Marathon, her entire heart glows from the inside out. This year, Taylor and her team are focused on bringing awareness to the community that supports Dance Marathon at FSU and all those who are directly affected by the cause.
"With the 25 year anniversary of DM at FSU comes a lot of responsibility. There's a lot of people, not just at Florida State, that are impacted by what we are doing. We think that everyone deserves to know that half of the funds we raise stay here in Tallahassee," Taylor said.
Dance Marathon is the largest student-run organization, making it nearly impossible to ignore on campus.
"Yes, DM is a fundraising organization, we raise millions of dollars, but people need to also recognize that we're twenty-something-year-olds running a multi-million-dollar organization," Taylor said.
One of Taylor's main goals for this year is to help people realize how deep the impact of DM at FSU is.
"I hope people realize that this is money that is being spent to further treat kids like Powie Patterson and families across Tallahassee that have someone suffering from pediatric illness and injury," Taylor said.
With this in mind, Taylor is more determined than ever to give back to the cause that has changed her life forever.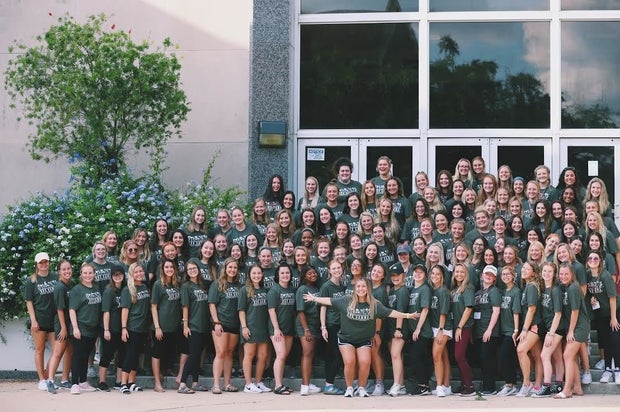 Courtesy: Taylor Williams
Beyond just DM, Taylor's sheer drive for encouraging women to lead is what has made her such a successful leader within Panhellenic. Her platform as a member of Kappa Kappa Gamma has always been to uplift and empower.
"I just hope people, specifically women, know they have a voice on this campus, whether it's within Panhellenic or not. I hope they know they can take charge and lead. I hope they find their place to do so. Yes, it's difficult to be fearless, but you owe it to yourself, especially during college," Taylor said. 
Over the course of her nearly four years at FSU, Taylor has found her forever home at Kappa Kappa Gamma and she credits these women for helping her find her voice to be a leader and agent of change at FSU.
"I want people to know that Panhellenic is an organization that we want to be empowering and an organization that encourages people to have the drive to do better and be better individuals, not only within their chapter but within all of Panhellenic and FSU as a whole," Taylor said. "I could say all the 'thank yous' in the world, say every word in the dictionary, and it would never ever equate to how much gratefulness I have for everyone that got me here."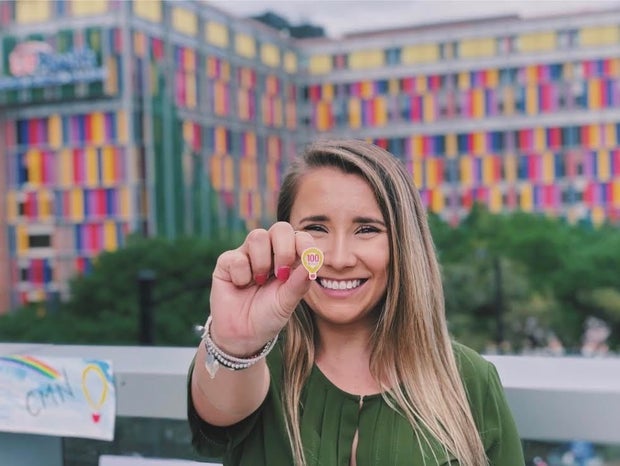 Courtesy: Taylor Williams
To follow Taylor's journey with Dance Marathon at FSU 2020, click the link below.
https://donate.giving.ufhealth.org/fundraiser/2115201
Want to see more HCFSU? Be sure to like us on Facebook and follow us on Instagram, Twitter, and Pinterest!