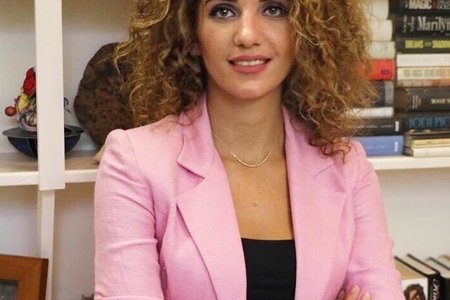 Meet Jessika Malo Valentine: FSU Instructor and Lebanese Journalist
When you read the name Jessika Malo Valentine, think GIRL POWER. When you read that name, think SUCCESS STORY. Here at HerCampus, we love highlighting women in power that have contributed so much to their community and inspire many with their successes, and Instructor Jessika Malo Valentine is a force to be reckoned with. Mrs. Malo Valentine graduated with two bachelor's degrees from the University of Lebanon and a Master of Science in Second Language Instruction and Curriculum from Florida State University. She worked multiple jobs in the fields of journalism, television reporting, interpreting, translating and teaching English and Arabic as second languages. Ever since settling in the US, she has been teaching different courses ranging from Arabic language to Arabic cinema at FSU as a Fulbright teaching assistant, graduate student, visiting professor, an adjunct, and finally as teaching faculty. We'll get to that. Having the official title of Instructor of Arabic and Film Studies, she is currently working on developing new courses in the Arabic division. 
This week, I had the pleasure of sitting down with Instructor Malo and asked her a few questions on her life and experiences, and if you continue reading, she will be revealing some ~insider~ trade secrets that we were itching to find out. 
HerCampus (HC): What were some of the hardships you faced from moving back and forth between Lebanon and the US? 
Jessika Malo Valentine (JMV): When I first moved to the states, I came on a Fulbright scholarship and it was under a J1 visa that stipulated my return to my country Lebanon for two full years where I would give back to my community. After ten months in the states and a slightly quenched thirst for the experiences that I wanted from Florida State University and living in an American city, I tried to stay. I had to apply for an F1, then an OPT then finish the two-year residency requirement. During that time, I got married but I still had to move back to Lebanon. After completing my time, I kept coming back and forth between the two countries in order to finish my paperwork. The process is long, tedious, and meticulous. I think people need to know how much effort and patience is needed for somebody to earn the right to stay in the states. In the last part of the process of getting my green card, things became more difficult as I found out that I was pregnant while in Lebanon. I did not have my green card at the time and the travel ban was in effect. My family both in the states and in Lebanon were afraid that things might get more complicated, but thankfully they did not and now, I am only a month shy away from becoming a citizen. The place that I consider my home will be so officially. 
HC: Was it difficult adjusting to the US when you came here to study? Why or why not?
JMV: Not necessarily! My adjustment was easy and smooth, and I did not face many cultural shocks. I had some friendships with American people in Lebanon especially when I worked as an interpreter, but the biggest school for me was music, books and films. As a consumer of American media, I was more knowledgeable of pop culture in the states than my own at some instances. At FSU, I had many good surprises; things that were easy for me to get used to. For example, the community at FSU, the various opportunities to learn and grown outside class, the abundance of events that campus held, the collaboration and the environment at my division, were all things that I adjusted to easily and with great appreciation.
HC: We love to hear it! On the note of FSU, can you highlight some of your moments where you embodied resilience and determination to teach at FSU?
JMV: My determination to teach at FSU started when I was a teaching assistant and continued throughout my master's courses. Upon graduation, I worked for a year as a visiting professor at FSU. After moving to Lebanon, I was determined to come back and to make FSU my university for good, not just my alma mater. It was not easy to leave my family, my friends, my home and my country twice. After giving birth to my daughter and spending 22 months with her, I returned to FSU as a full-time teaching faculty. That transition was not easy either but is worth it, every day. 
HC: Is there anything you would've changed about your journey? why or why not?
JMV: This is a great question that I keep going back and forth about. I am grateful for how things ended up and I am very proud for being able to move here and work at FSU and change careers to education. At the same time, my choice was triggered by many circumstances that were outside my control and for that, I cannot credit myself for being here. On the other hand, when protests erupted in Lebanon on October 17, 2019 against the government and corruption, I was antsy and concerned. I wanted to be in the center of the events and to take my role as a Lebanese and as a journalist.
HC: On that note, what were some of your favorite topics that you covered as a reporter and why?
JMV: As a regional reporter I had to cover all aspects of life in my region. My favorite topics were related to the struggles of people, for example: profiles on local heroes, dying crafts in the rural areas of Lebanon, public schools and colleges in need of funding, highlighting works of NGOs and non-profits, portraying the hardships of prisoners, advocating for public road safety and such. These themes were closer to my heart because they taught me something new every time, and because I felt that my work was worthwhile and would actually cause some education at least and some change or support at best. 
HC: Sadly, our interview is coming to an end, so can you let us in on some trade secrets for being a journalist in Lebanon? 
JMV: As always, it is not only what you know but who you know. Having the right connections and continuing to network is essential but more important to me is the ability to stay focused and stay true to your moral threshold especially in a field deemed "dirty" either by the sheer nature of politics that you have to dabble into even if you do not want to or by the expectations of the job, especially as a young female reporter. A trade secret that I share is to always be prepared. Nobody ever regretted being over-prepared. As a reporter, I did not have a set schedule for work. Work was intertwined with my daily life. I was not working as a journalist. I was a journalist. Therefore, I was always updating myself on what was happening, continued to speak properly without much code-switching (a feature of the Levantine dialect as used in Lebanon), and continued to look for stories that I could cover, even when I was not working. I have to say my dad helped me a lot because he was well informed about everything that was happening in our region. Therefore, I would say collaboration and bouncing off ideas with other people (peers, family and colleagues). Also, not falling in love with your own work or words; something that I learned here from a professor at FSU. Staying level-headed allows you to keep going, longer and farther. 
HC: Well thank you so much for being such an inspiration to many and thank you for your time! 
Want to see more HCFSU? Be sure to like us on Facebook and follow us on Instagram, Twitter and Pinterest!