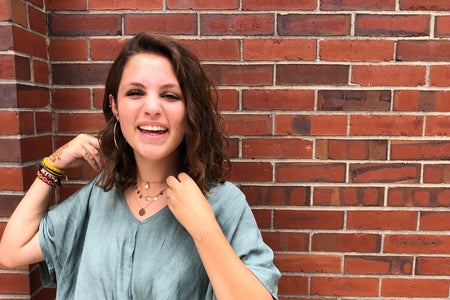 Photo by Caroline Sizemore
Love, Caroline. the Creative Mind Behind Your New Favorite Handmade Earrings
Have you ever looked at an outfit and thought of a perfect piece of jewelry that would set off the look? How about thinking of that outfit and that statement piece and realizing it is doesn't exist in your jewelry collection or any store? Well, if you have experienced either of these situations, then you are going to want to meet Caroline Sizemore. Sizemore is an FSU sophomore who is handmaking those statement earrings that have been living rent-free in your head. This creative talent started her shop Earrings by Carol on Instagram in March of this year and has since been molding trendy styles and patterns from clay for your enjoyment.
Her Campus (HC): What got you into pursuing jewelry making and designing? Why earrings?
Caroline Sizemore (CS): I have always really liked earrings and statement earrings. It all started when I was looking for something to use as a fundraiser. I was looking to raise money for a trip I was planning to go on this summer to Mexico, but never got to go since it was canceled due to COVID-19. I had seen a lot of people making polymer clay earrings and I follow pages on Instagram about it but never really gotten into it myself before. I started it to fundraise money for that trip and I want to keep that idea. I plan to put the money I make from it to future trips and a travel fund since that was the original idea.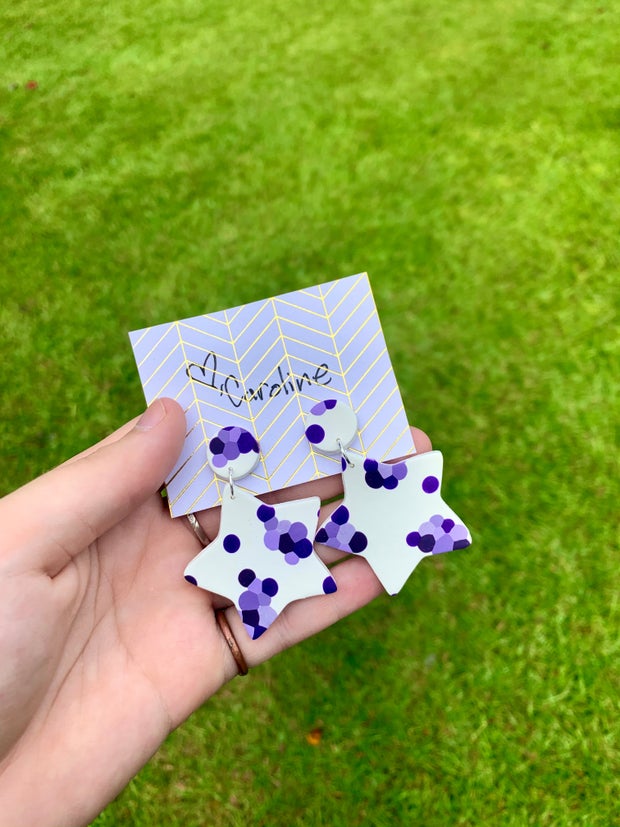 Photo by Caroline Sizemore
HC: Where do you get inspiration for your designs?
CS: I go on Pinterest a lot and I'll see some earrings there that inspire me or random pictures that I like. Recently, I did a pair with pumpkins on them after seeing a picture of a pumpkin patch. I also look in my closet. I don't make the earrings for myself specifically, but looking in my closet, I can see specific color schemes and patterns that stick out that I can create earrings that match and would look good with those pieces. Although sometimes, I'll make a pair that I really like and end up keeping them for myself, it's not that often that I do that. 
One time I was going to a wedding and my dress had a little red in it, and I wanted to bring out the color in it, so I made a pair of bright red earrings. It's nice to make these because you can make your own design to go with an outfit if you have anywhere you are going. Especially since it's hard to go to a store and shop for jewelry; you have what you want in your head, but then you can't find it anywhere, so it's nice to create. 
HC: Are there any designers, specifically you are inspired by or brands you draw inspiration from?
CS: There is this designer, Clay by Steph and I like her aesthetic. It's very neutral and calm. I also like her morals. She's a Christian and expresses her values openly on her page, which I appreciate. It's an uplifting account rather than just jewelry. There is also a lady who runs a business called Cotton & Clay Co. and she makes earrings that look like macrame wall hangings, or she'll draw on them; they are all so clean and precise.
I'm not exactly striving for their specific aesthetics but rather that level of professionalism and creating clean, precise designs. They are also both real and authentic people on their pages. They are open about their lives, struggles, faith, all on top of their businesses, which I appreciate.
Photo by Caroline Sizemore
HC: What is your favorite part of doing your shop? What do you enjoy the most?
CS: It is a big creative outlet for me. I liked to paint and do other artistic stuff in high school, but soccer was my main outlet. Now, being in college, I'm not playing sports anymore, so having this has been really helpful for me as it's a nice time to let go of school, sit down, listen to some music and be creative.
HC: Do you have any future plans for the business, if any?
CS: Early on, when I started getting attention on the shop from people I didn't know and people from out of the state was really encouraging because your friends are going to support you and buy your product from you, but it's different when strangers buy your product. Strangers buy your stuff because they genuinely like it. It's been cool seeing that happen and seeing your work shipping off to California or Texas.
The plan right now is to keep it as a side hustle. I have thought about making an Etsy shop since right now it is just on Instagram, and I'm just doing small batches at a time. Eventually, if I get more people buying and requesting orders, then I'll go onto Etsy and have multiple pairs of the same designs.
Want to see more HCFSU? Be sure to like us on Facebook and follow us on Instagram, Twitter, TikTok, Youtube and Pinterest!