Health and wellness have been the overarching theme of the past year; everyone has been striving for a better version of themselves. However, there's no doubt that when making a big life change, we doubt ourselves in our abilities to follow through. Sometimes making a significant life change or breaking a habit seems far more overwhelming before you attempt it. Lexi Kreimeier, a sophomore at Florida State, is one who recently took a leap of faith into a big lifestyle change—vegetarianism. Lexi had been toying with the idea of vegetarianism for a while, before finally deciding to rip the band-aid and give it a shot. I sat down with her to learn about her experience with vegetarianism, and how she managed to stick to her goal and turn it into a lifestyle. 
Her Campus (HC): How long have you been a vegetarian?
Lexi K. (LK): I've been a vegetarian for a little over a month now. 
HC: What inspired you to become vegetarian in the first place? 
LK: I've always heard about how good going vegetarian is for your health and the environment, along with so many other positive aspects, but I just didn't see myself as someone who could fully commit. It was after my friend Patricia convinced me to try it that I gave it a chance. Also, there are plenty of documentaries out there that would make you never want to eat meat again. 
HC: Did you find that the transition was easy or hard?
LK: The transition was actually a lot easier for me than I thought it would be. I told myself I would try it out and see how it went, but it was exciting, every day, to be able to say, "Wow I went another day without eating meat." I thought I would be hungry all the time or tired but I haven't.
HC: Have you noticed any changes in your health since you made the switch? If so, what kind of things have you noticed? Are they positive or negative changes?
LK: I feel lighter, if that makes sense. Like sometimes when I would eat meat I would feel tired and not my best. I haven't had any stomach issues, and I've found myself looking at ingredients a lot more to make sure I know what I'm eating and to double-check that it's good for me. Definitely only positive changes so far.
HC: Have you found that it is possible to get enough protein with a vegetarian diet? Where do you get your protein?
LK: I haven't had any issues with getting enough protein. I make sure to eat lots of beans, soy, chickpeas, etc. I know a lot of people eat tofu but I haven't ventured into cooking that yet. 
HC: Do you take vitamins or have you considered supplements? Do you think you need them?
LK: I don't take any vitamins specifically for a vegetarian diet, but I definitely want to look into taking B12 supplements.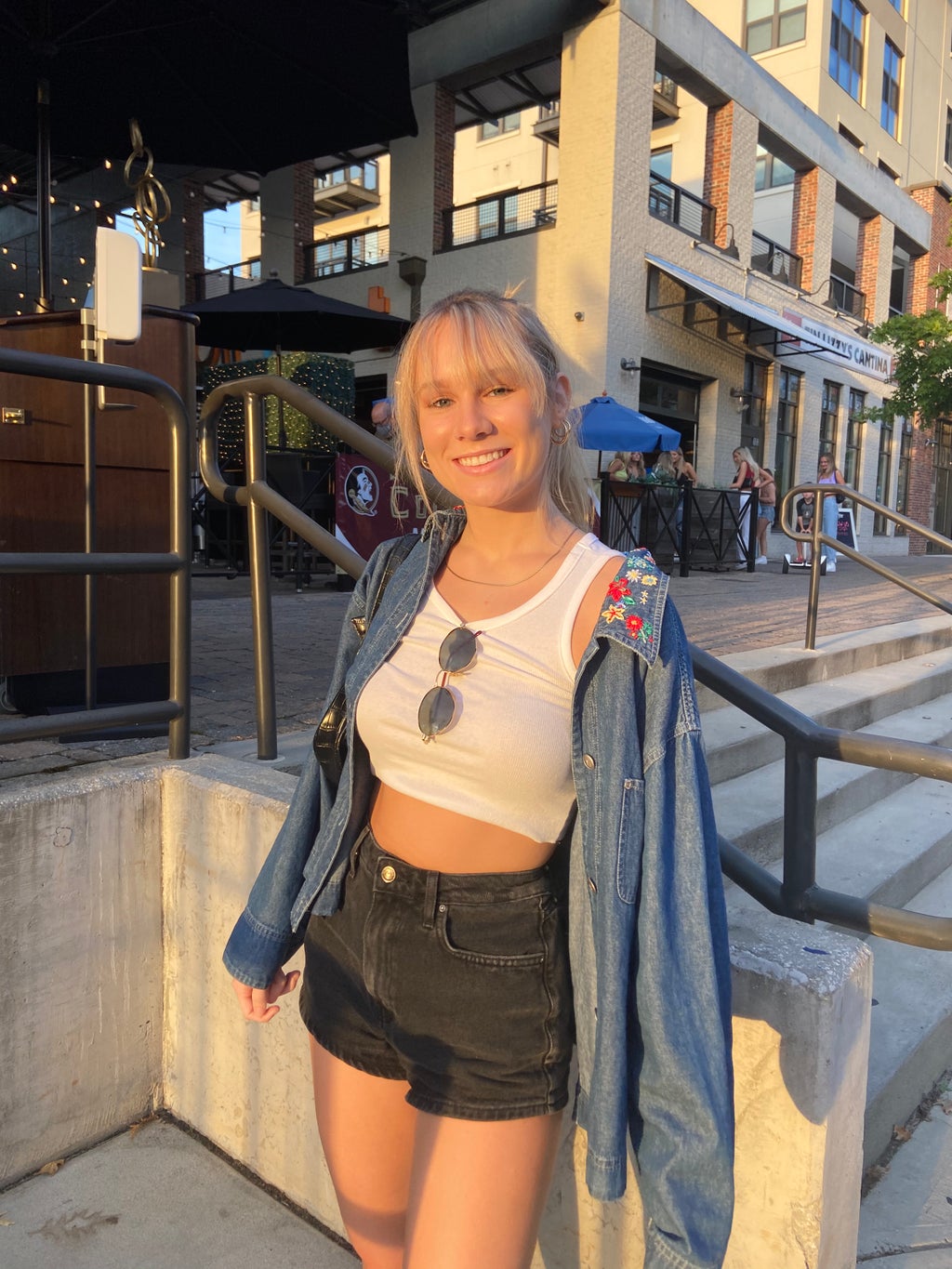 HC: What has been the greatest benefit of being vegetarian?
LK: The greatest benefit of being vegetarian is just that I feel like every day, no matter what I did, I made a difference by not eating meat. I make that choice every day not only for my benefit but for the animals.
HC: What has been the biggest struggle about being vegetarian? Is it difficult eating out?
LK: Honestly, the hardest part has been eating out. Especially when I go to a restaurant that doesn't have many vegetarian options. It's hard to choose a salad while my friends can pick anything they want. I try not to eat out too much anyway, and if I do, I try to choose somewhere vegetarian or at least with a lot of vegetarian options. 
HC: Do you plan to stay vegetarian long term? 
LK: My friend Patricia, who I mentioned earlier, says it best: "Being vegetarian is a choice you have to make every day." Some days are easier than others. I hope that I can continue on this journey, but I know that it's going to be a continuous, conscious effort.
HC: What advice would you give someone who was considering becoming vegetarian? 
LK: To anyone considering going vegetarian I would say—just do it. It seems overwhelming at first, but you can start small. Try cutting meat out of your diet once a week, and then twice a week. Then maybe just eat meat on Fridays. I think the scariest part of doing it is deciding to start. Once you've started, you'll be glad you did.
Want to see more HCFSU? Be sure to like us on Facebook and follow us on Instagram, Twitter and Pinterest!