How To Survive Thanksgiving as a Vegan
As someone who eats an almost 100 percent vegan diet, most holiday meals do not go over well for me. When times were simpler, and I was a mere vegetarian, I could get away with eating everything but the turkey, including the side dishes and desserts that were laden with things like heavy cream and butter. However, now that I've made life more difficult for myself, mashed potatoes and mac-and-cheese are off the table (literally). 
Thanksgiving doesn't have to be as difficult as it is for vegans, or any more expensive, for that matter. In fact, since there's no meat-focused centerpiece, eating more plant-based might help cut down on the overall cost of your meal. My favorite thing to tell people is that for last year's Thanksgiving—my first time eating vegan—I made a chocolate pie with a crust, sugar, cocoa powder and silken tofu. It sounds disgusting, but even my carnivorous brothers went back for seconds. 
One easy vegan Thanksgiving staple, and my all-time favorite food, is the sweet potato. The love of my life, the beautiful orange root vegetable. Having grown up in the South, sweet potatoes are easy to get local (which makes your meal eco-friendly!) and culturally rich, as well; Black and Indigenous peoples have been using them for centuries. The ideas are truly endless: sweet potato pie, mashed sweet potatoes, sweet potato casserole, just a plain baked sweet potato, and more. Not only do they taste good, but you also get in solid nutrients like Vitamin A, Vitamin C and potassium.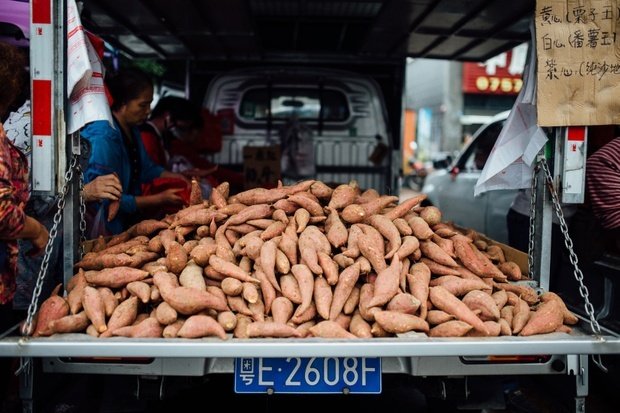 Photo by Hanson Lu from Unsplash
If you really want to kick it up a notch, a vegan turkey is always an option. And no, I'm not talking about the tofurkey (although, it really doesn't taste half-bad). To go above and beyond everyone's expectations, a vegan turkey can be made from a little thing called seitan, which is a vegan protein source made from wheat gluten. When seasoned correctly, the texture is so uncannily similar to that of meat that it freaks me out a little bit. I would say it's worth the extra time and money if you have it. 
Thanksgiving for vegans doesn't have to be anything fancy, though. Sure, it's easy for me to suggest that you go to the store and buy $7 vegan butter for the mashed potatoes or spend hours in the kitchen to make something that will appease non-vegans, only for it to turn out halfway decent. Pillsbury Dough, whose products you can find readily available and for dirt-cheap in most supermarkets, have easy-to-bake Crescent Rolls and Flaky Biscuits, which happen to be accidentally vegan! Mushrooms and vegetable broth can easily make a creamy "gravy," and stuffing can be made vegan sans-egg and chicken broth. Veggies are simple to drizzle with olive oil and bake in the oven. 
If you're like me and have a major sweet tooth, desserts are where it starts to get tricky. Like I mentioned before, the silken tofu chocolate pie was easy and required minimal, non-expensive ingredients. Most store-bought cranberry sauces are accidentally vegan, and Whole Foods sells a lot of pies that do not contain eggs or milk in them for decent prices. 
Photo by Priscilla Du Preez from Unsplash
It's tough enough having dietary restrictions, but the holidays always seem to amplify them. Trust me, I get it: you don't want to go to someone else's house for a huge meal and expect them to cater to your needs, especially when you're the only one who doesn't eat animal products. By no means is it easy, but it's totally doable, and I for one am looking forward to the tons of veggies, desserts and carbs I get to eat this year. Feeling guilty for eating a lot of sugar and bread is one thing, but at least there's no guilt here for consuming animal byproducts!  
Want to see more HCFSU? Be sure to like us on Facebook and follow us on Instagram, Twitter, TikTok, Youtube and Pinterest!