Five Ways That Daily Affirmation Journaling May Change Your Life
A positive affirmation journal is an amazing tool for a healthy and happy lifestyle. Think of this journal as a one-stop-shop for improving self-love, achieving your goals and reminding yourself what a boss you are every day. Let your affirmation journal become your new best friend and guide you through your journey to self-love!
Goal setting and getting
A positive affirmation journal like this one is the key to achieving all of the goals that inspire your day-to-day life. With a journal like Today I Affirm, goals, writing prompts and motivational messages fill each page to spark a fire within your productive and goal-oriented side. Affirmation journaling may even make you realize where your true goals lie on your wish list. The future is yours for the taking and you can be reminded of that each day by carving out as much time as you want or need for yourself and your goals each morning or night. Start small by setting daily goals and soon your aspirations will become part of your everyday life!
Intentions to guide your day
Sometimes the days drag on and the tasks of our everyday routine start to haunt us, and that is exactly why affirmation journaling might save your outlook on life! Optimism is one of the many things that may increase in your life from affirmation journaling. I noticed myself holding a rather pessimistic outlook on my daily routine until I added thirty minutes of me time with my pen and affirmation journal! Your journal will guide you in setting the tone for your day as you write your intentions into existence. Every day can be a great day when it starts with journaling!
Mental health matters
One thing that I have learned in my journey to better myself is that I need a guided form of thought or meditation such as the affirmation journal. The year 2020 was no other than chaotic, crazy and overall very stressful, so my mission was to make 2021 a different story. Affirmation journaling was the beginning of a less stressed and more mentally healthy me and it can be the start for you too! Dedicating any amount of time to a productive, self-motivated activity like affirmation journaling may be the start to the positive and healthy life that awaits you. I recommend grabbing your favorite morning coffee or tea and your journal, and get to setting those daily goals, intentions and writing those affirmations because it may make all the difference in a hectic day. We all have days that seem to overcome us, but an affirmation journal is a helping hand in taking the reins to your life!
Routine isn't always boring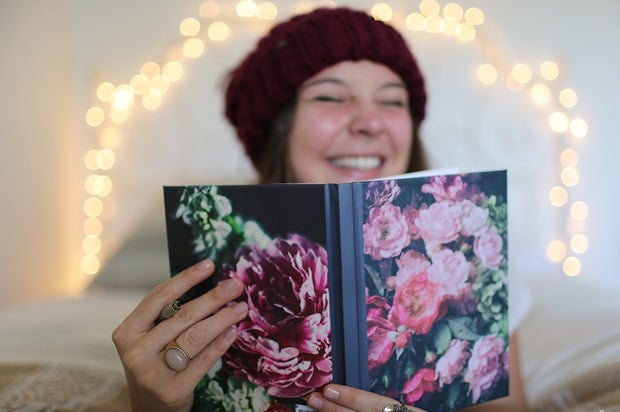 Her Campus Media ​Adding the small task of affirmation journaling to my day has made a HUGE difference in my daily schedule. The routine of journaling helps set the tone for each day, even when negative thoughts may seem more prevalent than positive ones. Waking up early and checking off the to-do list isn't so daunting when you take the time to remember why you're doing it. An affirmation journal is a daily reminder of why you wake up and get sh*t done every day! It is a daily reminder that "you got this" and can be your number one motivation for tackling a busy schedule or getting you through your toughest days.
Confidence leads to self-love
It is easy to desire self-love and to project the appearance of confidence, but the act of daily journaling through affirmations is your time to actively work on building your self-confidence. Many journals include guided prompts that can prove to boost your confidence significantly. Making a list of your best features, writing your top qualities and laying out how you ARE going to succeed are just some of the ways an affirmation book may open your eyes to all of the incredible qualities that make up your unique self. It is truly eye-opening when you take the time to affirm yourself in who you are and how much it may motivate and positively alter your daily life!
Want to see more HCFSU? Be sure to like us on Facebook and follow us on Instagram, Twitter, TikTok, Youtube and Pinterest!