Fat Cat Café Presents: Yoga with Kitties
Tallahassee has recently opened a Fat Cat Café, located at 2901 East Park Avenue, which is perfect for all of us cat lovers who need some furry cuddles during the week. A cat café is a location where people can buy treats (either in a full restaurant setting or otherwise) and hang out with some cute kitties! Typically, the cats are available for adoption, which helps the community find homes for the animals. Tallahassee's Fat Cat Café offers modest food and beverage options such as pod coffees from "Crazy Cups" and "Bean Town" as well as soda, water and tea. Their food options are limited to packaged pastries and chips; however, they're diligently working on partnerships with other local businesses to improve their food options. Their hours of operation differ based on age group, so check the hours you are able to attend if you're bringing someone who is 12 or younger! Their cats are up for adoption, and if you're interested, you can meet their cats here! From Aug. 11 to now, the café has had 50 adoptions! The café requires a small entrance fee in order to visit the cats, but all the money keeps the doors open and the cats happy, which is most important!
The Fat Cat Café has been hosting a series of interesting events and has been innovative enough to begin hosting the event Yoga with Kitties! Many of us enjoy a fun workout class in order to relieve some stress, build our body confidence and spend time with friends. Luckily for us, yoga classes featuring adorable animals have been popping up all over the place, including right here in Tallahassee!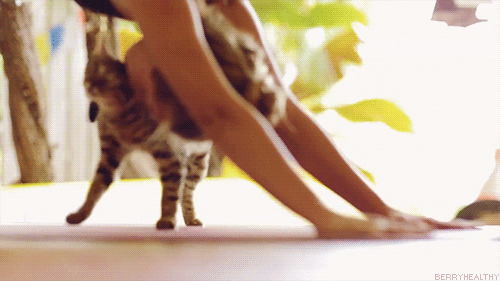 Although the first two classes have passed for the month of April, there are still two upcoming classes! There will be one held today, Wednesday, April 18 at 5:30 p.m., and the final will be Sunday, April 22 at 10 a.m. Unfortunately, there are only 15 spots available, so you'll want to get there early or book as soon as you can! This event requires a donation of $10 which will go to Black Cats, Old Dogs and includes a 50-minute yoga class with 20 minutes of cuddle time following the class. If you're interested in booking a spot for this event, just click here!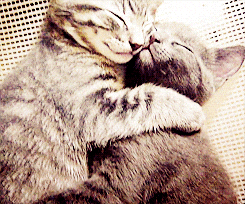 The Fat Cat Café offers other events if you're not an exercise enthusiast, such as Coloring with Kitties, Rock Painting with Kitties, Movie Night with Kitties, Art with Kitties, and they even host birthday parties for your favorite cat lover! If you're interested in any of their other events you should view their webpage or friend them on Facebook! No matter what interesting event you choose to participate in, you'll get lots of fur-loving and enjoyment! Not to mention, it's a wonderful distraction from upcoming finals while also supporting a local business and adoption center!
All GIFs courtesy of Giphy.