Blindspotting TV Spinoff Is Currently in Production
Rapper and Broadway star Daveed Diggs set out in his professional career to produce a project as a testament to Oakland, California. He and his longtime best friend and creative partner, Rafael Casal, had a film in the works with their hometown as the backdrop. Diggs, who is best known for his Tony-winning performance in Hamilton: An American Musical, did not anticipate the musical to do as well as it did, and this project was put on hold.
This is why when the film Blindspotting was finally released in 2018, it meant that much more to Oakland natives. It tells the story of Collin and Miles, two best friends who are faced with different situations. Collin is on his last three days of probation, and Miles is ill-tempered and does not seem to understand that Collin wants nothing more than to stay out of trouble. The film escalates when Collin witnesses a man being shot by a law enforcement officer and relives his own negative experiences with the police.
The film has been approved for a television spinoff to be streamed on Starz since Diggs and Casal have continued their partnership with Lionsgate. The series will center on Ashley, Miles' longtime partner and the mother of his child in the film version, played by Hamilton's Jasmine Cephas Jones. According to The Hollywood Reporter, it will show Ashley's existential crisis when Miles is incarcerated and she is forced to move in with his mother, who will be portrayed by Oscar winner Helen Hunt.
This is a passion project for Diggs and Casal. Although Casal will appear as Miles sporadically throughout the series, he and Diggs will be primarily working off-camera as executive producers. Their upbringing in Oakland, California has inspired them to create art with the city and to document the experiences of its people. The film version earned overwhelmingly positive reviews both for its sentimental hometown depictions and for prompting difficult discussions about police brutality. When protests in favor of the Black Lives Matter movement took place nationwide over the summer of 2020, Blindspotting was a universal film recommendation for activists to educate themselves about the relationship between race and the justice system.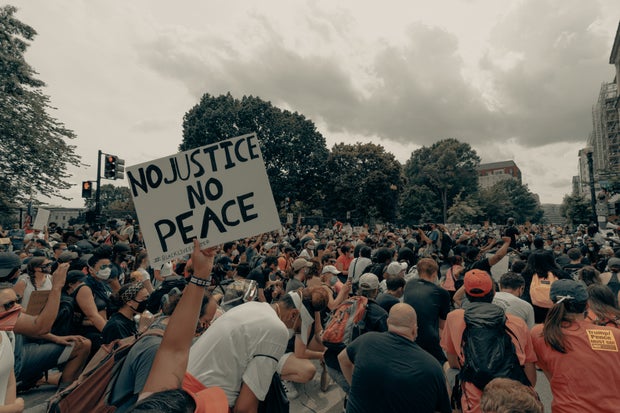 Photo by Clay Banks from Unsplash
According to MSN, Diggs has stated that it has been "rewarding" to translate the film's sentiments to a half-hour comedic format. The story of Blindspotting depicts the way that "a broken prison system affects all of us." Diggs feels that it is important that the TV series, like the film, "[uses] comedy to talk about very real systemic effects in the country with the largest prison population in the world." The perspective of Collin in the film version, as a black man on his last three days of probation, is juxtaposed with that of Miles, a white man who sees his best friend's struggles as a chance to be reactionary, further jeopardizing Collin's safety. The creators of Blindspotting plan on extending this darkly comedic style to the TV spinoff.
The series is currently being produced amidst a global pandemic, having been filmed between the cities of Oakland and Los Angeles. Fans of the Hamilton musical have largely followed Diggs' career and have fallen for the indie film. These fans, particularly those who are native to Oakland, are excited to see the story extended to a new medium and are even more excited to see content centering around the character of Ashley. Jones' performance as Ashley in the film was widely praised, despite it only serving as a supporting role.
"[In] picking up the story from Ashley's perspective, we will be able to shine a light on so many of the important social issues that the characters and the audience continue to grapple with," states Starz president of original programming Christina Davis. The highly anticipated series has not yet confirmed a release date.
Want to see more HCFSU? Be sure to like us on Facebook and follow us on Instagram, Twitter, TikTok, Youtube and Pinterest!