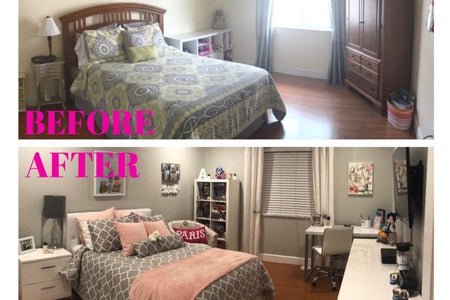 Maria Gabriela Leyva/Andrea Leyva
Making Your Dream Room a Reality
Making the rooms in your house look as you have always dreamed of can be exciting, but it can also be stressful if there is no plan in place. It is reasonable to believe that taking on a design project can be intimidating and daunting because there is hard work to be done. Remarkably, these simple steps allow a bedroom transformation to be more enjoyable than people may think is possible. 
1.

Choose Your Theme and Establish a Budget

A room's theme can be one of the most important steps in the design process. To avoid mismatched furniture and clashing colors, search for inspiration online. Check websites and applications like Pinterest, Houzz, and Instagram. Find the colors, textures, and styles that speak to you! Also, it may help to keep any photos you find in one folder. Before moving on, establish a budget with which you are comfortable. Choose a notebook for your expenses that you will keep by your side, as this will help you stay organized throughout the decorating process.

2.

Design Your Room's Layout

Choosing the layout of your bedroom is an important step that can ease your mind. Measure your bedroom first and keep those measurements close by. Drawing your room's layout along with the dimensions can help you start thinking about which furniture pieces will go in the bedroom. You may have to decide which size bed to buy or if your room will contain a dresser or desk, for example. Design websites can also be useful to see a digital version of the room. As long as there is a plan in place, you will know that your vision is clear and ready.

3.

Say Goodbye to the Old and Welcome in the New!

If you have furniture you want to replace, now is the time to do that. Get rid of clutter and sell or donate any furniture you do not want. Like Marie Kondo, decluttering and organizing expert, states, only keep what "sparks joy" in you. Once the room is ready for new furniture, make a list of what you need and begin searching the internet. Checking Wayfair, Restoration Hardware, Pottery Barn, and Ikea are some options to consider. Keep your theme in mind as you look for pieces to purchase. Also, be mindful of your budget and check for companies that price match! After that, order the furniture and keep track of all delivery arrival dates. If you need new ceiling lights or closet shelves, be sure to purchase that too.

As you wait for your orders to arrive, find a contractor to carry out jobs like painting the room's walls, installing new light fixtures and closet shelves, and removing popcorn ceilings. Remember to empty the bedroom or cover any remaining furniture to protect them from any messy accidents. Another option to this step is to do this on your own or with your significant other, a family member, or a friend. Listening to music as you gather your tools and complete this task may be quite enjoyable too. After that, move on to the next step!  

5.

Give Your Room Life and Character

Buying accessories and decorations is probably the most fun step throughout this entire process. To find great deals, visit stores like Homegoods, Marshalls, TJ Maxx, and Target or go online to find the finishing touches for your room. A jewelry stand, paintings, pictures, curtains, lamps, and desk accessories can all help to liven up your space. Stay consistent with your chosen theme and go back to your original inspiration photos to get inspired! Decorations may also include a throw blanket, rug, flowers, and a mirror. Anything that will brighten up the room and give it life is welcome. As long as it goes along with your vision and if it gives you joy, the decorations you choose will be great!

6.

Finalize Your Dream Room

Once your furniture arrives and your room is painted and ready, open up the boxes and start installing. Read the instructions carefully and have someone help you if you can. After that, grab your list, notebook, or photos and scratch off what you have completed. Note if everything is the way you had envisioned it. Lastly, light a candle, open up the curtains, and enjoy your newly decorated room! 
With determination and hard work, this process can be seen through to the end within two to three weeks. Dedicate some time to the project every day and the result will surely be rewarding. Good luck!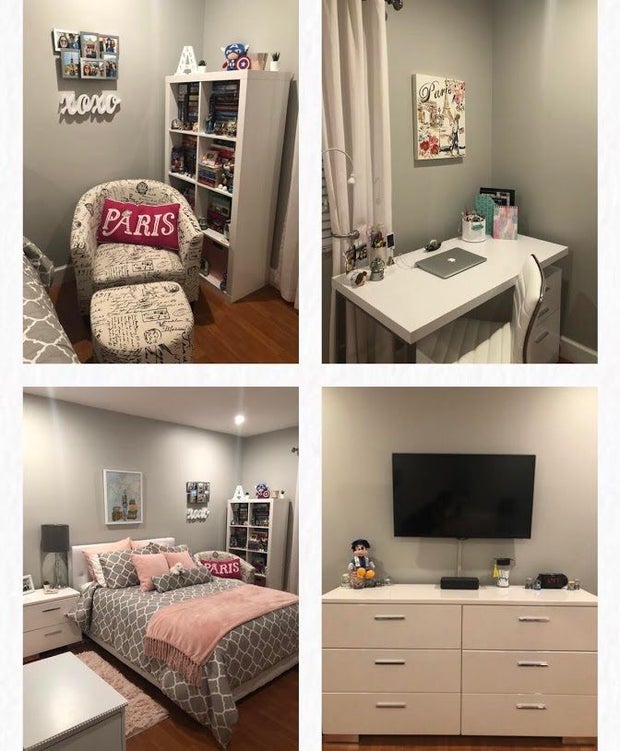 Photo Credit: Andrea Leyva