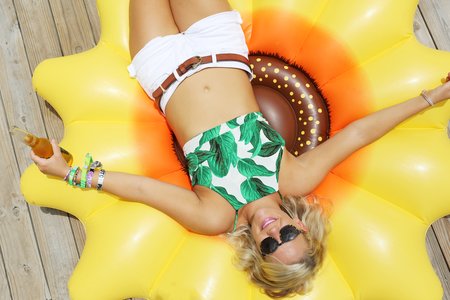 How I Got Three SHEIN Bikinis for $5 (Including Shipping!)
Ladies, there's nothing better than scrolling through SHEIN, Zaful, and Romwe in search of the perfect bikini out of thousands. Even better, you can purchase many bikinis at once without feeling guilty about your online shopping addiction. Well, what if I told you that I could show you how to save even ~more~ on SHEIN with 5 easy steps? 
1.Download the SHEIN app on the App Store and create an account. This step is essential to saving all your purchases, wish list items, and getting all the deals you possibly can! The SHEIN app is easy to navigate, operate, and find all of your favorite items for any occasion.  
2.Once you have created an account, it is time to earn your points. You can earn the most points by making a purchase on your account (1 point = $0.01). Once you receive your purchased items in the mail, it's essential that you review and add photos of the item within the SHEIN app. This will earn you up to 30 points per item! These points add up quickly.  
3.Earn more points by logging into the SHEIN app every day. By selecting the "Me" icon at the bottom of the screen, and then selecting "Points," you will be able to earn even more points! If you check into the app for consecutive days, these points keep increasing. You can also participate in live streams or photo contests to earn even more points. It took me just about 5 weeks to earn over ~1200 points~ (that is $12!).  
4.On the home page of the SHEIN app, there is oftentimes a Flash Sale going on. This Flash Sale marks items down to as low as $0.99 – even cute bikinis! The amount of each item they sell at this discounted price is, however, limited. There're ways to ensure that you are the first to cop that cute bikini, though! Ahead of time, look at what each flash sale will be offering (each one only lasts for 1 hour) and set reminders for which items you would like to purchase! Make sure to turn on push notifications for SHEIN in your iPhone settings as well. Two minutes before the Flash Sale, you will receive a notification – be ready to buy!  
5.Make sure you are looking out for coupons! When completing your checkout on the SHEIN app, make sure to click the "Coupons" icon to see if any coupons apply to your order. Recently, SHEIN has been offering free shipping for orders over $0.99 – that is crazy!  
Now, you may be wondering just how I was able to get 3 SHEIN bikinis for just $5 with shipping and handling. Well, it takes the combination of all three of these tips and tricks. Make sure you are reviewing, looking at Flash Sales, and are making use of every coupon or opportunity to use your points! Happy shopping! HCXO