Episode 14: Life's a Party
Welcome to 3 Changes a Week: your weekly update on how to save the planet.
Whilst 'birthday party' might no longer invoke ideas of paper plates and balloons and mountains of toxically bright wrapping paper, it still produces a whole lot of waste. As I think you can guess, the key is to buy mindfully when considering decorations, drinks, food and gifts.
I know it can seem like for a special occasion it might not be so much of a big deal to produce a bit more waste than normal, but it's someone's birthday every day and that's a whole lot of decorations, wrapping paper and plastic cups. Plastic waste and global warming unfortunately don't stop for special occasions, just like at Christmas time.
1. DECORATE RESPONSIBLY
Ease: ***** (minimalism is key!)
Cost: £2.49 for a pack of 10 balloons
Birthdays often mean banners, garlands, balloons, candles, ribbons… all made of plastic. Maybe used more than once, but often thrown away, especially after 'big birthdays' like 18s or 21s.
The first thing to note, of course, is that it's always better to choose paper over plastic. Also, paper streamers or paper poms-poms often look classier than plastic banners or garlands. How about a whole load of fairy lights and few paper streamers in classy complementary tones?
Secondly, balloons aren't great. They are just going to end up in landfill after a few days. However, biodegradable balloons are now widely available and biodegrade with a few months. You could try Little Cherry Eco Party Supplies, or look at the many options on Amazon. Make sure you dispose of them responsibly, somewhere where they can biodegrade safely – just because they biodegrade, it doesn't mean you can just throw them in the hedgerow.
You can also see my article on Christmas gifts and eco-friendly wrapping techniques – in short, think about choosing wrapping paper that isn't shiny or glittery, and tying with ribbon instead of using tape!
Also be doubly careful of glitter – glittery cards, glitter filled-balloons, glittery decorations. Glitter is a micro-plastic which gets easily released into the environment, so it's best to avoid it altogether.
2. DITCH DISPOSABLES
Ease: ****
Cost: £5-10
This is a bit of a no-brainer. If you wouldn't use a disposable coffee cup, why would you get disposable cups or plates for a party? Have a look in charity shops or ask around to get some plastic cups – the kind often given to kids. They're great for slightly larger, slighter drunker kids as well! Try them for beer pong, too.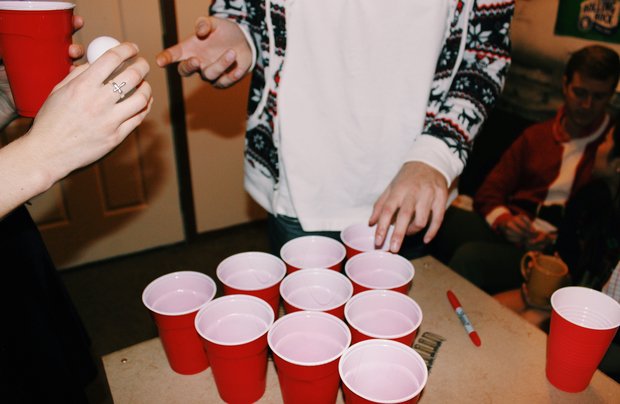 Anna Schultz / Her Campus
Similarly, if you are hosting a few people and don't have enough cutlery or plates, try charity shops – they probably won't cost much more than buying disposables and they'll last you for years to come.
3. FEEDING THE MASSES
Ease: ***
Cost: less than take-away and ready-made drinks!
When you're making drinks and food for a crowd, you might be tempted to go for take out or buy bottles of ready-mixed drinks to make it easier. But chucking together a chilli or a curry is just as easy!
If you're on your way to someone else's party, avoid those ready-mixed cans and bottles of drinks, and mix your own. Try cranberry or pineapple juice, or decant big bottles of lemonade into a reusable water bottle to take with you – add vodka if you wish! If you're hosting, make a few big jugs of mixed drinks, and provide reusable cups. Chuck them all in the dishwasher and you should have barely any waste at the end of the party!
Made these changes or already doing them? Tag your pictures to #3changesaweek and spread the word!