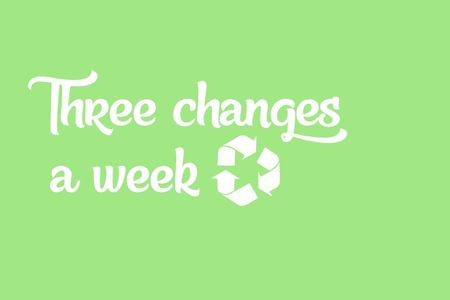 Episode 12: A Whole Load of Laundry Hacks
Welcome to 3 Changes a Week: your weekly update on how to save the planet.
This article starts a sequence of episodes for 3 Changes a Week on a subject which I haven't really touched upon at all yet: cleaning. Cleaning, in all its forms, not only uses many a different plastic bottle, but also uses substances that are heavy in chemicals that a) aren't good for you and b) seep into the environment and aren't good for that either.
Doing laundry can be quite a resource-heavy chore, using a lot of electricity and water, as well as chemicals. This is especially true if you use a tumble dryer (although, personally, my student home doesn't have one). There are, however, multiple ways you can reduce the impact that your washing has on the environment.
To begin, make sure you are washing your clothes the correct amount. This guide is helpful to make sure you aren't washing clothes too often. Make sure you only do your washing when you have a full wash, and don't do half washes. This will mean you aren't wasting energy and water without a full load of clean clothes out of it.
Making sure your clothes are natural materials will also lower the environmental impacts of your wash. Many fabrics, like polyester, that are made from plastics, release tiny fibres and particles into water, that is sent out through the pipes and can eventually end up in rivers and oceans. You can read more about this here.
As for your 3 changes to make this week, we can also use our machines in the most effective ways possible, and ditch plastic-cased chemical laundry liquid for ecological alternatives.
1. KNOW THE RIGHT WAY TO USE YOUR WASHING MACHINE
Ease: *****
Cost: saves you money by using less energy
You probably know this already, but most (if not all) of your washing should be done at 30 degrees. This article suggests it saves 41% of the energy used as compared to washing at higher temperatures. It's kinder on clothes too. Your machines might also have quick or eco functions; test these out and see how effectively they wash. You might find that a 'quick' wash is actually long enough to wash clothes effectively, and the 'full' wash is not necessary.
Whenever possible avoid using the tumble dryer and instead hang things out to dry. If you do have to put things in the dryer, make sure you have the washing machine set to the highest speed, so that as much water as possible is removed and it needs less time in the dryer. See change no. 3 below, for another tip to make your dryer more effective and use less energy.
2. SWITCH TO AN ECO EGG (OR ALTERNATIVE)
Ease: *****
Cost: £24.99 for 720 washes – this should last you 3 years
This is one of the first changes I made to use less plastic, and it's ideal for a student lifestyle. An Eco Egg is a reusable plastic container (shaped like an egg) filled with hard 'beads' that you throw into your wash instead of any kind of laundry liquid, capsule or fabric softener. Check it out here; there's lots of information on their website.
The Eco Egg has several additional benefits alongside meaning that you do not have to buy chemical, plastic packaged laundry detergents. It saves you money, as it lasts for 3 years; it's extremely quick, easy, and non-messy, (simply throw the egg in the machine with your clothes) which is ideal for students; it saves space under the sink. It's also natural and not heavily scented – it might be a shock to find out that a large amount of soap scum builds up (and really smells!) inside your washing machine, with normal washing detergent. This doesn't happen with the Eco Egg. The fact that is natural and low on scents also means that it is great for sensitive skin.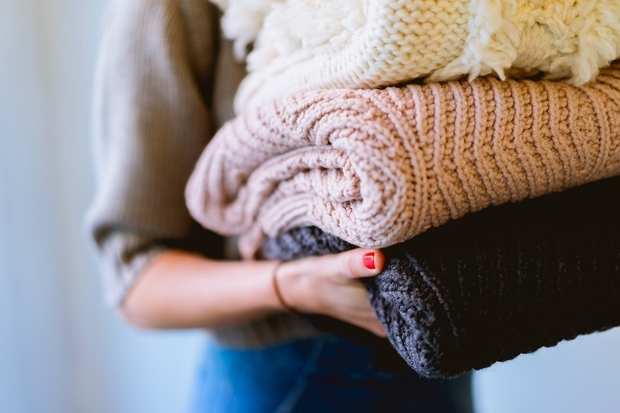 You might find occasionally, with low temperatures as well as the Egg, that towels and dirtier clothes like sweaty sports gear, might not feel entirely clean, but you can add an antibacterial solution to the wash, or wash at a higher temperature, to solve this.
However – after all this – an Eco Egg is not the only eco-friendly option. A popular option are soap nuts: the shell of a natural berry that you throw in the wash and are completely biodegradable. If you're interested, you can buy them here. You can also find more environmentally-friendly 'traditional' laundry detergents, like Ecover, and these can often be refilled in heath stores like Exeter's Real Food Store, so you have detergent without the packaging.
3. USE DRYER BALLS
Ease: *****
Cost: £6-15 depending on which ones; the Eco Egg dryers are £12.99
Avoiding the tumble dryer as much as possible is important, but this isn't always possible, especially in the U.K. Dryer balls work by separating the clothes to allow more (warm) air between them for water to evaporate and therefore save time, electricity and money in the dryer. They're also supposed to make your laundry softer, and can be used to scent clothes. You can get rubber ones like these, or Eco Egg do their own ones with scented cartridges inside to make your clothes smell great (especially good if you are using their unscented Eco Eggs to wash the clothes). There are also organic and biodegradable woollen balls, which are a great option but aren't vegan-friendly.
My mum uses the Eco Egg dryer Eggs and she says that they really do work, and that the clothes come out feeling dryer on a lower cycle. Worth a shot to save on the energy bills, though!
Made these changes or already doing them? Tag your pictures to #3changesaweek to spread the word!