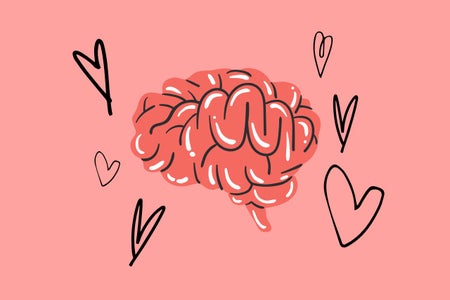 Original Illustration by Gina Escandon for Her Campus Media
My Favorite Inspirational YouTuber, Breeny Lee
Developing a sense of self worth can be very difficult and somewhat scary at times. As COVID-19 was running rampant throughout the spring and summer, I found myself bored and slightly anxious at times. Like many others, everything was so uncertain with the coronavirus that I felt a bit out of control. I couldn't work because of the stay at home advisory, which left me with a lot of spare time. While I've always stayed active and worked on my physical appearance, I had never taken the time to learn about mental health and how to improve my self esteem. I feel like a lot of people forget that working through your own issues and learning about yourself are often much more important than just your physical appearance. 
I ended up searching through YouTube until I came across a YouTuber from the UK named Breeny Lee. I took a liking to her videos because of her straightforward personality and honest advice. Breeny records pep talks that challenge viewers to improve their sense of self worth, and she talks about how to maintain healthy relationships with significant others. 
Breeny's videos not only offered me insight into some of my own issues, they also helped me develop a better understanding of myself and my own habits. I figured her videos could be helpful for individuals who are looking for casual life and relationship advice. So, here are two of my favoriet videos by her. 
In the first video called "How to Raise Your Self Esteem", Breeny describes how we should raise our "self-estimate" or how we perceive ourselves. I found Breeny's advice to be extremely insightful because of her struggles with her own self esteem. When I watched the video I felt as if Breeny's honest advice was relatable and genuinely heartfelt. Breeny values her viewers and truly wants them to improve their confidence and lives. 
In the second video called "You are the Prize", Breeny talks about how to approach relationships with a different mindset as a woman. Similar to her "Self Esteem" video, Breeny talks about how you must be whole as an individual before you seek out a relationship. Moreover, she stresses that you should develop a sense of self worth and standards before entering a relationship. Breeny states that you should choose a partner that not only complements you as a person but also uplifts you and meets your standards. 
If I could review all of Breeny's videos I would because each one has opened up my eyes to topics that I had never thought of before. Her advice has been life changing for me and has inspired me to look deeper into my heart and my own mental health. I highly recommend giving Breeny Lee's videos a chance if you're looking for inspirational advice this semester.