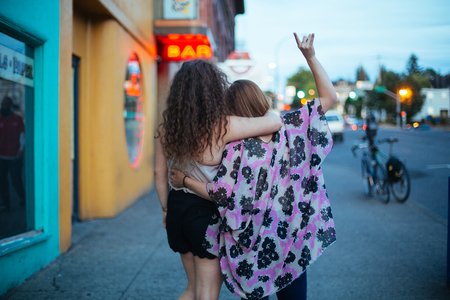 Breanna Coon / Her Campus
Things to Do AFTER Quarantine
This quarantine seems endless. Most U.S. states have issued some form of stay-at-home order. I mean, besides video chatting with friends and complaining about social distancing, what else is there to do? The best way to be in peace with yourself is to look at the bright side of everything. After all, this pandemic will be over eventually, and life will return to normal. Here is a list of things I look forward to in the future.
1. Reconnect with Old Friends in Person
My boredom peaked one day, and I decided to look at my contacts. As I scrolled down the list, memories dating back to elementary school popped up. This is a great time to reconnect with your old squad, I told myself. Yet, I hesitated to text people who I haven't talked to in almost a decade. As someone who values in-person interactions, texting alone is not the optimal way to reconnect with an old friend. Instead, I called them and set up a coffee date for as soon as the pandemic is over.
2. Spend Quality Time at the Gym
Words can't describe how much I miss the Smith machine, the leg press, and the dumbbell rack. I realized that during all the time I spent in the gym before the outbreak of COVID-19, I did not appreciate the equipment nearly as much. Now that the only workout for me is running in Lullwater Reserve and a HIIT session in my tiny apartment at Emory Point, I reminisce about the flexibility and fun that strength training provides. I miss feeling strong, and I miss appreciating my blood filled muscles in the mirror. Most of all, I miss knowing that people around me are experiencing the same pain of tearing your muscles down in an attempt to make yourself stronger; the pain almost turning into pleasure. It took the closure of all gyms for me to realize I need to spend more quality time in the gym instead of going through movements.
3. Taking a Break from Social Media
During social distancing, I find myself unconsciously opening social media apps. Don't get me wrong, social media is great for staying in contact with the world when we can't physically see each other, but being on the phone 24/7 takes a toll on my physical and mental health. My eyes become dry, and my mind gets bored. I also get frustrated with myself when I see posts about how productive people are. When the quarantine is over, I want to spend more time with family and friends instead of my phone.
4. Spend All Day in Cafés and Restaurants
Duh. We all miss eating out. Since restaurants are closed for business, and I can no longer work in cafés or bond with friends over a meal, I started to value time spent with close friends more. I also realized that most of my socialization takes place in a vibrant environment, and food serves as a mediator. Quarantine has helped me from microwaving everything to actually using the stove, but I still love to enjoy a delicious dinner prepared by experienced chefs.
5. Getting Hair and Nails Done Professionally
It's been way too long. I mean, how do I even take off my acrylic nails? What do I do with my grown out roots? Sure, I don't get to see people often these days, but I would still love to feel my best. By the way, is it a bad idea to trim my hair at home?
6. Travel
It hurts a little bit every time I look at the cheap plane tickets and know clearly that I will be quarantined once I arrive at my vacation destination. My study abroad program in London this summer was canceled and so was my plan to travel to France and Spain before the program. When everything finally returns to normal, I want to take my suitcase and go on a well deserved vacation.
7. Supporting Local Businesses 
I was lucky enough to find an apartment at Emory Point for the rest of the semester. From time to time I would get a cold brew from Kaldi's or freshly baked bread at The General Muir. It is saddening to see barely any customers in the stores, and I'm sure the coronavirus situation is more depressing to the business owners. I've noticed less baked goods on the shelf at Kaldi's and fewer options on altered menus. This is a tough time for all of us, and the local businesses are taking the heaviest hit. I hope that we come together and support the local businesses by ordering from them instead of chain coffee shops and restaurants.