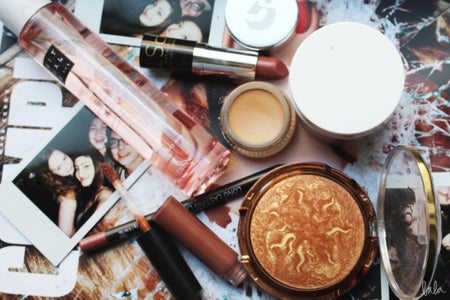 Alanna Martine Kilkeary / Her Campus
3 Brightening Skincare Products to Lighten Up Your Life
As most of us stay confined to our homes, quarantining and social distancing from just about everyone in our lives, the days can get pretty dreary. Constantly updating ourselves on the latest news, the 24-hour coverage of the COVID-19 outbreak, and keeping tabs on the rising death toll can make life seem quite dark. In hopes of distracting myself and keeping things light, I've been obsessing over new skincare products that I've added to my beauty routine. Here are three brightening skin products I've found to help lighten up your life during these dark times!
1.

Versed - Weekend Glow Daily Brightening Solution

This product is a brightening toner that helps fight dullness in your skin. It is composed of four different acids that help regenerate skin and improve darkness. It also contains bearberry extract, which helps even the skin tone, too. To use this product, you pump it onto a cotton pad and wipe it across cleansed skin. You can use it in the morning or night. I like to use it in the morning before moisturizing to give skin a clean and bright feel before I start with my makeup. The bright yellow packaging is also half of the reason I like the product so much—it feels really nice to start off my day with a bright and fresh looking product. Also, this product is entirely vegan, cruelty-free, fragrance-free, and dye-free, which makes it even better! Versed products like this are available at stores like Target, and on their website. This particular product is around $18, and I have found it to be very worth the price!

2.

Bliss - Vitamin C + Pro Collagen Moisturizer 

Okay, so this might be one of my favorite products I've ever found. This Vitamin C moisturizer is the perfect brightening cream—the citrus fragrance is perfect for an energizing morning. It includes Vitamin C, which is great for skin and brightening complexion. I use this moisturizer after toning, and it feels great going on. It's a very rich and moisturizing cream, so it is definitely better for normal to dry skin. For me, my skin dries up really easily, and this product has been the perfect solution to making my skin feel nourished before loading up on makeup. I suggest the entire Bliss Vitamin C line, as the products are all cruelty, sulfate, and phthalate-free. This product is priced around $22 for a pretty good size container. The packaging is really cute too, the orange jar is perfect for a bright, fresh feel!

3.

Cocokind - Turmeric Spot Treatment 

This next product is a little different, it's a spot treatment that comes on a stick, kind of like a really thick lipstick. This turmeric infused product helps skin by working as an anti-inflammatory, preventing aging, and brightening dark spots. It contains only five all-organic ingredients: sunflower seed oil, beeswax, turmeric, ginger, and tea tree oil. You can apply this product straight from the stick, or first to a cotton swab. It has a pretty bright color to it, so be sure to wash it off completely because it can stain your clothes! I like to use this product on dark acne spots, and I've also been trying it under my eyes to help my dark circles, as turmeric is known to have great lightening agents! I haven't really seen any results so far, because I've only been using it for a few days, but the refreshing natural scent is definitely calming, and I'm excited to see how my skin improves. Also, this product is under $10, so I totally recommend trying it out if darkness is something you worry about with your skin!
I found all of these products for fairly affordable prices at Target, and while I do recommend trying them for yourself, I highly suggest ordering them online, either from the brands themselves, or ordering online from Target to limit going into brick-and-mortar stores during this crucial quarantining time!