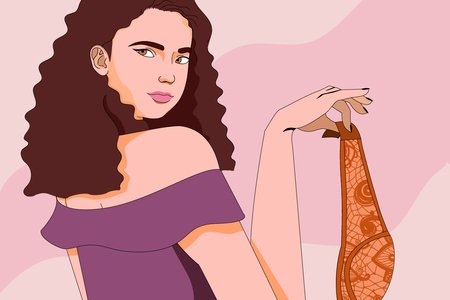 My Curly Hair Self Care Journey
As a kid, I had straight hair, just like my parents. As I grew up, it started to get curly, something I had no clue how to deal with. At first, I hated my curls, I would try to brush them out which only made my hair frizzy. For a few years I lived with a constant ponytail. Until eventually I was introduced to the holy grail of hair damage—a flat iron. I straightened my hair for about two years straight and it made me feel pretty, but it was a lot of work to straighten such thick hair every couple of days. 
Eventually, I had a high school teacher who wore her hair natural, with thick curls down her back. She encouraged other girls to wear their natural hair and instilled in her students a love for their natural beauty.
It took a lot of time, and a few big hair cuts, to reverse the damage on my hair and learn how to deal with having curls, but I've learned a lot the past few years and I'm much more comfortable dealing with my hair.
I found online resources to be super helpful when learning how to manage and style curly hair. There are lots of communities where people of various curl types discuss the tips and tricks that work best for them. Here's some things I've learned!
Don't wash your hair everyday!

A lot of people with curly hair use a method known as "cowashing" where you wash your hair as necessary and when you aren't washing it, just use conditioner and water to reset your hair without shampoo. Curly hair has a lot of natural oils that can be stripped from the hair if you use too much shampoo.

Don't brush your hair when it's dry!

Brushing curly hair when it's dry causes a lot of damage and can ruin your curl pattern over time. To detangle your hair it's best to comb it when it's wet, or even while there's conditioner in it in the shower. Brushing dry curls causes the individual hairs to separate from the curl and creates a frizzy mess, a similar effect to teasing straight hair.

Try to use microfiber or cotton when drying your hair.

When drying your hair, try to use a microfiber cloth or something that is 100% cotton, like an old t-shirt, instead of a towel. This minimizes frizz while still removing excess water from your hair.
There are lots of different methods for styling curly hair. Some people air dry, some people diffuse their hair with a blow dryer, and others "plop" their hair, which involves setting your curls in a microfiber cloth or t-shirt for a while to help them dry. No matter what method you use, it's smart to invest in a few products for curly hair.
If you're starting from scratch with hair that's always been straightened or put up, I highly recommend looking up the "Curly Girl Method." Not only does it teach you the process of obtaining the perfect curl, it also informs you what type of products are good for curly hair and what aren't. Certain drugstore shampoos and conditioners can contain harmful ingredients that may be keeping your hair from reaching its full potential. Once you've got the right basics, it may be helpful to pick up some curl friendly styling products, such as hair gel, leave-in conditioner, or hair oils. It's also very important to always use a heat protectant if you plan to use heat on your hair in any way.
It takes a lot of time to recover damaged curls, but it is always possible with dedication (and maybe a good haircut). Now that you know some tips and tricks for living with and loving your curly hair, go forth and be beautiful! As my curly haired teacher taught me, "curl power!"