13 TikTokers You Should be Following
This is a sponsored feature. All opinions are 100% our own.
I, for one, am so glad that TikTok was not banned because I would not be surviving my miserable life. TikTok took over my life when I downloaded it and it still has the same hold over me than it did a year ago. It is a great place to scroll at night, during the day, for a short amount of time, or a long amount of time. TikTok allows us to get that social media fix that we tend to crave if we are on other apps. It also has something that I have not seen on other apps, such as Instagram or Snapchat—it features creativity. TikTokers are not just sharing photos or doing brand deals, but are often telling jokes, acting out scenes, dancing, and singing, and that is what makes me want to spend more time on TikTok rather than other sites. 
I follow a lot of people on TikTok, some better than others (it's okay, I can recognize that), and I thought I would go through the people I follow, and give some TikTokers and accounts to check out when your "For You" page is dry or when you're just bored.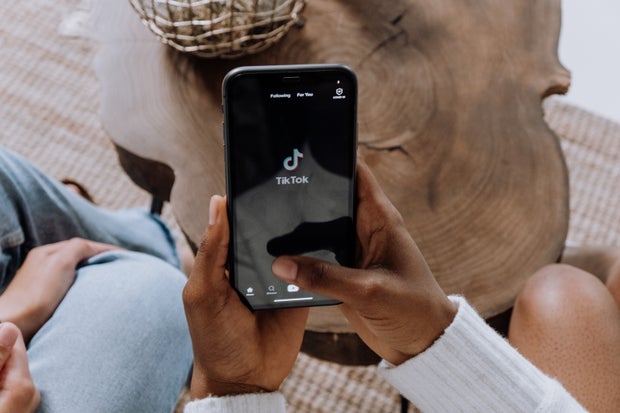 Photo by cottonbro from Pexels
Welcome to OnlyFansTok, which is my favorite section of TikTok. I am so obsessed with Hawk—I even got my dad on board. They are an OnlyFans creator and single mother, as well as just a genuinely kind and hilarious person to watch. Fun fact: they have a kid nicknamed "Bean" and refuse to show her face for Internet safety. 

I was late to BimboTok, but what matters is I made it here. On Bimbo TikTok, the bimbo is pro-sex work, pro-LGBTQ,  pro-BLM, anti-capitalism (of course), and anti-straight white male. It is a feminist and leftist movement, and at the forefont of it is Chrissy, a twenty year-old blonde who preaches self-love and self-esteem. 

Kris Collins is a content creator on TikTok who has a plethora of original characters she acts out, all with distinct voices and backstories. They interact with each other, speak different languages and best of all, it is so clear she dedicates so much time into making these little stories. 

Evie Meg is a British teenager with Tourette syndrome, which causes repetitive movements and sounds, called tics. She documents her life with Tourettes, how she copes, and shows other parts of her life, such as her mandala drawings and her family.

Emilie and Rebecca are a young Canadian couple who are honestly just adorable. They do pranks (none of them malicious, I hate those), trends and show small parts of their lives together. Super wholesome.

Have you heard of a Talkbox? It is fine if you haven't, but check out Jason, who sings using a Talkbox, as well as spends time with his beautiful family, all of the kids adopted. They bring so much joy to my feed and would surely do the same for you.

Leilani Peat is one of the kids of Todd Peat Sr., a former football star. Her brother Andrus plays for the New Orleans Saints, which means that the whole family is "famous." The thing is, I know nothing about football, so this doesn't matter to me. What does matter is that Leilani is hilarious. She has glasses where one lense is a square and one is a circle and knows way too much about politics. 

This is Gwenna, who is a mom of three, including twin toddlers. She talks frankly about motherhood, body positivity, and always has funky hair. She doesn't appear to be open to adopting all of her followers, but there is still hope. 

I am a sucker for cute couples, especially ones that appear to be healthy and loving. Phoebe and Morgan are married and living in Oregon, and they show parts of their lives supporting each other and just being generally adorable.

More cute couple alert, but this time with a baby as well. Jorie and Sav are a lesbian couple who met in rehab while Jorie was a single mother. They are now raising their daughter together and speaking out about drug addiction, loss, and queer issues. ​

Caitlin is a mother of a boy who loves dresses and a girl with anxiety, and married to her high school sweetheart. She talks about mental health in children, how to have a healthy marriage, and gender expression, all while keeping a positive outlook on life.

Ro is an autistic lesbian stripper and OnlyFans creator who makes videos about being autistic, as well as a sex worker. She breaks down stereotypes about disabled people, as well as sex workers, and is overall educational and fun.

Megan went to Emerson! So of course she is gay. Other than that, she is a news anchor with killer style and made me get an undercut, which is saying a lot.