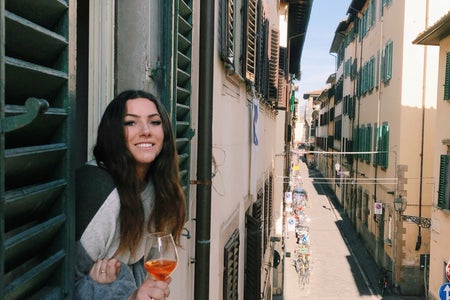 I Studied Abroad; Here Are My Favorite Places
In the fall of 2019, I was lucky enough to have studied abroad in Perugia, Italy. Ever since I went to college, I knew that I wanted to study abroad. It seemed like a 'once in a lifetime' experience and reporting back, I can confidently say it was worth the leap of faith. I didn't know anybody in Italy, I had no friends in my program, and I surely did not know the language (except for 'ciao', if that counts?). In the first few days of being in Perugia, I met so many amazing people (Americans and Italians), began to plan trips across Europe, and started to take a beginner Italian class. I was getting the hang of it, thousands of miles from home!
I did not plan my weekend trips until I arrived in Italy and made friends to travel with. I didn't have many expectations or any bucket list places to visit, so I kind of winged it. Here are the best places I went to: 
Waffles, fries, beer, and lots of walking. Before going to Brussels, I was unsure of what to expect. I hadn't heard of any of my friends or family visiting, but my travel companion, Greta, and I were super excited. We stayed at an Airbnb off of Rue Du Lombard, near the city center. It was a perfect spot to be because it was near a lot of amazing restaurants and nightlife. One of our full days in Brussels we scheduled a walking tour with Carlos, who showed us 10 wonders of Brussels in 2 hours.

Overall it is an amazing city and I truly recommend it!

Ancona is no Cinque Terre, believe me, but it is a small, quaint beach town with beautiful views and many places to shop. The bus system is easy to figure out in order to get to the beaches, and the beaches are what is worth the stop. Ancona was nowhere near my radar when I went to Europe but I left with happy memories and sunkissed skin. A great place to go if you are looking for a quiet weekend, however, make sure to go down by the Ferry Points if you are looking for night-life. Awesome music and dancing!

I mean, who doesn't want to go to Switzerland? Geneva has stunning views of the mountains, amazing restaurants, and great opportunities for day excursions. Obviously, Switzerland is on the expensive side of things, so budget accordingly. However, I admit that it was worth every penny. My friends and I went on the Glacier 3000 and Montreux day trip. It took about 6 hours but it was a highlight of my whole abroad experience. Make sure if you decide to head into the mountains, check the weather, and bring extra layers. I had to buy a winter hat and gloves in downtown Geneva, and they were a littleeee expensive. But bring your camera and take in the views, because the whole trip was breathtaking.

This destination was an unexpected one. My roommate and I decided to travel to Palermo in November, mostly for the Cannolis. But after one day of exploring Palermo on foot, we decided we wanted to take a day trip, by train, to Cefalù. Oh, boy was it worth it. This small 'Italian' city was b-e-a-utiful. The lights sparkled on the ocean and we had dinner by the beach. I got sand in my shoes but had no complaints. 

Last but not least, my home city while I was abroad. Perugia will have my heart forever. This small Italian city is definitely slept on. Beautiful views of the valley, amazing restaurants, the best wine, the nicest people, and I could go on forever. Can you tell that I'm biased? If you have a chance to drive through or take a train to the Umbria region, you must stop at Perugia. You'll thank me later.

 
All in all, if you ever visit Europe, seriously consider these cities. They might not be the most talked-about or at the top of your list but everybody loves an underdog, right?