If you haven't already heard of Lizzo, you might be living under a rock. Her song "Juice" latest album Cuz I Love You charted Billboard chart for Hot R&B songs within its first week, and she was called on stage for a twerk-off with Janelle Monae just days before her own Coachella debut. She has broken out as a true star this past year, and she deserves it.
Image courtesy of Pitchfork
Her music is uplifting, unapologetic, and universal. It makes me want to be the strong and independent woman that I know I am. I have yet to come across a person who doesn't at least respect what she is putting out into the world. Even my mom wakes up in the morning with "Good as Hell" running through her head. Lizzo spans all intersections of race, class, gender, sexuality, and age and her new album is no exception.
Lizzo is also a self-proclaimed dork. Her conventionally "weird" interests combine rapping, singing, and playing the flute all while dancing and twerking on stage. Because of this strange combination, she has often felt like an outcast in life. This happened when she was in high school and was playing in the marching band, where she started playing flute. She was never just a stereotypical band kid though. She loved rap and indie music and felt like she didn't fit in anywhere.
Image courtesy of Pitchfork
Last year on Twitter she inspired the Flute and Shoot Challenge and even caught the attention of legendary flutist Ron Burgundy himself. Her flute, Sasha Flute, is included on most of her albums and EPs and even has her own Instagram (@sashabefluting). In addition to her flute's stage presence, Lizzo's backup dancers, The Big GRRRLS, are perfectly in sync with the beat, each other, and the flute. They are the perfect addition to Lizzo herself and the whole feeling of her live performances.
Image courtesy of Star Tribune
Her dedication to her craft is clearly shown in her concert. She leaves everything on the stage and truly has a great time while doing so. She laughs, twerks and belts notes that I didn't even know existed. Her carefree presence is so contagious, and she is worth every penny you pay to see her. The energy on stage and from the albums genuinely makes you want to shake your booty along with them to the music that Lizzo describes as "church with a twerk". 
Besides being insanely talented in all her disciplines, Lizzo is also the ultimate advocate for body-positivity, self-love, and self-care. She uses her Instagram (@lizzobeeating) and other social media to encourage others to be conscious of themselves in order to be more uninhibited and self-loving like she is trying to do as well.
Image courtesy of DIY
Having experienced body shaming and fatphobia throughout her life, she is now showing people that your size does not determine how healthy you are, a lie we all have been fed for years. She eats well, exercises often and loves herself for who she is. She says herself that she is "FAT, BLACK AND BEAUTIFUL" and shows that no matter what size body you have you too can be confident, healthy, and dress however you want. The covers of her albums are often images of her posed naked, showing her level of comfort in such a vulnerable position. She permeates self-love and body-positivity for herself and everybody else.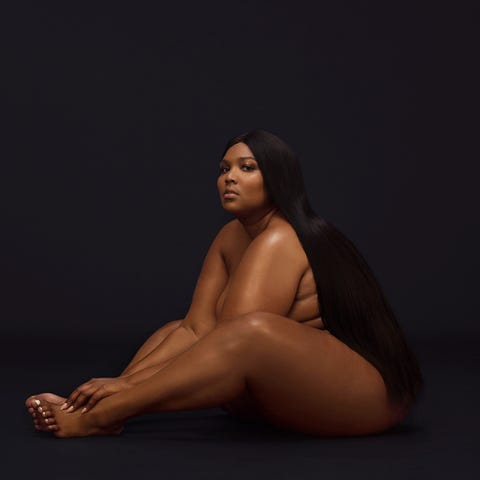 Image courtesy of Hips
If we reflect on why Lizzo is so popular today, it still raises some questions in my mind. While her praise is definitely justified for her positivity and pure talent, why as a society are we just now realizing that loving yourself is something that is okay to do no matter your size? Although there are always hard days, reminding ourselves that we are worthy of love and that we love ourselves is important, and one of the first steps toward this is to feel comfortable in who we truly are. Lizzo is unapologetically herself in every way. We should all take a note out of her book to love ourselves as much as Lizzo loves herself. As Lizzo says in her new song "Juice", "If I'm shinin', everybody gonna shine", so let's all shine along with her.