Vegan Week: My Plant-Based Journey
This year, I decided to do a vegan week every month to help reduce my carbon footprint, make me cook more creative recipes, and hopefully increase the duration to two weeks, three weeks, and forever. Here's how my first vegan week went this 2019.
Image Courtesy of Medium
To be honest, I didn't have that difficult of a time. The one thing I really wanted was the chocolate in my room, but there was dairy in it. I don't consume that much dairy anyway because I'm lactose intolerant, but I do have Lactaid pills whenever I want some. I did have a loaf of bread with honey as one of the ingredients so I couldn't have it that week, so that was certainly a bummer. However, it wasn't that hard of a week for me. I don't buy meat when I go grocery shopping because it's expensive and deli meat isn't my cup of tea. Even if I did buy meat, I'm not that great of a cook and it can be hard for me to tell when something is done cooking.
I did experiment more in cooking because making plant-based food is a lot easier for me. For me, the goal of the challenge is to be more creative with my cooking. I cook all of my meals and going plant-based for a bit challenged me to add more variety to my diet.
I prepped a green juice for myself the night before every day so I could have a cold, refreshing drink in the morning. I liked having it every morning because the lemon and ginger made me feel awake; it was also so delicious. The recipes I found online usually call for a whole apple, but because my blender isn't strong enough and I couldn't find apple juice at Trader Joe's, I opted for orange juice and really liked it. I sort of just threw the ingredients together and didn't really measure it, but these are my guesstimates. After you blend it, it won't look super green, but once you strain it, chill it, and skim the foam on top, the drink is a vibrant green. So good!
Image Courtesy of Turnip the Oven
Ingredients:
3 cups kale
Half a peeled lemon
1/3 cucumber
Inch of ginger
1 orange juice
Every day for breakfast, I would have oatmeal. I'd take some Quaker Oats and microwave it, for about a minute and a half to two minutes, with some almond milk, chia seeds, maple syrup, and frozen raspberries. Mixing it all together creates a really cute pink oatmeal and it tastes really good too!
Image Courtesy of healthy kitchen by eva
3/4 cup quick-cooking oats
1 cup almond milk
1 tbsp chia seeds
1 tbsp maple syrup
A handful of frozen raspberries
For lunch, I made two different recipes. I made a burrito bowl with vegan nacho cheese. The guacamole recipe is pretty standard for a kind of 'throw what you have in your pantry into this bowl of avocado'. I didn't use any fresh onion and garlic because little things like that can add up on your grocery receipt. Using these seasonings sufficed and the dip still tasted delicious. With the cashew nacho cheese, I used the recipe on Nora Cooks's blog, with a little bit of tweaking. Honestly, it didn't really taste like nacho cheese, but it wasn't bad. I also don't have a good blender, so my sauce wasn't as smooth as I wanted. I wouldn't make it again with my current blender, but I wouldn't say it was the worst thing I'd ever eaten. Overall, this lunch recipe was tasty, and I enjoyed eating it.
Image Courtesy of Running on Real Food
Ingredients:
About 1 cup rice
Some corn
Some black beans
Some salsa
Some chopped lettuce
Guacamole (3-4 servings)

1 avocado
Juice of half a lime
Onion powder (I eyeballed this)
Garlic powder (I eyeballed this)
Red chili flakes (optional – used this because I didn't have jalapeno)
Salt and pepper to taste

Cashew nacho cheese (this recipe makes a LOT of servings)

1 cup of soaked cashews
2 cups of water
¼ cup nutritional yeast
¼ tsp cayenne
¼ tsp paprika
½ tsp onion powder
½ tsp garlic powder
Juice of half a lemon
Salt and pepper to taste
I also had a salad with homemade lemon vinaigrette. I sort of just throw a bunch of vegetables in a salad container and my dressing was SUPER good. It's now my go-to salad dressing recipe. I love salad and I usually have it dry (crazy, I know), but now I'm going to keep a jar of this dressing in my fridge, so I'll have it handy whenever I make salads.
Image Courtesy of Whisk Affair
Ingredients:
2-3 cups of spinach
Some corn
Some black beans
1/3 sliced cucumber
6-8 thawed frozen broccoli florets
Handful of craisins
½ an avocado
Lemon vinaigrette

Olive and lemon juice (about 1:1 ratio)
Garlic powder (I eyeballed this)
Maple syrup (optional for sweetness – eyeballed)
Salt and pepper to taste
I made two kinds of dinners that week. I made a curried tofu scramble on top of rice and soy sauce. I made this recipe up randomly in my kitchen the last term and it's my go-to when I have tofu in my fridge. This recipe makes two to three servings.
Image Courtesy of Divine Healthy Food
Ingredients:
1 block of tofu
¾ tbsp yellow curry powder
Paprika (eyeballed amount)
½ sweet onion
½ potato
Salt and pepper to taste
I also made a pasta dish with a green sauce. I wanted to make a pesto sauce, but I didn't have any basil or pine nuts/walnuts. I replaced a lot of ingredients in the recipes I found, and this is sort of my bootleg pesto sauce. Honestly, it tastes nothing like pesto, and I like using a lot of lemon juice (it's basically a bright green basic pasta sauce). This dish isn't for everyone, but it's a good 'throw things in a blender' recipe. This recipe makes two heaping servings.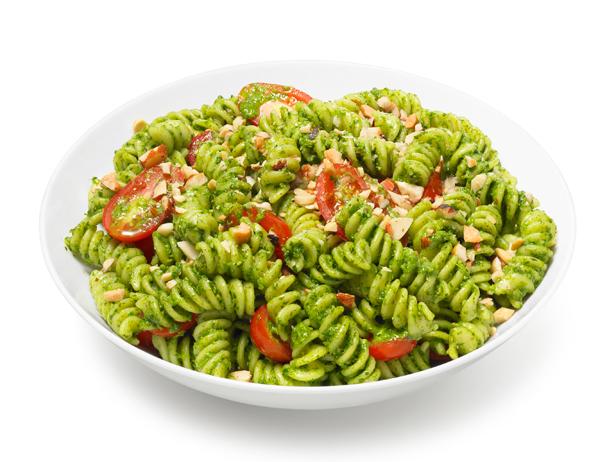 Image Courtesy of Food Network
Ingredients:
2 cups fusilli pasta
Cherry tomatoes to garnish
Green pasta sauce

4 cups spinach
¼ cup soaked cashews
Juice of a lemon
¼ cup olive oil
¼ tsp garlic powder
1 tbsp nutritional yeast
Salt and pepper to taste
Overall, Vegan Week wasn't bad at all and I am definitely going to continue doing this. I like to cook, and this week encourages me to be more creative in the kitchen. I would highly recommend incorporating plant-based recipes in your everyday life.