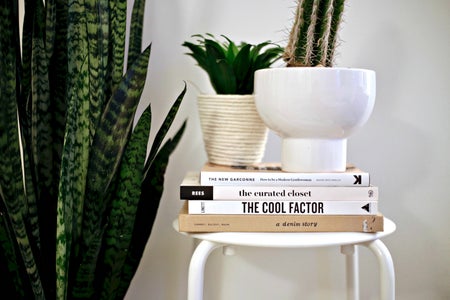 Dimi Boutselis / Her Campus
Four Fashion Books I Tore Through During Quarantine
Quarantine has forced us all to slow down and take a good, hard look at our lives and routines. Personally, I've realized that creating a sense of normalcy was one of the most important ways to anchor myself mentally - especially since I couldn't leave the house. This meant getting dressed (wrote an article on this, of course), selling vintage clothing online, talking to friends, cooking, doing yoga, and maintaining my morning and night time routines. 
If you grew up a voracious reader but lost it somewhere around 8th grade, now is the time to tap back into it. Did you win the Read-a-Thon three years in a row? No? Just me? Well that's the kind of attitude that's been peeking its head out, emerging from buried elementary school memories and settling next to me on my nightstand where a stack of books is currently sitting. I'll read anything from nonfiction to self-improvement, romance or mystery novels, but my nightstand currently boasts an impressive stack of fashion books. 
There has been a crazy amount of pressure on both sides to conform to two different camps of people in quarantine. We'll call them the relaxers (watching every single episode of Queer Eye on Netflix within a week, hello!) and the busy bees ("I've taken 10 online courses during quarantine, what have YOU done?"). Though I myself have swung to both extremes I've landed on a happy medium - relaxing by tearing through some of the very best fashion reads I've been able to get my hands on. There's nothing quite like a paperback book so here are my top picks. Get ready to write these down for a major dose of fashion inspiration.
Maybe you've never considered yourself a reader, or you're more than aware of how being forced to read aloud in middle school led to a less-than-friendly relationship with books. The beauty of leisure reading is that there are books for every single topic you could possibly imagine. Fashion books are usually stunningly illustrated, and I barely scratch the surface with my list of four but trust me when I say they're good ones. Not doing anything in the next few days? Hop onto Amazon and pick up a copy!