During this increasingly stressful semester, every student needs some way to blow off steam after finishing a long assignment or studying for hours. One of the ways that I blow off steam is by watching an episode of television, specifically The Great British Bake Off. I watched this program during my freshman year as well but I decided to rewatch it because of its fantastic bakes, entertaining hosts, and quirky contestants.
Unfortunately there are only eight seasons, including the current season, on Netflix. The first three seasons (which I heard aren't that great anyways) aren't included because of some kind of legal rights issue… I guess. Either way, I have painstakingly compiled a list of the best bakers from every season based solely on personality.
Collection One:
One of my favorite contestants from Collection One (technically Season Three) is Kimberley, one of the two runners-up. She is a psychologist from south London, a clearly intelligent woman who uses her brain and her positivity to conquer most of the challenges. Even if the bake does not go the way that she planned, the bright smile never left her face.
It is a shame that Kimberley and the other two female bakers that made it to the final competition were so harshly critiqued by viewers. Kimberley, specifically, was accused of being two-dimensional because she did not show as much emotion as viewers thought that she should. Her confidence was perceived as cockiness and arrogance to many viewers, which is completely baffling if you watch the series yourself.
Collection Two:
Norman! This charming old man from the north east coast of Scotland gets my vote for best contestant from the second collection. Although his baking does not quite rank up amongst the best, I love his personality. He is a very traditional and charismatic guy, never letting a bad bake upset or fluster him. He also has a great sense of humor, which comes in handy during the long days in the baking tent. 
In his contestant profile, when asked what sets him apart from other contestants, he said "halitosis" (bad breath). Oh, Norman, you crazy ol' Scot!
Collection Three:
Season Six, or Collection Three, of the GBBS was one of my personal favorites so it is difficult to narrow down my favorite baker. I guess I will have to say that my favorite baker is Nadiya who eventually wins this season. She isn't the most outrightly positive person from the beginning, as she is burdened by self-doubt and nerves. But by the end, the stay-at-home mother truly believes in herself and delivers an emotional acceptance speech that would inspire anybody.
Rather than summarizing the speech on my own, I will leave you with her words and a link to a video.
"I'm never gonna put boundaries on myself ever again. I'm never gonna say I can't do it. I'm never gonna say 'maybe'. I'm never gonna say, 'I don't think I can.' I can and I will."
https://www.youtube.com/watch?v=wNvyfsVfmu8
Collection Four:
Ghana-native Selasi is one of my favorite contestants from any of the seasons. This handsome man is so cool, calm, and collected throughout the entire season. I think he only has one moment of true stress which he has to say out loud otherwise no one would be able to tell! Even if he is nervous beneath the surface, you would never know because he is the first person to step up to help fellow bakers when they are running out of time on their bakes.
Plus, the brother-sister relationship that he develops with contestant Benjamina is so pure and warms my heart.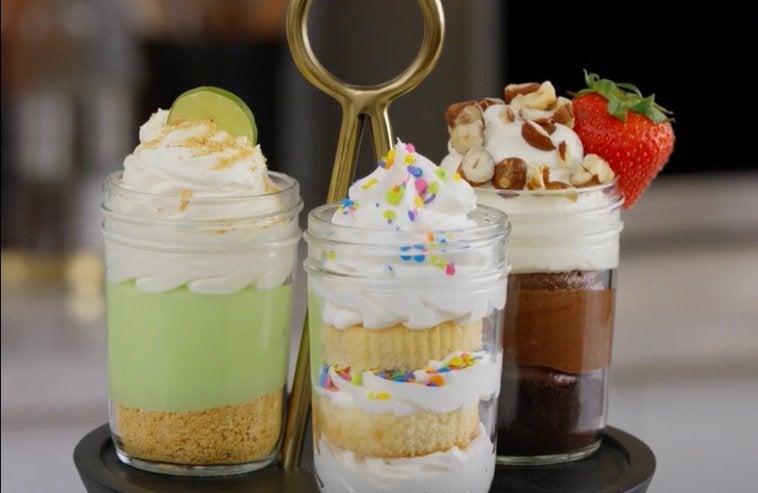 Collection Five:
The youngest baker at 19 years-old, Liam proves to be the goofiest baker to possibly ever be on the show. He is clearly a fan favorite, but also a favorite of the judges and hosts of the program as he often puts them in fits of laughter. He has one of those laughs that can simply make anyone laugh, even if he doesn't mean to be funny.
The talented young baker became a staple in the GBBO family when he was announced as a presenter for the spin-off series Bake Off: The Professionals and as a judge on the new Junior Bake Off.
Collection Six:
The sixth collection on Netflix, which I am currently in the middle of re-watching, has a lot of great personalities to choose from. One of my personal favorites, however, is Welsh baker Jon. He quickly forms friendships with other bakers and is seen as the fun dad of the tent. Despite his burlish figure, he produces some really beautiful bakes. When he does not produce something great, he is a gracious recipient of criticism.
The other contestants are deeply affected when Jon is sent home after the seventh week in the tent after failing to conquer "vegan week." The following week, all of the remaining bakers wear colorful Hawaiian shirts to pay homage to their departed friend's fun style.
Collection Seven:
A runner-up from the seventh collection, London-based Alice is a sweetheart through and through. Her beautiful smile and caring demeanour probably make her a good geography teacher to her students and clearly a good friend to many of her fellow bakers. After filming concluded on her season, Alice continues to celebrate her passion for baking and her friendships with other contestants.
Collection Eight:
This is the current season that is airing on Netflix with a new episode every week. Because the season is not over, I have not made up my mind about any of the bakers just yet!
Well this was meant to be a short, easy article for me to write, but I guess I am just too passionate about this baking competition! The positivity and light-heartedness that comes from the show is truly something that I look forward to and I'm glad I have it to take my mind off of stressful school work for a moment.