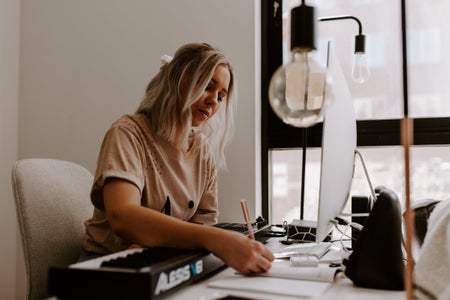 How I'm Taking 6.5 Courses And Surviving
I decided this semester that I that I was going to take 6.5 courses. I'm taking:
- Graphic Design
- Psychology of Mindfulness
- Stigma and Health
- Developmental Psychology
- Internship
- Radio Journalism in Arts and Above
- Jazz Band (half credit)
So, how am I doing this? A normal student at Clark University takes 4 or 4.5 courses. To take a fifth course, you have to petition for it. I petitioned for the internship course, and as part of that I am auditing the radio journalism course. Since I'm doing all the work for it, I will be getting credit at the end of the semester. And that's 6.5 courses.
Now, why did I do this? I am a double major in psychology and self-designed journalism and a minor in English. That means I have to take at least 28 classes as requirements. That leaves only four classes if I was to take a normal course load that I would have to take whatever I like. I don't want that though. I want to be able to enjoy my time at Clark and to take the courses I want and explore different topics beyond just the three course subjects I am studying. On top of this, a few of the courses I am taking for my study areas are only offered this semester so I needed to make sure I got on that.
Now, how am I doing this? These courses do not have too much work, and when they do I make sure I get it done. I have to be productive. I have to make sure everything is complete. In addition, the meditation and mindfulness course has helped me not have stress in my outside life. The jazz band time is allows me to let loose. I also have clubs and friends that allow me to do other things. These outlets help.
So, I'm here to say it's possible. Take the courses you want! Try as hard as you can! Make it work!