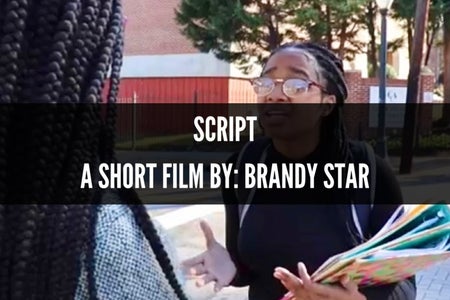 Brandy Star, Jalondra Jackson
SCRIPT: A Short Film by Brandy Star Pt. 2
Within the last decade, American society has begun to gradually make social media one of its top priorities. Outside of being a daily routine, social media has also become an automatic source of information when tragedy strikes allowing many; to be updated on the world's current events. As a result, this has caused unfortunate subconscious desensitization of information in society.
I can recall as early as 2014, a 12-year-old girl was stabbed 19 times by her friends. In 2018, a 13-year-old girl was stabbed to death at a sleepover by her friend. In 2019,  a 21-year-old Clark Atlanta University student was killed by her roommate and boyfriend. Some of these cases whether solved or unsolved have been broadcasted through many media outlets. All of these young women's personal legacies were, unfortunately, an afterthought. 
I recently had the pleasure and honor to view the short film SCRIPT followed by an up-close and personal interview with the film's writer and director Brandy Star Merriweather. SCRIPT centers around the heartbreaking reactions within the CAU community due to the tragedy of fellow Clark Atlanta University Panther, Alexis Crawford's passing. Merriweather wrote SCRIPT based off of the personal encounters with her peers, classmates, and reporters that were subconsciously dehumanizing Alexis Crawford. When I hopped on Zoom with the Clark Atlanta University Junior majoring in International Business, she had such a calm, humble, and tranquil aura.  Keep reading for more on Merriweather's inspiration for writing SCRIPT, and her initial thoughts in regards to the reactions of Alexis Crawford's death.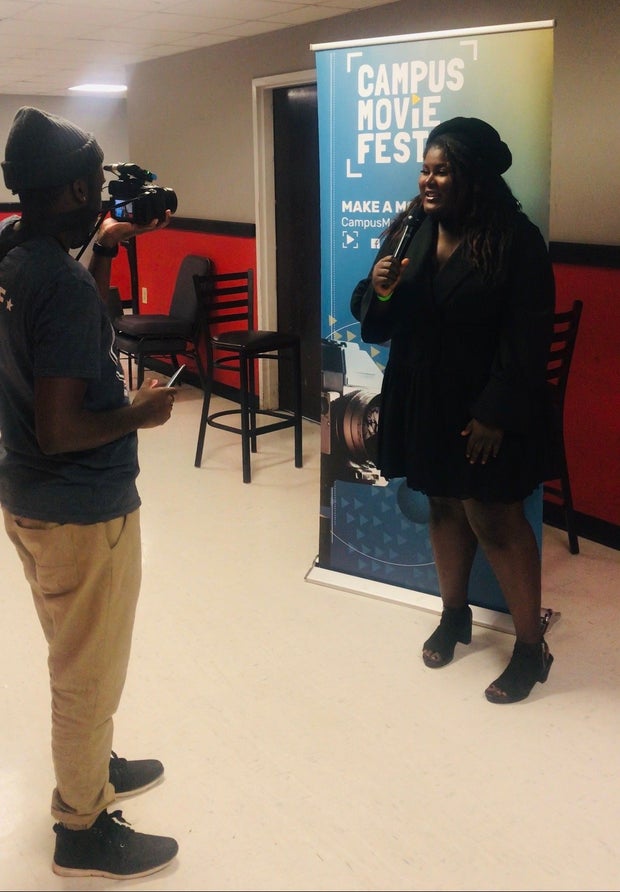 Brandy Star
HER CAMPUS CAU: In the movie, it seemed as if a lot of students were being insensitive about Alexis' death. Were these observations that you witnessed firsthand when she was reported missing and subsequently discovered deceased? What were your emotions from this discovery?
Brandy Star Merriweather: The whole point of this film was not to bash students or to negatively show the community and students. It was really to present people with some of the verbiages that I saw first hand when talking about the situation or tragedy. The emotions that I felt when I encountered this was just speechless-- in awe. I was angry and disgusted. In those moments you are supposed to speak up the most, and in the film, there were times when I would hear things in class and just slam my bags down to try and distract them from having those conversations. College is the place where people are open to new things and the fact that people weren't so open-minded when it came to looking at the perspective of Alexis, how she may feel and how this could have affected her versus the tragedy it was like that perspective was completely forgotten about. I was disgusted at these people but I couldn't be mad at them. I couldn't say that I wasn't wondering what happened to her but I definitely saw multiple perspectives of how her story wasn't properly told. That's what triggered me to go talk to God and figure out what he is trying to tell me like, is there something that I'm supposed to do with this?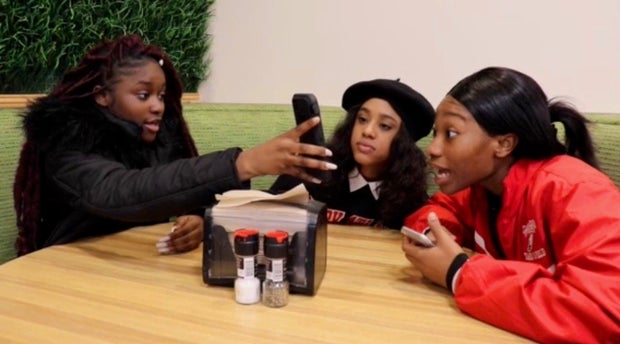 Brandy Star HCCAU: A big part of writing is reading, were there any particular screenplays that were a source of reference in the making of SCRIPT?
BSM: Not at all, the entire filmmaking process was from first-hand experience.
HCCAU: How would you go about filming the longer version of SCRIPT?
BSM: I think it's so important when telling someone's story is to start before them. I think the reason we are even here on this Earth, is because of our parents and what they've gone through. I would start by talking about her mother and where she was when she met Alexis' father. It may not touch on so many details, but I would fast forward as Alexis is born, then she has another sibling. Getting their home life, where Alexis worked, what organizations she was involved in, why did she choose CAU, why did she even move-in with the roommate she did, how excited she was to have her first apartment. I would show a little bit of how their [Alexis and her roommate] dynamics changed. 
HCCAU: What were the easiest and difficult parts of connecting with SCRIPT?
BSM: I never experienced close death before, so I haven't grieved like a lot of people have. So I felt as if when she passed, I lost a best friend… like she was someone I knew. I prayed to God, asking 'why am I crying so hard? Why am I crying about someone that I never met before, maybe seen 1 or 2 times on the promenade on the way to class?', and I definitely used SCRIPT to grieve. I looked at her death and the way that she was portrayed in the media. The first time she made ESSENCE shouldn't have been when she passed, she should have been able to accomplish her goals. The easiest part of creating SCRIPT, and it was something that actually happened. The difficult part was having to film, and edit all by myself.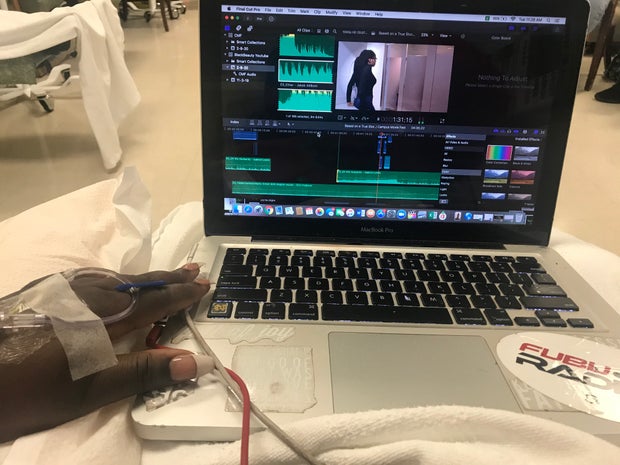 Brandy Star
HCCAU: How did the behind-the-scenes of SCRIPT go? Was it easy for the actors/actresses to get their lines? I know that you were in the hospital, did that conflict you in the filmmaking process?
BSM: It was interesting because I had to book the actresses. The actress that I found was Kasey Noelle, I met her freshman year at CAU and she was an alum. Because of the situation with those guys,  instead of having a week to do pre-production, I only had like 2 days. Finding the areas to film in, creating the script, booking my actress… I tried to prioritize what I could do and what I couldn't. I remember trying to get into every GroupMe, saying 'Hey I'm shooting a short film, looking for actors. PAID'. Next thing I know, I had so much support. Behind the scenes was a little chaotic because of having to do everything myself, but everything worked out.
HCCAU: Do you recommend the Campus Movie Fest experience to future students?
BSM: "Absolutely. Especially students that are looking to be while involved, while also creating what they want to. CMF allows you to create anything that you want. There was one girl at Spelman who made a whole film by drawing. She created what she was interested in. So, I absolutely recommend the experience to future students."
HCCAU: Lastly, any advice for the future PR students in the class of CAU 2024?
BSM: Aw Class of 2024, um, I would tell them to research like crazy. Get involved in as many things as they can on campus that they can associate with PR. Whether that's doing PR for one of the kings/queens, being the PR representative for a club. Those are opportunities that I did on the side. The best advice that my mentor gave me was to start NOW! Even if they are doing PR for Miss CAU, that's a client. Don' t think that you need an internship now.
HCCAU: Thank you so much for this! Her Campus CAU appreciates your time and efforts to give us an opportunity to share your story!
BSM: No problem! I wanted to reach out to you all to cover this story first, and I appreciate you!
SCRIPT is a short film created by Brandy Star Merriweather, the film centers around the death of Alexandria Cranford and the reactions of Brandy, her peers, classmates, and reporters. The short film received two awards: Campus Finalist and the Jury Award. 
This was Part Two of "SCRIPT: A short film by Brandy Star." This was a two-part series. Check out part one from last week for Brandy Star's inspiration for writing SCRIPT,  and what it was like to participate in Campus Movie Fest.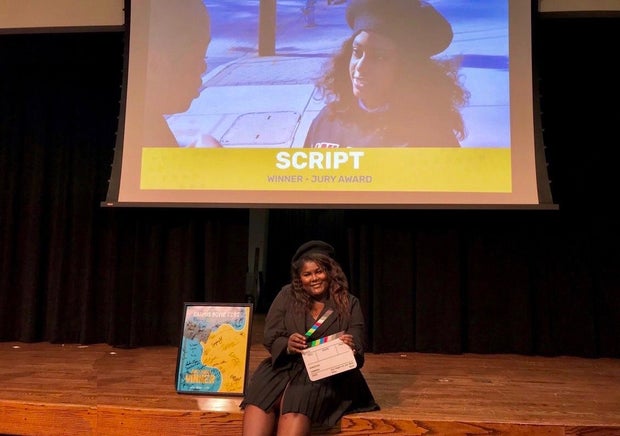 Brandy Star
Check out the short film, SCRIPT, here: https://campusmoviefest.com/movies/86030-scrip