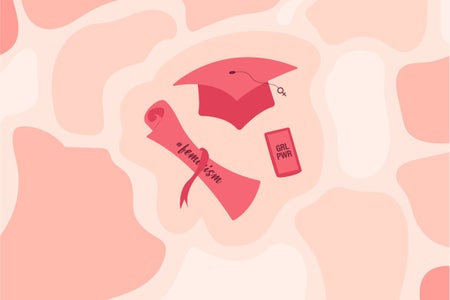 Megan Charles / Her Campus Media
Behind The Fame! 16 Artists Who Could Have Followed a Totally Different Career
You know that wolrdwide known singer who, actually, has a degree in chemical engineering and nobody knows? This situation is more common than you think! Although they are famous on movie screens and television, and have successful voices, many actors, singers and presenters went to college and could have followed a totally different career if the artistic bug hadn't bitten them! Here's a list of 16 celebrities that you probably didn't know that, like you, went through the crazy universe of the university. Check them out below!
She has been a presenter for so many years, that it is difficult to imagine her pursuing another profession. But the artist graduated in Biological Sciences at Universidade Estadual Paulista Júlio de Mesquita Filho (UNESP), specializing in Zoology.

The eternal Hermione Granger is a graduate of Brown University, in the United States. She has already stated in several interviews that she does not intend to drop out of school and that she would like to continue investing in it in parallel with her acting career and her activism.

The celebrity draws a lot of attention for her body care and fitness routine. However, Gracyanne (who is wife of the singer Belo) also proved to have focus on her studies, as she graduated in Law from the Federal University of Rio de Janeiro, UFRJ.

The actor is not only famous for making popular films like Milk, Spider-Man and 127 Hours. His focus on studies is also impressive! James studied Literature at the University of California, in Los Angeles; a Masters in Literature at Columbia University; studied cinema at New York University; fiction at Brooklyn College; and poetry at Warren Wilson College. Oh, and it doesn't end there: he amended an English doctorate at Yale University and is pursuing a second doctorate in Literature and Creative Writing at the University of Houston.

The singer received invitations to study at Harvard, Georgetown and Morehouse universities, but ended up at the University of Pennsylvania, where he graduated in English with a focus on African American literature.

The singer bet on the Administration area while continuing her career as a singer and, recently, entered the College of Veterinary Medicine. Incredible, right?

The socialite announced that she plans to quit her millionaire career and dedicate herself exclusively to Law. She told her plans during an episode of the reality Keeping Up With the Kardashians. In the show, Kim says that this is an old desire, since her father, Robert Kardashian, was a famous lawyer. The socialite's initiative worked and she admitted that she was reconciling her tasks as a mother and celebrity with her studies in law.

She is famous for playing the aerial singer Phoebe Buffay in Friends (1994). But if, in the series, Lisa Kudrow sang about a "smelly cat", far from the screen the actress has a degree in psychobiology and even worked for years in research alongside her scientist father!

Marcos is one of the most acclaimed actors in Brazilian soap operas and stages. But did you know that he also has a Law degree? He attended college at the request of his father, if his acting career did not work out.

Although she started working at the age of 13, she also has a university degree! In 2003, the actress graduated in Psychology at Harvard University.

She made a huge success in The Big Bang Theory (2007) as Amy Farah Fowler. But before joining the series' cast from the fourth season, she had majored in Neuroscience! Mayim graduated from the University of California, on the Los Angeles campus, in the United States, but she also came to be accepted at Harvard and Yale, rejecting the invitation. What a curriculum!

Globo's muse was formed in something completely different from the artistic career. She chose the Physiotherapy course at college and went on until the end, getting her diploma.

The comedian - who surely made you cry out laughing in one of her successful productions -, before she was famous, graduated in law in 2009 at the University of New South Wales, which is like Harvard in Australia! But she decided not to pursue a career and invest in acting, after contracting Malaria and having a hallucination caused by the fever of the disease, in which she found herself winning an Oscar.

Famous for hits like "Waka Waka" and "Loca" (2010), the Colombian singer and philanthropist and UNICEF Goodwill ambassador graduated in History from the University of California in 2007!

Before becoming a television actress, Zezé graduated in Medicine from UFRJ.  After the course, she still completed her postgraduate studies in Social Medicine, but ended up falling in love with the art of acting.

The actor entered the University of Iowa to take a course in Biomedical Engineering, as he had a desire to find a cure for a heart disease his brother suffered from. However, everything has changed when he was seen by a scout at the university, who convinced him to pursue a career as a model and later as an actor.
These were our 16 selected celebrities who could and may even follow entirely different careers. There are many others, but it is impossible to place them all! Did you miss any? Tell us!
------------------------------------------------------------------
The article above was edited by Helena Cardoso.
Like this type of article? Check Her Campus Cásper Líbero for more.