The Afternoon Tea: a Most British Experience
In the Early 19th Century tea consumption increased dramatically amongst Britain's upper classes. This led to the creation of the 'Afternoon' or 'High' tea: a selection of small sweet and savoury treats, nicely displayed, accompanied by a fresh pot of tea to be enjoyed in the late afternoon.
To this day, Afternoon tea's have become a popular and often treat meal for us Brits, usually eaten on special occasions or when feeling extravagant. The major drawback with Afternoon tea is how expensive they can be to order in restaurants and cafés around the country and as although they are simple to prepare, they are still considered something for the more well off in society to enjoy. 
Luckily for you, I have worked in an establishment that has served Afternoon tea to the masses for four years now, and I am now going to share with you how to recreate this masterpiece from home.
Layer One: The Savouries
This first layer comprises of a bunch of mini rectangular finger sandwiches (they HAVE to be crustless) in a multitude of different flavours. The best part of an afternoon tea, in my opinion, is that you can customise the flavours to whatever you desire but it is most authentic when you go for traditional fillings such as, Scottish Smoked Salmon , egg mayonnaise, and cucumber and mint.
This is controversial, as having sandwiches only seems to be traditional, but some café's and tea rooms will also accompany the sandwiches with a tiny bowl of soup. If you wanted to add this to your savoury section, I would recommend some popular flavours in Britain such as lentil, Pea and Ham, or leek and potato.
Layer Two: The Scones
This is arguably the best layer, don't fight me on this. Scones, a soft, round, slightly savoury pastry (although they look more like a strange bread roll) are quintessentially British and are relatively easy to make if you follow this recipe. Scones can be plain, but they are also likely to have dried fruit like cherries of raisins thrown in them for good measure.
The scones come jam, usually strawberry, and either whipped or clotted cream. Whether you spread your scone with jam or cream first is a huge debate  that even the Queen has waded into, however I am personally inclined to put the jam on first because it is the stickiest and thus messier.
Layer three: The Sweets
The top layer is the most fun. Here lies an array of mini cakes, biscuits and other sweet treats, and the best part is there are no strict rules on what needs to be here, so you can be as creative or as lazy as you want. 
At my work, there are some basic rules that we follow to make sure each plate of sweets has variety and is interesting and flavourful. On each plate there must be one of each: Cake, Chocolate, Fruit and Cream. Firstly, you need something light and cakey, you could follow this recipe  from my Pinterest frog cake article and turn it into cupcakes or a Victoria sponge. The chocolate section is most often filled with a small square of brownie, but you could make truffles or a krispie cake. It is important to get your 5-a-day, and adding some fruit to the plate not only makes you feel healthy but acts as a nice palette cleanser for all of the sugary sweetness. Having some sort of citrus posset or light mousse  is a perfect counter balance to the stodgier brownie or truffle you might make.
The best part about buying or making a bunch of these little treats is that the leftovers make excellent little midnight snacks for when you are craving sweetness but are too tired to make anything.
Enjoy these photos of an Afternoon tea I made last spring, but bear in mind that my family are very picky eaters, so this is pretty plain by comparison.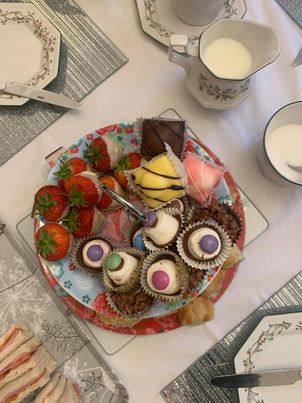 Meredyth from HC Aberdeen This might look like a lot of hard work for one meal, but it really is not that labour intensive when you break it down, and as stated above you often end up with offcuts and leftovers that are perfect for grazing and snacking in the following days.
If you decide to make this quintessentially British afternoon meal, make sure to tag us on our social media @hercampusaberdeen, we would love to see your creations!