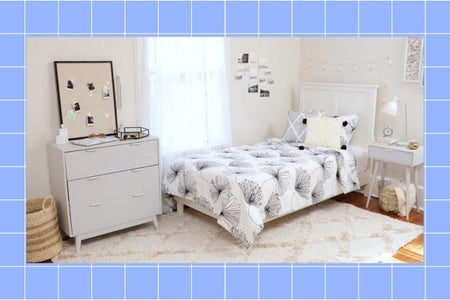 Items That Transformed My Bedroom
For the last few years, I've been working really hard on my self-image. I spent countless hours (and dollars) perfecting my hair routine, my skin routine, and my style so I could put out the most elevated version of me into the world.
After spending a full year indoors, however, my transformation-hunger has turned to something new — my little pink bedroom.
One day I just found myself standing in the centre of the room and slowly spinning around on the spot, analyzing every space with a strong feeling of dissatisfaction in my gut. There were too many stuffed animals, too much clutter, and colours clashing all over the walls. 
"This room isn't me," I thought. And if I had to spend an indeterminate amount of time in this space, it was time I did something about it. 
So I went on a mission to hunt down the items that could officially transform my room and finally make it feel less like a girl's space and more like a woman's space. Here are the biggest game-changers:
Initially, what I had above my desk was a single canvas painting with a woman in a sharp bob cut and a wine red dress. Because it was a painting my sister had gotten me from a local thrift store, the whites of the canvas were a little dirty and faded, so I wanted to change things up a bit — and what better way to do that than with minimalistic line art?

The most appealing thing to me about this art set was that they already came framed. I'm notoriously lazy and knew hunting down separate frames for print-outs would take ages, so this was super convenient for me. Not only this, but they went perfectly with the colour scheme of my room. Rather than the dark red that had been there previously, the space above my desk was now a simple white and sandy brown.

And don't worry, my sister's gift is now sitting just outside my bedroom door. I can never throw out a gift from family!

To replace the stuffed cat and stuffed turkey I had sitting on top of my short bookshelf, I needed something with a little touch of classic art to compliment my vintage literature books. So, naturally, I looked for a Roman bust that should easily do the trick.

Even though there were a lot of options, they were all pretty pricey (about $70-80 on average) and I didn't want to have to spend more than necessary on a small room decoration. The one figure that kept popping up over and over again was the bust inspired by Michaelangelo's Statue of David.

I'm a huge fan of Roman art, and while I would've preferred a statue of Venus or Minerva, David sufficed perfectly fine. I added a large conch seashell right beside him and Voila! An artsy little reading corner.

While browsing Pinterest for inspiration, I noticed these little guys popping up frequently — and I could see why. They look almost like an assortment of white peacock feathers that add such an effortless flair to the room.

I used these to replace a teddy bear I had sitting on my dresser. After grabbing a little mason jar and snipping the bottoms to fit, I gently put them in and gave them a light spritz of hairspray to minimize the shedding.

Now, the pampas grass compliments my jewelry box and perfume collection perfectly. Such a cute little primp-up spot!

Who doesn't love a little touch of handmade macrame? Certainly not this girl!

Even though I already have a big poster with a collection of Marilyn Monroe's "Last Sitting" photo shoot sitting above my bed, I still didn't feel like I was making good use of the wall space. There was room for another little something, and a macrame wall hanging turned out to be just the thing I needed. 

And the best part? It comes with a fun little shelf that's perfect for little plants and succulents to absorb the sunlight streaming in from my window! I couldn't be happier with this addition.

Every space needs a little touch of green. These hanging leaves are a simple but effective way to add a little boho-chicness to your room. Since my large window space was pretty bare beforehand, I decided to hang these right at the center from a hook on my ceiling.

The difference is truly amazing. The plants may be artificial, but the effect they have on my state of mind is certainly real. Every time I walk into the room, my eyes are drawn to them and I'm immediately filled with a nice sense of calm.

With the semester approaching its busiest and most demanding period, a good dose of greenery can do wonders for your stress levels.
That's everything! Well, for now at least. Anyone who knows me knows I'm never satisfied (and I do have my eyes on some more hanging vines and potted flowers, but that's definitely a problem for a later, richer me).
I had never done this before so it was really good training for when I inevitably need to furnish my future home. It was tons of fun and super empowering to be able to take control of my space and fashion it exactly to my tastes — and if your style is anything like mine, I hope this gives you a good jumping-off point to fashion your own!