7 Thoughts You Have as a Graduating Senior as Told by Michael Scott
Your senior year of college brings with it many opportunities to reflect on many of the positive experiences you've had during your time at Cal Poly. Whether it be hiking Bishop Peak for the first time, or crawling your way through the bars downtown on your 21 birthday, it's hard to associate those memories with anything but ~good vibes~. However, we know that as a graduating senior, thinking about what will happen after your time at Cal Poly can be both daunting and unnerving. We've enlisted the help of manager Michael Scott to better illustrate just how it feels to know that your time at Cal Poly SLO is coming to an end.
1. Realizing you'll soon have to be financially independent in every way, shape and form
2. Thinking about coming home from your first week of 9-5 life 
3. Trying to learn how to do taxes, which somehow took a backseat to learning the circumference of a circle
4. Convincing yourself that maybe there's a silver lining in the seemingly dark abyss that is "adult life"
5. Realizing that you'll soon have to leave the place Oprah deemed the "Happiest City in America"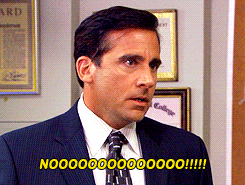 6. Thinking about how refined you'll seem after having went to college right in the middle of wine county
7. Finally, when you start doubting just how special you are, remember that God made you for a reason
Even though you might feel down about graduating soon, look back on all the wonderful memories you've made while at college. We're so lucky to go to school in such a beautiful area, and we can share this experience with people we meet in the next chapter of our lives.